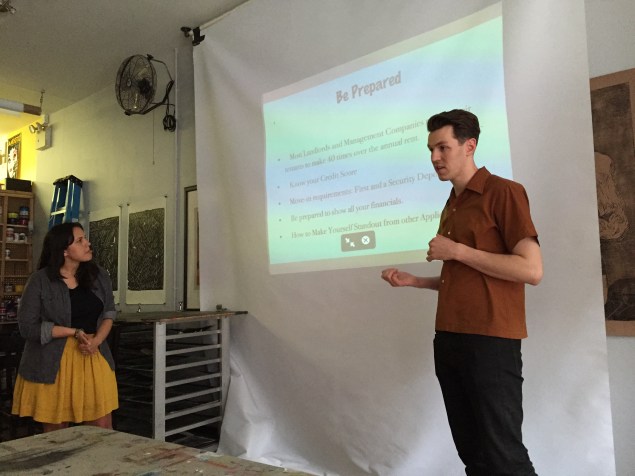 The information was there, but the people weren't. The seminar, hosted last week by Brooklyn Plans, a small organization that facilitates pop-up classes around the borough, sounded alluring enough to us—"how to find the perfect Brooklyn apartment"—but either would-be renters weren't buying the hype or they've abandoned all hope, because besides the organizing committee (Realty Collective's Shyda Hoque, her colleague Arthur Mallett and two staffers from Brooklyn Plans), the Observer was the only one who showed up.
Well, that's not totally accurate. Some people did show up, just not for the class. The five of us were gathered next to paint-covered tables at Shoestring Press in Clinton Hill, a relief painting shop (not to be confused with a deck painting shop Mr. Mallett was sharply reminded by an employee). A few people came through to pick up their belongings and one of those visitors found the dual purpose of the shop on that evening to be of particular interest.
Ms. Hoque and Mr. Mallet spent the seminar going through a PowerPoint presentation that conveyed useful nuggets of information for prospective renters including when is the cheapest time to search (winter), how to knock down the price (sacrifice convenience) and the fast nature of the business (always be closing). Real estate rumors, in other words, were confirmed, and we were seriously considering the prudence of relocating to Bay Ridge next winter when our thoughts were interrupted by the noisy skid of a chair.
The chair was occupied to a man who quickly positioned it to lean back proprietarily in the front row of the performance. He was even faster with his commentary, briskly telling the professionals that one should inform one's current landlord before moving out.
Ms. Hoque respectfully approved, but the man was not done relaying his expertise (in L.A., people talk about the traffic, in New York, the real estate?). As she was outlining the importance of preparation, he jumped in to advise the audience (one of one) to have a deposit ready. It was unclear if this was a piece of hard-won wisdom or if he was simply reading Ms. Hoque's PowerPoint aloud.
He was, in any event, unable to contain himself further, despite being asked to do so until the end of the presentation. "I don't mean to interrupt," he would begin (but of course, he did). And then, suddenly, he didn't, briefly switching over to the couch towards the back of the store before getting up to leave, surprisingly without saying a word.
After the door firmly closed being him the organizers all shared laugh—relieved to be once again relaying information smoothly to their audience of n(one). It was, Ms. Hoque said with optimism, just a test run before her early May repeat performance in Red Hook, where she hoped to have an audience, and not someone merely looking for one.