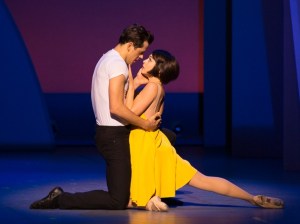 Broadway isn't baseball, but statistics still have their place. In eight of the past ten years, the show that received the most Tony Award nominations went on to win the best new musical award, the category that provides the biggest box office bump.
But history provides few clues this time around: An American in Paris and Fun Home tied for 12 nominations each today. While both are original in conception and acclaimed, they're as different as two shows can be. The other two nominees were Something Rotten! (10 nominations) and The Visit (5).
It's looking like, unlike prior seasons with musical shoe-ins such as Spring Awakening and The Book of Mormon, this year's Tonys will be more a real contest than coronation.
An American in Paris is the big budget, glamorous big seller that should do well on tour. The re-imagining of the 1951 Gene Kelly movie features bona fide ballet stars and choreography and direction by Christopher Wheeldon, a former resident choreographer of New York City Ballet. The $11.5 million show with Gershwin standards sold $1.2 million at the box office last week and Tony voters, 843 strong this year, tend to reward commercial success.
At $5.2 million, Fun Home costs less than half that of American in Paris and it's doing a third of the weekly business. It's set partly in a funeral home and save for a charming kids' number that recalls the Partridge Family television sitcom, there's virtually no dancing. But it was a finalist for the Pulitzer Prize and the reviews were particularly rapturous. Jeanine Tesori wrote the original music and many believe Sam Gold's staging got more intimate in the trip from the Public Theater to Circle in the Square. The memory musical is adapted from Alison Bechdel's graphic novel, and its themes of sexual discovery and parental secrets are timely with the U.S. Supreme Court  hearing arguments today about whether there's a constitutional right to same-sex marriage.
"We're a show of today," Barbara Whitman, a Fun Home lead producer, said in an interview.
Something Rotten!, an amusing account of the birth of the American musical in Elizabethan England that can't be counted out of the race yet opened without a tryout off Broadway or out of town. "We're the most discoverable show," lead producer Kevin McCollum, who also produced the new American play Hand to God, said in an interview. "We opened cold on Broadway five days ago. Of course no one knows anything about it. I'm grateful to be recognized."
As in years past, the nominations heavily favored productions still running (and many of the three dozen shows that opened in the past year went unrecognized). Jason Robert Brown's delightful Honeymoon in Vegas score was scandalously snubbed; the show, which closed earlier this month, got no nominations. Side Show, the acclaimed revival from the fall, was likewise blanked. The Last Ship got just two nominations, for Sting's score and Rob Mathes's orchestrations.
In a less competitive season, any of the best musical revival nominees — The King and I, On the Town or On the Twentieth Century – could win. Kristin Chenoweth, nominated for best actress in a musical for Twentieth Century, will host the June 7 ceremony with Alan Cumming. Chenoweth is a favorite in her category along with the redoubtable Kelli O'Hara (King and I) and the legendary Chita Rivera (The Visit). O'Hara's now been nominated six times and has yet to win. Chenoweth won for You're a Good Man, Charlie Brown, in 1999.
Among plays, nominators appropriately snubbed the broad star-driven comedies doing boffo business in favor of more artful British imports. Larry David's Fish in the Dark was shut out and Terrence McNally's It's Only a Play eked out a single nod, for Micah Stock as a new-in-town arrival at an opening night Broadway bomb.
Were the nods a backlash to Broadway's increasing tendency to cast celebrities? Bradley Cooper (The Elephant Man) and Elisabeth Moss (Mad Men's Peggy Olson, starring in The Heidi Chronicles) were rewarded, but some snubbed big names included Nathan Lane and Matthew Broderick (It's Only a Play), Hugh Jackman (The River), Glenn Close (A Delicate Balance) and Larry David, who lacks the stage presence of his co-stars Jayne Houdyshell, Rosie Perez and Ben Shenkman.
After years of tryouts, rewrites and battles with press agents,mega-producer Harvey Weinstein's Peter Pan musical Finding Neverland received no nominations. Nor did Scott Rudin's Delicate Balance and Fish in the Dark, although he scored seven for Skylight. The David Hare three-hander looks like the show to beat for play revival. Although the marathon two-part Wolf Hall got eight nominations to the six of The Curious Incident of the Dog in the Night-time, insiders have been mesmerized by the adaptation of the Mark Haddon's novel about an autistic boy.
Next season's awards are another story, with the transfer of the wildly acclaimed Hamilton from the Public Theater. "It's unusual to have a year with this big thing barreling down the tracks at you," said Tom Viertel, the executive director of the Commercial Theater Institute and a Hamilton devotee. "I joke with people that it's easier to pick next year's Tony than this year's."