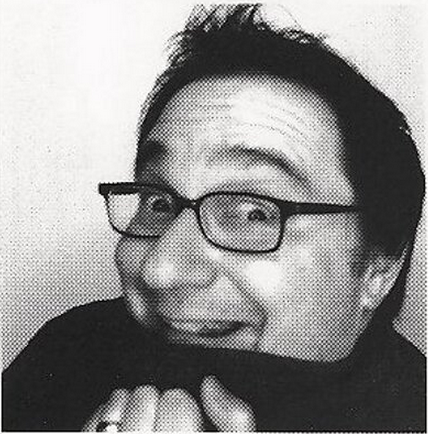 This post originally appeared on Brokelyn.
I had a dream last night that I was interviewing John Loscalzo for his obit and I had to tell him that he died. I couldn't get the words out then and I still can't.
John, AKA Homer Fink, the much-loved founder of the Brooklyn Heights Blog, the Brooklyn Bugle and Cobble Hill Blog died Wednesday at 52, leaving behind his wife Tracy, his daughter Gracie and a grieving neighborhood.
I'm not going to succumb to the folly of memorializers and overstate our friendship — our encounters consisted of occasional emails and warm greetings at some event or another. But you didn't need to be close friends to get a charge from his goofy, impish vibe and his disarming lack of self-seriousness, even though he was a big deal in the music business. He was the director of music for CBS Local when he died, after tours at Billboard, MTV, Sony and as an on-air host at numerous radio stations including K-Rock and WNYU.
John's big personality lent humor and humanity and a little showbiz razzle dazzle to our borough's answer to the Upper East Side. With BHB (founded in 2006) he created an old diner of a blog where neighbors flocked on Wednesday mornings to kvetch about the deteriorating pavement on the promenade, the sad state of Montague Street, the "high rise yuppie roach motels" going up downtown.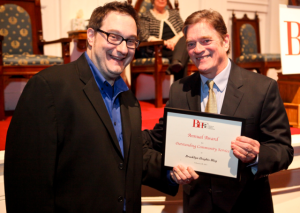 As I know from running Brokelyn, local blogging is a crap business for the most part. The beast is always hungry, ad rates are slim and you don't win Pulitzers reporting on missing dogs. But you can give people things that bigger, fancier media outlets can't: connection and meaning, and that's what John did best of all.
He was a cheerleader, historian and agitator. Commenter Nabeguy put it well: "Through this marvelous blog that was his creation, I discovered a voice that I didn't know I had or was capable of expressing. This soapbox that he offered me and many others helped draw us all together as neighbors, both new and old, to discuss and argue about this little slice of Brooklyn that we have called our home. [John] was a master at administrating the site, never censoring or critiquing, yet not above nudging an argument along when he felt it needed some goosing."
On top of it all, John also gave R-Rated "Homer Fink's Hidden Brooklyn Walking Tours" where he delighted in showcasing Arthur Miller's house, the Montague Terrace Horror (whatever that is), and ran the Brooklyn Bugle, a site sort of about Brooklyn but mainly about the writers' random cultural obsessions. How John fit in blogging, tours, his day job and his family is a marvel. Maybe it was just too much? I don't actually know how John died — none of the stories I've read say. But I do know this: he'd love to show you around. Bravo, Homer.
Faye Penn is the founder of Brokelyn and a former executive editor of the Observer.