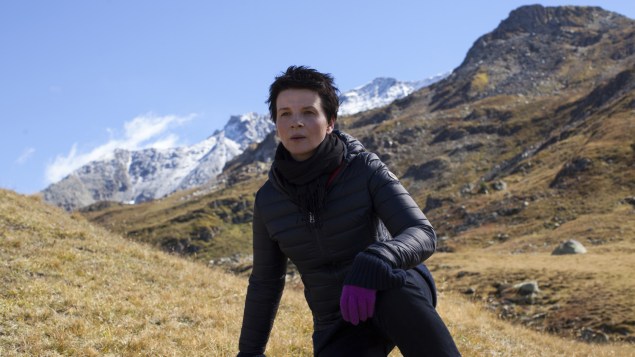 The films of prolific French director Olivier Assayas all address, in some way, the frustrations of finding a place to belong and self-define in a changing world. In Clouds of Sils Maria, the woman who fears her life and career are finally outlasting their sell-by date is a world-famous actress named Maria Enders, beautifully played by Juliette Binoche, who burst upon the scene at a young age in a controversial stage play about a young lesbian who drove her older lover to suicide. She played the ingénue opposite a middle-aged co-star to great acclaim, and now, two decades later, she has been asked to star in a revival of the play in the role of the tragic older woman. With bittersweet feelings and mixed emotions, she accepts the challenge, unaware of the pitfalls that lie ahead.
---

CLOUDS OF SILS MARIA ★★★
(3/4 stars)

Written and directed by: Olivier Assayas
Starring: Juliette Binoche, Kristen Stewart and Chloë Grace Moretz
Running time: 124 min.

---
First, the aging playwright, who has acted as a mentor throughout her career, dies suddenly while she's on her way to the Swiss Alps to accept an award in his honor. In Zurich, she reunites with another actor with whom she once had an affair but now despises, and when she finally meets Jo-Ann, the arrogant, up-and-coming Hollywood starlet selected for the role that catapulted Maria to stardom 20 years earlier, an underlying current of tension is immediately apparent. 
As the paparazzi pounces on the younger Jo-Ann (Chlöe Grace Moretz), sparks fly. The girl is a wild, intense troublemaker who steals the limelight without really understanding the role she's been assigned. Maria sees her own aging process reflected in the dressing-room mirror beneath layers of beauty cream that fail to disguise the marching of time, and to her horror, she sees images of herself at a less vulnerable age. All of it is witnessed by Maria's efficient but cynical personal assistant, Val (Kristen Stewart), who balances plane schedules from her Blackberry with advice from her heart. (The role Eve Arden used to play in her sleep, with much more personality.)
The movie moves as slowly as the oncoming fog, but Juliette Binoche is always a pleasure to watch, despite an awkward coda set in London that I found jarring. For most of the two-hour length, writer-director Mr. Assayas has provided a triptych of roles for three women, played out in a remote house where Maria hides out in Sils, a Swiss mountain village near St. Moritz known for strange weather conditions that cast a cloud over the valley like a shroud. It's a perfect setting for a woman contemplating the exigencies of age to balance pride with the instinct for self-preservation.