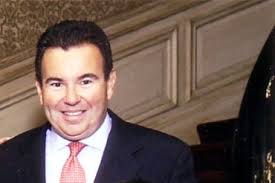 A jury today issued a verdict of guilty to three out of five charges in the corruption case of former Bergen County Democratic Chairman Joe Ferriero.
Guilty of racketeering, wire fraud and bribery-related charges, Ferriero escaped conspiracy to promote bribery and mail fraud charges.
The jury reached its conclusion following four days deliberating the fate of the former Bergen uber player.
The feds accused Ferriero of Hackensack, 57, of soliciting $35,000 in monthly payments from a mall developer in exchange for using his influence as party chairman to secure endorsements from public officials.
As part of the alleged scheme scrutinized in the courtroom of judge Esther Salas, Mills Development Corp. paid $1.7 million to Ferriero and his law partners from 2002 to 2006 for their support of the now kaput Xanadu Meadowlands project.
For more on the case, read Bergen Record reporter Peter Sampson's dispatch from the courtroom here.