I don't usually like bloody marys, but I liked this one.
Every brunch-loving New Yorker is familiar with this boozy beverage—vodka, tomato and lemon juice, spicy sauces like Worcestershire and Tabasco, salt, pepper and celery, give or take a few items. It's the bloody mary. It's typically paired with eggs benedict, croque-monsieur or corned beef hash, and it just got a creative kick at The Wayfarer restaurant inside the Quin Hotel in NYC.
The brunch hot-spot on 57th street is now allowing guests to experiment with morning cocktails and build their own bloody marys. With alternative ingredients like a green kale base, infused vodkas and cheddar cheese, bloody mary die-hards can experience the drink for the first time all over again and those who would prefer a mimosa can open their eyes to the possibilities.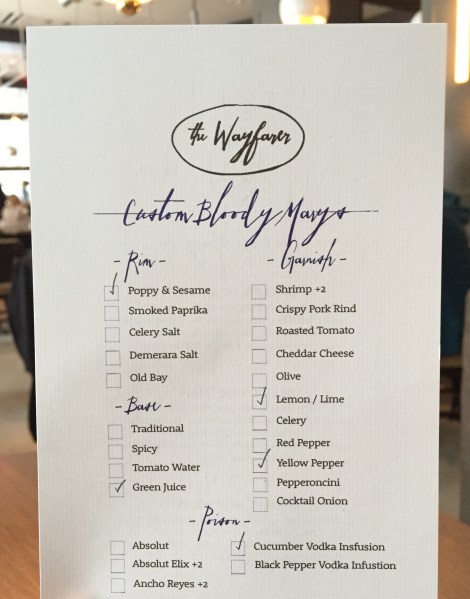 "I think brunch is all about choices," Manuel Trevino, executive chef at The Wayfarer, told the Observer this past weekend over brunch. "People love bloody marys, so we wanted to give people a build-your-own creative experience to say 'hey, let you decide,' and people seem to be having a good time."
After being seated, a friend and I were presented with numerous options for the base, poison, rim and garnish. The typical bloody mary fixings were present, but we had no desire to choose them. Spirit choices ranged from Ancho Reyes to various house-infused vodkas such as cucumber and black pepper. For the base, there were tomato options, a spicy option and a green juice. The choices for the rim involved various seeds and spices, but the garnish was where the true artistry came into the picture; options to top the drink included everything from shrimp and crispy pork rind to various vegetables and cheddar cheese.
I went with the cucumber vodka infusion, green juice base, poppy and sesame rim, and for garnish, I chose yellow pepper, lemon and lime. I paired it with some of the new brunch food items (the brunch toast trio starter and the thai chili honey chicken and waffles) and finally found a rebooted bloody mary I could enjoy.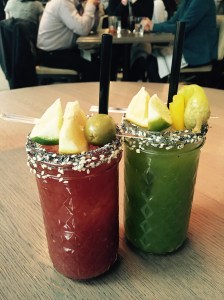 "We wanted to reinvent the brunch and make it a lot more fun for people around here," Mr. Trevino said. "I think 57th is becoming a hot spot for new restaurants, and as you can tell, brunch is a popular thing in this neighborhood, many neighborhoods—the whole city of New York. We just wanted to bring a lot of fun, true American, inventive spins on classics."
In addition to customizable beverages and a slew of new spring food items, The Wayfarer is also preparing to better the negroni, the prohibition era cocktail that's made a comeback as New York's second most popular cocktail (after the Manhattan, of course). They're awaiting the arrival of an American White Oak medium-sized charred barrel that they'll use to start creating their own custom negroni. The ingredients will age inside the barrel for a month, and the first batch is expected to be ready in early May.
"We're really excited to bring that on for the spring and summer, especially considering how popular negronis are," Adam Goldenberg, the service manager at The Wayfarer, said. "We just like them and we thought a fun twist would be to barrel age them."