New York based artist Larry Krone does a lot for which the term artist is apt. His drawings, sculptures, installations and videos have been exhibited at galleries and museums nationwide. Also a songwriter and performer, Larry's country-western inspired songs, like his art, mine the heritage of the American West. He also designs and embroiders custom-made suits, shirts, ties and underwear under the Larry Krone Brand label.
I came to Larry's work around 2006 while organizing a gallery exhibition on the theme of Americana. I was drawn to Larry's highly nostalgic interpretation of a more tolerant America, wide and spacious enough to celebrate fluid notions of gender and sexuality. Later, Larry sent me a box set commissioned by the Museum of Contemporary Art, St. Louis, that included a CD of his songs, a catalog, a shot glass, and a custom underwear pattern kit. I knew I had to experience his band, Larry Krone and Family, live.
On stage, festooned in cowboy hat, hand-made western shirt and underwear, perhaps with a bottle of Jack Daniels at the ready, Larry practices a sort of Wagnerian inspired Gesamtkunstwerk ("total artwork") performance style where heartache and longing bleed into each seam, crystal bead and fringe. To further this adoration of flamboyance and alongside the Larry Krone Brand is the wryly titled House of Larréon, a women's line that grew out of costumes created for Larry's good friend, comedienne and performer Bridget Everett.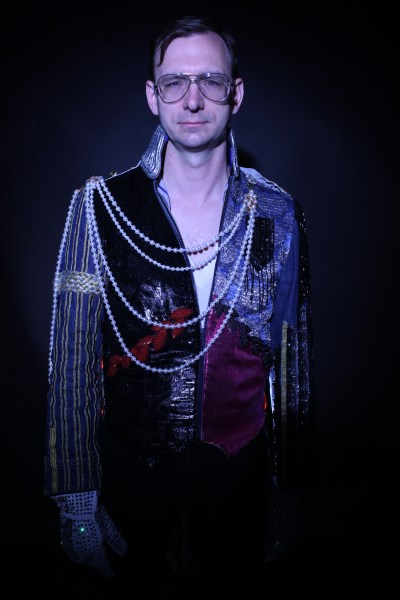 On April 14 at downtown performance venue Joe's Pub the artist will deliver a rendition of his own great American western songbook. Part benefit gala, fashion show, and musical review, the evening will include Larry performing with trans and cis models  wearing Larry Krone Brand; Ms. Everett will sing cabaret in a House of Larréon gown with models in coordinating loincloths; rapper Champagne Jerry (aka Neal Medlyn) will push the fashion envelope further with his take on hip-hop, street style.
Proceeds from ticket sales will go toward the publication of LOOK BOOK, an art book that flashes glitz, wit and artistry through the poses of some of New York's most inventive downtown performers wearing Larry's designs. Photographed by Todd Oldham and designed by Bruce Burton, with concert photographs by Kevin Yatarola, LOOK BOOK is an homage to and riff on the dying art of highly produced fashion runway catalogues.
Inspired in part by the symmetrical patterns and embroideries used by the legendary Western suit designer Nudie Cohn, Larry imbues Larry Krone Brand with a homespun sensibility. "I take pieces of fabric and do my own treatment such as silkscreen printing on vintage upholstery fabric or sewing beaded glass and sequins onto denim or repurposed cotton," he explained. "I'd rather find something I love and do something with it." In a nod and a wink to couturiers past, Larry gives each look an appropriate country-western title: a vintage cotton shirt is "Light of a Clear Blue Morning"; embroidered underwear beaded with Swarovski crystals bears the Dollyesque moniker "Underpants of Many Colors"; a silkscreened denim cotton shirt and matching pants with metallic fringe is sentimentally christened "Born to be Blue."
As he does with stagecraft, costume, and set design, Larry meticulously imprints the country-western genre's penchant for sentimentality into the line's decidedly low-tech and deeply personal production. Each garment Larry makes by hand using a reliable 1953 Singer sewing machine. "It only goes forward and backwards. I have two modern machines I don't use because I like the way the old one hums." he adds. Larry Krone threads Americana from stitch to stage and sea to shining sea.
Larry Krone Brand is available by special order. www.larrykrone.com. Prices upon request.
Tickets for the April 14th benefit performance at Joe's Pub are available now. $100, with some seats available with partially obstructed view for $75. Joe's Pub box office 212.967.7555;www.publictheater.org.
Proceeds will go toward production of LOOK BOOK and to benefit the Willie Mae Rock Camp for Girls. 
Live auction of special packages donated by Bridget Everett, Neal Medlyn, House of Larréon, Joe's Pub, and Todd Oldham Studios, as well as art by acclaimed photographer David Levinthal.