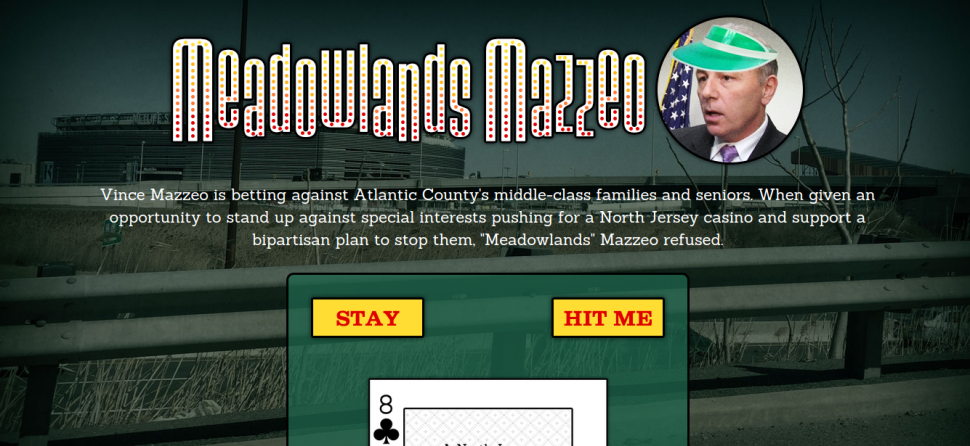 Atlantic City's beleaguered economic situation is going to play a huge role in the second legislative district's burgeoning Assembly race.
If that wasn't already obvious, Republicans in LD2 are aiming to make it so. The Atlantic County GOP has launched a Facebook page and website targeting Democratic incumbent Assemblyman Vince Mazzeo (D-2) for not making clear his opposition to talk in Trenton about the possibility of North Jersey gaming. Dubbed "Meadowlands Mazzeo" — a reference to the spot some northern lawmakers have proposed the building of a casino — the pages slam Mazzeo for his "failure to take on the powerful special interests pushing for North Jersey" gambling halls.
"When pressed on what he thought of the fight to stop casino expansion to North Jersey, Mazzeo said he was 'over it' and that if it happened this year or next on his watch, then 'so be it'," said Keith Davis, chairman of the Atlantic County GOP, in a statement. "Who talks that way? No Republican or Democrat representing our region has ever been so weak and tone deaf. Mazzeo sounds like someone waving the white flag and giving in to the party bosses and special interests who control him and pull his strings. Here in Atlantic County we deserve better than that. We deserve better than 'Meadowlands' Mazzeo."
The issue is likely to become a flash point in the South Jersey district race, as debate over expanding gaming into the northern reaches of the state continues among lawmakers in the legislature. Republican incumbent Assemblyman Chris Brown (R-2) has announced his opposition to North Jersey gaming, saying in an editorial last year that he "won't apologize for using every tool available to me as a state legislator to stop it."
But sources say a referendum on the issue could come anyway, possibly this year.
Brown is running with Atlantic County Freeholder Will Pauls against Mazzeo and Atlantic County Freeholder Colin Bell.
In his own statement, Mazzeo blasted Brown for using "gimmicks" in the face of real fiscal calamity.
"Let me be emphatically clear, I have always and I will always oppose casino gaming outside of Atlantic City. Mr. Brown's attempt to make this campaign into a shouting match about who can oppose North Jersey casinos the loudest is shocking considering the immediate fiscal situation happening right here in Atlantic County," he said.
"We need serious people to discuss the serious issues facing our region," he added. "While Mr. Brown is out there with his gimmicks and shouting about an issue we've always agreed on, I'll be continuing to focus on what's happening right now in Atlantic County — working to control and stabilize property taxes and bring new investment to our county that will create new ratables and new jobs."