With Board Tony Monteiro (pictured) the apparent target, Mayor J. Christian Bollwage this afternoon called upon Department of Education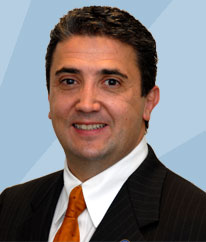 Commissioner David Hespe to conduct a thorough review of the Elizabeth Board of Education's (BOE) 2015 -2016 Budget, which includes a $7.5 million tax levy increase for the 2016 school year.
Monteiro's running for a 20th District Assembly seat in a challenge to the tag team of Assemblywoman Annette Quijano (D-20) and Assemblyman Jamel Holley (D-20).
As part of his April 8 letter to Hespe, the Mayor also requested a state determination about whether the Board can impose such a burden on residents as well as if this Budget submission is in compliance with the State Formula. Bollwage said the Elizabeth Board of Education's latest financial plan would result in a 15% tax levy increase from 2015 to 2016; equating to a $300 increase to the average taxpayer. Since 2008, there has been a 55% tax levy increase by the Elizabeth Board of Education. In addition to violating the 2% CAP, this most recent budget contains numerous questionable costs such as $3.2 million for the line item of stipend; $2.3 million for an additional 36 teachers; $2.1 million for the vacancy of 33 teachers and an available surplus of $5.2 million.
"Proposing a tax levy increase of this magnitude implies that the Board has inadequate funds to sustain current operations and maintain services. However, where is the spending justification for hiring 69 more teachers at a cost of $4.4 million when there is a stipend line item of $3.2 million?" Bollwage said. "The only conclusion that can be reached is that the stipend funds have been earmarked for other purposes, including the payment of bonuses to reward Board supporters. If taxpayer dollars are being used as compensation for favors, assistance and cooperation, where are the resolutions needed to expend these public funds?"
The 2016 submission also contains a $6.5 million line item for discretionary spending. The Mayor also posed the question as to how such a large sum of money can be designated under a vague and potentially all-encompassing term as discretionary.
"Clearly there has to be a proposed use of these funds, as calculations to some extent, were involved in reaching the total," said Bollwage. "If precise items were taken into consideration and are anticipated to be paid with these discretionary dollars, why are they not listed as specific line items within the budget?"
The 2016 EBOE Budget also violates the State formula established for expenditures per student, the mayor argued. The actual cost per pupil is $20,000, which is the result of the total number of students served within the Elizabeth Public School System, 25,000, divided by the proposed District's spending of $500 million. Manager salaries outlined within the Budget submission are also 20% to 50% higher than those of Municipal Managers.
"Although Board members are provided access to these funds, it certainly should not mean they can be spent carelessly, provide rationalization for non-compliance to occur or utilized to supplement personal incomes," said Bollwage.
In a statement, Monteiro and his running mate Giuliano Farina, struck back at Bollwage.
"You can tell it's election season when Chris Bollwage starts making hysterical claims about the Elizabeth Board of Education," said the LD20 candidates. "The facts are since 2008 Chris Bollwage has raised taxes by over $43.6 million. Over the same time the Board of Education raised taxes 18.8 million. Chris Bollwage raised taxes nearly 2 1/2 times as much as the school board. It's time he got his own house in order instead of blaming others for his high taxes.
"The Board of Education has made deep cuts to the budget over the past several years. We have to balance cuts against providing a quality education for our children, which we have done – and for which we are nationally recognized. If only Chris Bollwage could say the same," they added. "Elizabeth school taxes are only 25% of the entire tax bill. In other towns, school taxes are twice that – or more. Mayors in other towns make do with a lot less of the budget than Chris Bollwage. It's time he practice the same fiscal constraints that other mayors practice instead of consuming an additional 25-30% of the budget. Tax Increase since "08: Bollwage = $43.6 million; BOE = $18.8 million."