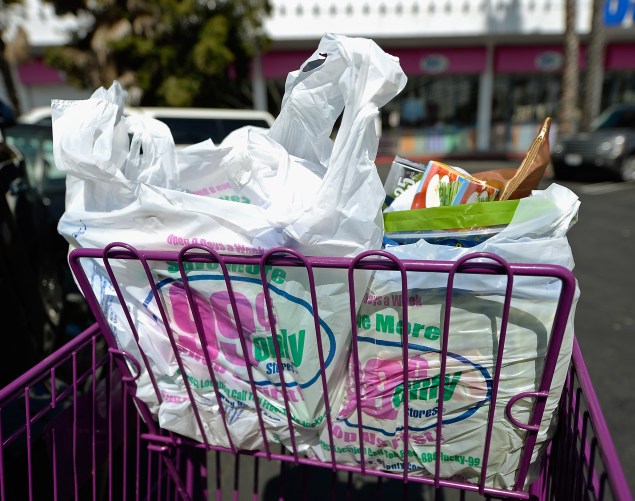 The reverend who delivered the invocation at Council Speaker Melissa Mark-Viverito's State of the City address wants the speaker to sack a bill that would impose a 10-cent fee on plastic bags.
Rev. Que English from the Bronx Christian Fellowship asked Ms. Mark-Viverito, a Manhattan and Bronx Democrat, to oppose the bill, backed by two of her allies, on the grounds that it will discriminate against minority and low-income communities.
"While well intentioned, it is beyond question that the consequences of the bill will be born by low-income families in communities of color," Ms. English wrote in a letter obtained by the Observer.
Ms. English noted that the state's minimum was increased this year to $8.75, but contended that "rising daily living costs, principally rent and housing, will erode those gains. The struggle to keep vulnerable families, seniors and immigrants from slipping below the poverty line is won or lost in small amounts, 5 or 10 cents at a time."
Councilman Brad Lander, a progressive leader in the City Council, and Councilwoman Margaret Chin are supporting a bill that would require store owners to charge customers a 10-cent fee for plastic carryout bags. Following successful efforts in California to curb plastic bag usage, the council members argue that the bags clutter parks, cling to trees, strangle marine life and cost the city some $12.5 million to dispose of annually.
Environmentalists and some progressives support the bill, but it's facing opposition from Republicans and outer borough Democrats wary of imposing more fees on their constituents. Mirroring a similar dynamic that unfolded during former Mayor Michael Bloomberg's unsuccessful attempt to ban large sugary beverages, some minority organizations are fighting the plastic bag bill, echoing Ms. English's contention that poor people who need to use plastic bags will suffer.
Bertha Lewis, the founder of the Black Institute and a leading liberal activist, has emerged as a prominent critic of the plastic bag fee. It was reported last year that she received payments from a plastic bag manufacturer and advocacy group–she denied the money influenced her position.
Ms. English pleaded with Ms. Mark-Viverito, who has not taken a stance on the bill, to pursue other avenues to protect the environment.
"From air pollution and asthma rates, to other health measures, the Bronx continues to lag behind the other four boroughs," she said. "This is due to the uniquely extreme poverty our borough faces, and a legacy of policies that were instituted so that the Bronx would carry the environmental burdens of more affluent communities."
"But the regressive fees instituted by this legislation will once again disproportionately penalize the Bronx," she added.
A spokesman for Ms. Mark-Viverito said she would be reviewing the letter.