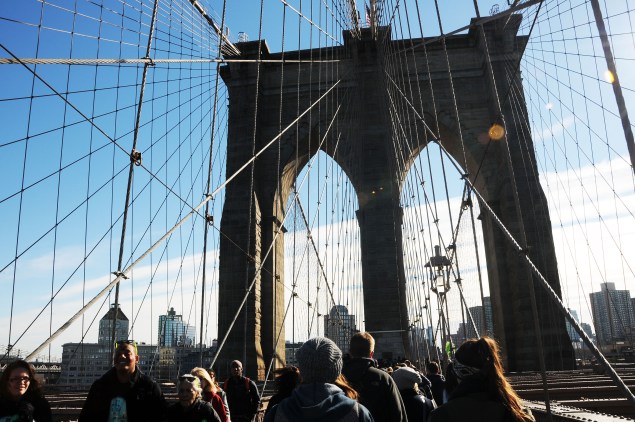 Hillary Clinton hasn't formally announced that she is running for president again, but she has signed a lease for two floors of office space at 1 Pierrepont Plaza in Downtown Brooklyn, Politico reported this morning.
It's about time that the operation secured more spacious digs. Like a bunch of bloggers launching a website, Ms. Clinton's team of staff and interns volunteers have been working from home and from coffee shops. And now, just like the next stage at a media startup, the as-yet-unofficial Clinton campaign is heading to Brooklyn, where the interns volunteers probably all live anyway.
The path from coffee shop to an office in the neighborhood that the Awl's Choire Sicha only somewhat jokingly termed DoBro is a familiar one.
"Companies making this journey from apartment to office, from barely-in-the-margins to real-world prominence, are increasingly looking to Downtown Brooklyn, the ill-defined area stretching from the Manhattan Bridge to Barclays Center, down to Borough Hall and the Jay Street Metrotech area, and seeping sideways to Fulton Mall," an article in Brooklyn Magazine explained last summer. "It's becoming one of the most popular and fastest growing locations in the city for certain kinds of mid-sized businesses, including tech startups, websites, and magazines."
Of course, considering that Ms. Clinton is a former first lady, former senator, former secretary of state and former (and likely future) presidential hopeful, any political campaign she runs is a far cry from a creative, mid-sized business. But then again, maybe it is yet more evidence that Brooklyn is changing.
"Modern Offices. Brooklyn Cool," touts the building's website, in accordance with what we can only assume is some kind of law that every business in the borough cash in on Brooklyn's reputation. Another tenant lured across the bridge for 1 Pierrepont Plaza is Morgan Stanley, which we guess is what passes for "Brooklyn Cool" these days.