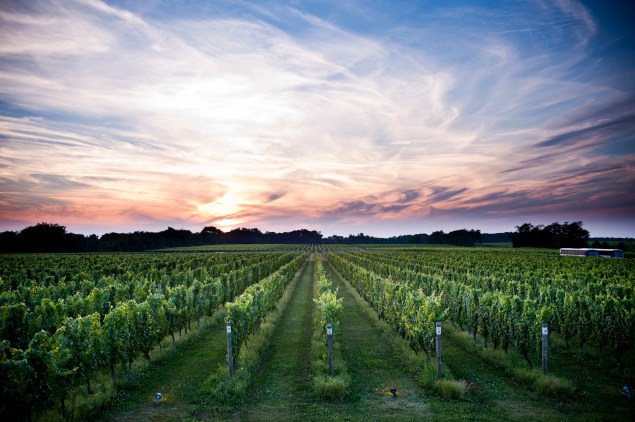 You drink California cabs and collect vintage Bordeaux, but have long dreamt of your own name on the label. Unfortunately, you know little about growing grapes or making and marketing wine.
Should you buy land in a proven wine location and plant vines? Or buy an established vineyard and winery? Once you make a wine, how do you find distributors and convince important restaurants to offer it?
To answer these vexing questions, the Observer asked experienced wine producers—who succeeded in different professions before starting their ventures—for a wine business primer. Turns out that the oft-quoted quip, "To make a small fortune in the wine business, you have to start with a large one," is a reality.
Michael Lynne
Then: Hollywood Mogul
Now: Owner, Bedell Cellars, Cutchogue, N.Y.
"You buy a winery because you can," says Michael Lynne, owner of Bedell Cellars, one of the most established and respected brands in New York State. He dove into the wine business in 1999, purchasing an existing vineyard and tasting room, Corey Creek, for $2 million.
But there was no winery, so the next year Mr. Lynne, then-Co-CEO of New Line Cinema, persuaded Kip Bedell, a wine pioneer who had founded Bedell Cellars in 1980, to sell him his business and stay on to assist with winemaking.
Mr. Lynne paid $5 million for Bedell, the highest price paid for a Long Island winery at the time. Though now retired, Mr. Bedell still comes to the winery on a regular basis. Two years later, Mr. Lynne acquired his third winery, Wells Road, for $1.5 million, giving him a total of 80 acres of vines. Having extensive acreage gives the winemaker more options for which grapes to use in blends or single-variety wines.
Buying "a going concern means you don't have to spend three-to-four years in startup mode," says Mr. Lynne, who invested in upgrading existing facilities, including a state-of-the-art bottling line, new fermenting tanks and a hand-sorting table that allowed the company to carefully inspect the grapes. Mr. Lynne recounted that his mission was to "create vineyards capable of producing world-class, Bordeaux-style wines." The location was a strong factor. "The terroir on the North Fork," he notes, "is much like the Right Bank of Bordeaux."
To succeed in a crowded marketplace, Mr. Lynne knew from his movie experience that he had to "create a premium profile for his wines and enable the brand." For example, distribution in restaurants builds brand recognition. An important factor is that the winery has had major continuity in its distribution network, which can be quite rare in the wine business. Bedell had worked closely with distributor Lauber Imports, since 1995.
While Mr. Lynne believes finding a distributor is important, he also hired his own sales force—Bedell has sales staff in Florida, Massachusetts and Chicago—to bolster the brand. In addition, they now employ a full-time sales team who live and work in New York City and Long Island, calling on restaurants and retailers. "You want to have someone presenting your label on its own," he advises.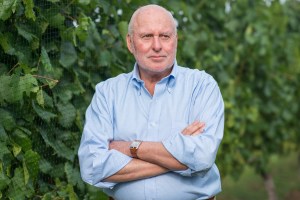 Bedell received a boost in 2013, when their 2009 Merlot was served at President Obama's Inaugural Luncheon—the first time a New York wine was served at a Presidential Inauguration. "If you are lucky, every once in awhile, something you create becomes a cultural icon [e.g.: New Line's Lord of the Rings]," Mr. Lynne says.
An avid Modern art lover for over 30 years, serving as a trustee of the Museum of Modern Art for a dozen years, Mr. Lynne combined the two passions. His tasting room include exhibits of works by local artists and he commissions works by the likes of Chuck Close and Mickalene Thomas to adorn Bedell's wine labels. "Combining these wines with extraordinary artwork from major Contemporary artists is a perfect marriage of the two passions in my life," says Mr. Lynne, who long collected Mickelene Thomas' art.
Mr. Lynne sees similarities between the wine and movie businesses: "Both are driven by creativity, not necessarily by the numbers. They are affected in large part by forces beyond your control. And, you are always at the mercy of critics and raters."
Bedell's wines have received many plaudits. The New York Times praised Bedell as a "world-class estate," while Wine Spectator called Bedell "among the leaders in this rapidly evolving region" and owner of "arguably the best track record."
Still, you won't find any medals on Bedell wines. Says CEO Trent Preszler, "We do not enter medal competitions. We believe our wines speak for themselves."
The winery's seven whites, eight reds and two sparkling wines range in price from $25 to $90 a bottle. Bedell produces 14,000 cases of wine annually and operates at a profit.
"Wine," Mr. Lynne notes, "is the result of alchemy from the combination of soil and wealth."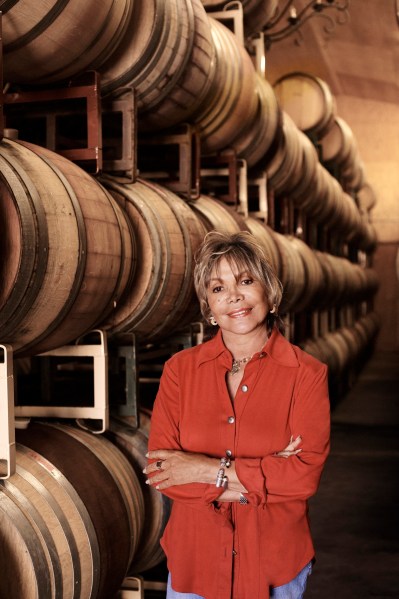 Iris Rideau
Then: Insurance Broker
Now: Owner, Rideau Vineyard, Solvang, Calif.
Iris Rideau never intended to own a winery. The young Creole, who moved with her mother from New Orleans to Los Angeles after high school, put herself through junior college at night while working in a factory during the day and caring for her daughter as a single mother.
Her first corporate job was working at an insurance brokerage firm, but she yearned to go out on her own. She started her first company, an insurance brokerage, in 1967. In 1979, she founded her second successful business, Rideau Securities and Investment, which specialized in pension planning for public employees.
In 1989, Ms. Rideau made the two-hour drive up to Santa Barbara from Los Angeles to find a retirement spot. She bought five acres on a hill in the Santa Ynez valley—the heart of wine country—and built a house. She ran her two companies during the week and weekended at her home in Solvang, Calif.
During this time, an abandoned adobe house (circa 1884) on 23 acres
adjacent to her new home became available. Ms. Rideau purchased the property and began restoring the house. Prohibited from using the building for any commercial purpose other than a wine tasting room, she decided to start a winery, thinking she would combine her business savvy with her love for entertaining. She built a winemaking facility on the same property, and both the house and winery were completed in 1997. The tasting room doors opened in 1998, selling wines made from purchased grapes. She sold her L.A. companies in 1999.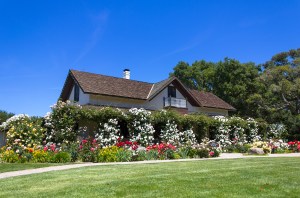 In 1998, after careful analysis, she chose to plant only Rhone variety grapes—whites Viognier and Roussanne and reds Syrah, Grenache and Mourvedre. "The first time I tasted a Chateau De Beaucastel Chateauneuf-Du-Pape (1989) I was hooked on Rhone blends," she says. "I had guests over for dinner at my home one evening and made my Creole-style gumbo. I paired the Beaucastel with the gumbo and it was sensational! The layers of rich black fruit, notes of smoke with a finish of soft tannins complemented the several layers of meats and seafood in the gumbo."
Once she discovered that the microclimate of the Santa Ynez Valley is similar to the Rhone region she made the decision to create a Chateauneuf-Du-Pape-style wine with Syrah, Grenache and Mouvedre.
Ms. Rideau's 13 planted acres produce about 4,500 cases a year. An additional 4,000 cases of Chardonnay, Riesling, Tempranillo and Malbec are made from the purchased grapes.
Finding the right winemaker, says Ms. Rideau, may be a new producer's
most important hire. After some false starts, she found Adrienne St. John, who grew up making wines in her family winery. "It took me years to discover the winemaker best suited for Rideau wines," she recalls. "I like the idea of having a woman winemaker, as we seem to be compatible both in palate and soulful chemistry." Though some executive recruiting firms specialize in the wine industry, Ms. Rideau conducted her search by word of mouth: "You know someone who knows someone that they respect both for their winemaking skill and work ethic."
Ms. Rideau chose not to enlist a distributor or rely on retail sales. Her company exclusively sells wine to the 20,000 visitors a year who come to her tasting room or to her large cellar club. (Cellar clubs are the main outlets for wine sales for many smaller wineries.) Members are customers who buy on a consistent basis. They receive many benefits, such as discounts and access to wines not available to the general public. Avoiding distributors and middlemen means Ms. Rideau retains the full retail price, which ranges from $33 to $48 a bottle. She also built her own shipping facility and sends wine all over the U.S., to states that allow direct shipping. (Direct shipment of wine to individuals is governed by state law, thus, the laws vary widely.)
Ms. Rideau spent $4-5 million on building and renovations, exclusive of the land. It took eight years for her company to break even. "One of my biggest mistakes," she recalls, "was not being as hands-on in the winery as I am now."
Ms. Rideau now sells everything she can produce—about 9,500 cases of
wines that consistently win awards. She credits her financial background with helping her survive tough times and ultimately prosper. "My years in the financial world gave me the experience I needed to invest properly, manage budgets, read and understand P&L statements and balance sheets. Additionally, I have always created special reports for managing my businesses, such as our Goals Report for the Sales Staff, which I read daily." She credits this kind of hands-on management with getting her company through the recent recession, when sales and wine club membership dropped: "I'd rather read a spreadsheet," she says, "than a book."
Bruce Murray
Then: CEO of marketing research firm
Now: Owner, Boundary Breaks Vineyard, Lodi, N.Y.
In 2005, Bruce Murray ordered a German Riesling at a Thai restaurant in Las Vegas. It was love at first sip. "Riesling is the most important white grape, but it's not appreciated," he says.
In the late 1990s, Mr. Murray worked with Elon Musk at Zip2 (a lesser-known venture than SpaceX and Tesla) and later went out on his own, starting Corzen, a market research business. He sold the company in 2007, but stayed on as CEO after the sale.
Still, his Riesling experience stayed with him, and he began to look for land in the Finger Lakes, where the cool climate is ideal for his favorite grape. His plan was to plant a vineyard and develop a successful wine business selling premium Riesling wines across the United States through distributors and directly to consumers.
Mr. Murray spent six months knocking on doors and making cold calls to see if anyone was interested in selling property. In 2007, with his father as co investor, he purchased 120 acres on Seneca Lake near Lodi, N.Y., on a west-facing slope. "Vineyards on the eastern shores of the Finger Lakes receive longer sun exposure from the sun setting in the west and thus have more chance of ripening fully," says Mr. Murray. He feels he was lucky to find the property, because ideal farmland tends to stay within families.
"Not all land in the Finger Lakes region is suitable for planting grapes. The primary concern is the soil and climatic profile of the location—what is called 'terroir.' It can vary dramatically from place to place. If someone is interested in starting a vineyard, I strongly suggest they begin by hiring someone already in the business who can help answer basic questions about locations and grape varieties," notes Mr. Murray.
He named the vineyard Boundary Breaks, which refers to the topographical "breaks," which are obvious changes in the slope of a piece of land. These slopes define the borders of the vineyards.
For six years, Mr. Murray spent weekends commuting between NYC and Lodi, about four hours away. He planted Riesling grapes in 2009 and 2010 using four different German clones. Late last year, he concluded it was time to devote himself full-time to the wine business, so he built a house at the vineyard and planted 18 acres of grapes.
Boundary does not have a winemaking facility; wines are made by Kelby Russell at Red Newt Vineyards 12 minutes away. Construction of a winery will be a major future expense. But with land running at just $6,000 an acre, costs balance out.
"I did not start the vineyard because I was sitting on a large fortune," says Mr. Murray. "I started it because I see an opportunity for Finger Lakes Riesling to become much, much more popular in the U.S.," says Mr. Murray. "This is a business undertaking like my previous entrepreneurial ventures; success depends upon identifying market opportunities and trends and getting in early when the cost of entry is lower."
Current production is 4,000 cases, with a goal of 25,000, which will require an additional 40 acres of grapes. Mr. Murray is very careful not to grow his business too quickly, however, and it will take until 2025 for these additional acres to be planted and begin yielding grapes suitable for wine production.
"You need to develop in a sustainable way," Mr. Murray says, "both in regard to the farming (no herbicides or fungicides are used) and the business—don't overextend."
The production of wine is essentially a manufacturing business; economies of scale reign. "Most small wineries, although seemingly romantic, are not very good businesses from an economic standpoint," Mr. Murray continues. "They may be fine lifestyle businesses"—and that is debatable, since the work is difficult. The only way for a small winery to be a good business, he says, is if it can figure out how to manufacture something incredibly unique and difficult to duplicate.
Now, tasting is done by appointment at Mr. Murray's home, but he plans to open a tasting room where customers can sample the wines in early 2016. "It is hard for any business to get customers without giving them a chance to sample the product. A tasting room is also a place to get to know your customers and for them to get to know you to develop a longer-term relationship," says Mr. Murray, whose wines retail at under $20 a bottle. Right now, about 95 percent of the wine is sold through distributors, but Mr. Murray expects the proportion to change once he opens his tasting room.
Once he establishes a relationship with a distributor, Mr. Murray supports the sales efforts by personally meeting with their key accounts. "It is in everyone's best interest for the retailers and restaurateurs to understand our products and be able to present them knowledgably to their retail customers," he says.
"I believe there are excellent opportunities for someone interested in investing in wine, but they should be knowledgeable and should also be willing to take a somewhat longer-term view of the return on their investment." He suggests it takes at least 10 years to build a business and estimates the initial investment at between $2 million to $5 million.
Mr. Murray is optimistic that his gambit will pay off. Last year, Wine Enthusiast named the 2012 Boundary Breaks Dry Riesling one of the Top 100 Wines in the World. The honor, Mr. Murray maintains with modesty, "simply reflects the fact that the wineries in this region can produce wines that are equal to the best in the world."
Patricia Savoie is co-author of A Wine Tasting Course: The Practical Way to Learn about Wine.