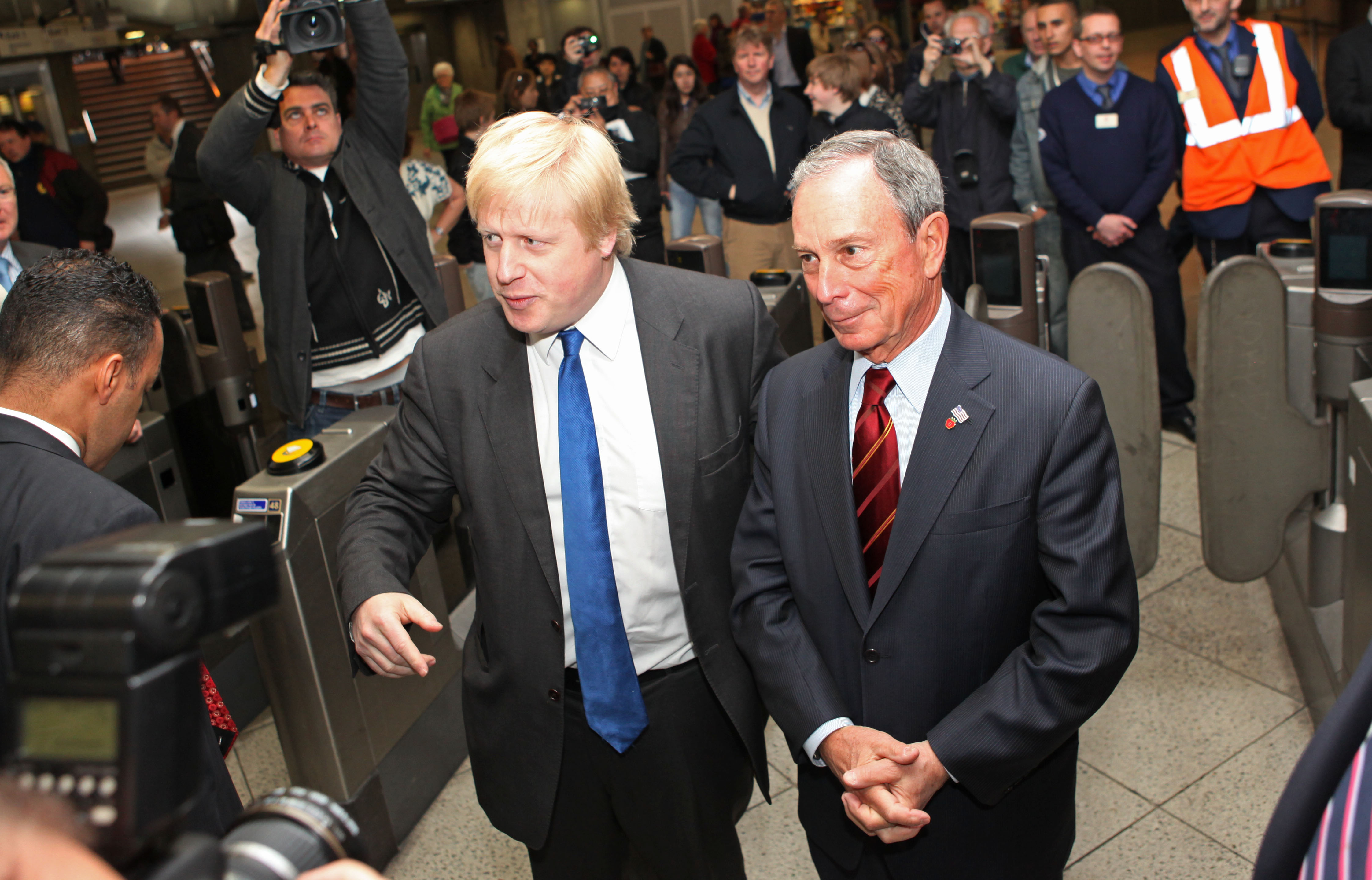 What do you say when you find out former New York City Mayor Michael Bloomberg may be interested in taking over your job when you leave office?
For London Mayor Boris Johnson, it was: "Omigosh."
The three-word-is-one phrase was how Mr. Johnson began a lengthy Facebook post this morning, following reports from London's Sunday Times—gleefully repeated on the front page of the New York Post, with an image of Mr. Bloomberg as a Buckingham Palace guard—that friends of Mr. Bloomberg are urging him to run for a fourth term as mayor, this time across the pond.
"Can that be true? It says here that the legendary American zillionaire Mike Bloomberg is poised to make an entry into British politics. In fact, he is said to be toying with the job currently held by your columnist. Bloomberg for Mayor, they say – Mayor of London!" Mr. Johnson wrote.
Mr. Johnson, a member of the U.K.'s Conservative Party, noted he didn't have time over the Easter holiday to ring up Mr. Bloomberg, who was elected as a Republican and later became an independent.
Howard Wolfson, a former deputy mayor and close advisor to Mr. Bloomberg, dismissed the story this weekend on Twitter. "Run for Mayor of London? Flattered, but rule it out. @MikeBloomberg loves NYC too much to leave – and too tough to succeed @MayorofLondon," he tweeted.
There are other complications, of course. While Mr. Bloomberg owns a home in London, he is not a citizen of the United Kingdom—though his daughters and ex-wife are, and the Times pointed out that the citizenship process can be fast-tracked if the applicant invests $15 million in the U.K., chump change for Mr. Bloomberg.
Despite the weekend's denials, Mr. Johnson surmised the media attention to be a test balloon.
"Someone, somewhere is mounting a Draft Bloomberg campaign, and they are sticking their fingers in the wind, testing the waters and generally running it up the flagpole to see who salutes," he wrote. "And I want you to know, therefore, that I am standing to attention and signalling my wholehearted approval."
And he went on to use the opportunity to tout his own city, London, as superior to the Big Apple that Mr. Bloomberg liked running so much he changed the city's laws to have a third term.
"Mike, old friend, this is the big one. I had hoped that you would run for President, but you have mystifyingly decided to let that chance pass. There is therefore only one way to excel your epic 12-year career at the helm in Manhattan; there is only one great municipal job that could conceivably count as a promotion; there is only one way to graduate upwards from the position of Mayor of New York, and that is to become the leader of a city that has regained its status as the greatest on earth," Mr. Johnson wrote.
Ironically, Mr. Johnson was born in New York City. He visited the city in February, meeting with both Mr. Bloomberg and Mayor Bill de Blasio, who postponed their meeting for a day due to a cold.