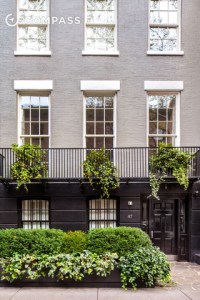 A "trophy property" in the estimation of the listing held by Leonard Steinberg and Aimee Scher, of Compass, the 5,296 square-foot townhouse at 47 West 12th Street was built in Greek Revival style in 1840 and owned, until very, very recently by Carla Weisberg and Jon Stammell (or possibly by Ms. Weisberg's parents), since 1960. We don't doubt that Greenwich Village was a hoot back then. But it also seems unlikely that anyone would have thought of area homes as "trophies" at that point, what with all the grungy hippies roaming the neighborhood.
But that, of course, might just be one more reason to ignore the wisdom of popular opinion. For there's little disagreement now about the relative status of the home, which just sold for $11.4 million, according to city records. (Just minor disagreements–the couple originally hoped to unload it for $12.5 million.)
A lovingly maintained four-story affair, with neat, grey-painted brick and a shiny black street-level door, the south-facing townhouse is currently configured as an owner's duplex encompassing the parlor and third floors, which are connected by an interior staircase, with income-producing rentals in the rest of the building. Crown molding and other period details mix with more modern features, including plentiful built-ins and a plaster-front fireplace. The parlor floor features 12-foot ceilings and views from the dining room of a rear courtyard garden.
Ms. Weisberg is the owner of a wall covering, textile, carpet and interior design business for residential and commercial spaces, and the home's clean and elegant renovations bespeak the work of a practiced hand. The aforementioned rear garden appears to be enclosed by privacy fence, complete with lattice sections for decorative ivy. But for true privacy, naturally, the buyers, who go in city records by Flagstaff 3 LLC, will want to go ahead and covert the place to a single-family. Given the purchase price, we'd say that's probably what they have in mind.