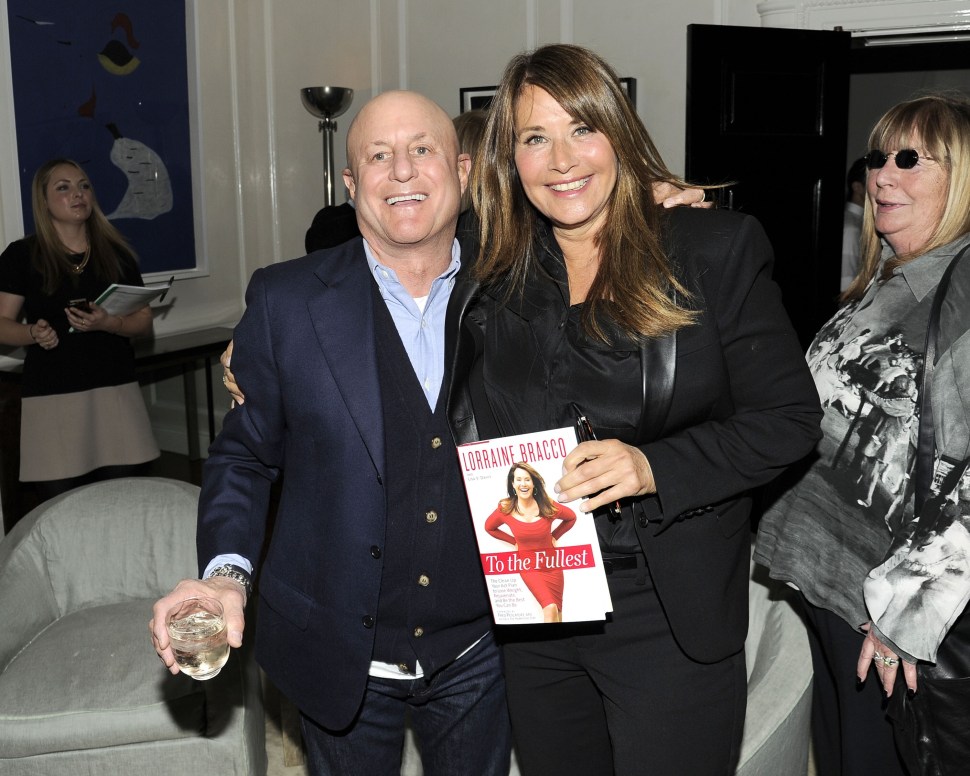 As they walked by a wall-sized Warhol here and a giant Twombly there, guests arriving to celebrate Lorraine Bracco's new book were warmly greeted by the evening's host, the investor and philanthropist Ronald O. Perelman. J.Crew CEO Mickey Drexler, Joy Behar, Joe and Ali Torre, Jesse and Rebecca Angelo, Norm Pearlstine and Jane Boon, the film director Brett Ratner, the book agent David Vigliano, and five dozen other swells all shuffled in to toast the actress for publishing her hybrid diet-depression tome, To the Fullest: The Clean Up Your Act Plan to Lose Weight, Rejuvenate, and Be the Best You Can Be.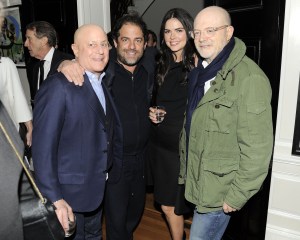 In Mr. Perelman's house, where every doorframe correctly obeys Deuteronomy 6:4-6:9, Ms. Bracco skillfully deployed a Yiddish diminutive, calling out to greet Penny Marshall with "Penneleh!" Asked about an interview she gave to Elle this month, Fran Lebowitz, wearing her uniform Oxford shirt, expanded to the Observer on her theory that Brooks Brothers ought to be obligated to notify customers before they "discontinue an item that thousands and thousands of people buy." Former Congressman Harold Ford talked about serving alongside very-much-in-the-news Bob Menendez and then showed iPhone photos of his 18-month-old beauty and told people he's expecting and remarked, "It's good because people are pretty sure I'm the father of both." No fewer than three guests broke in to tell Mr. Ford he "has to" run for office again soon.
And then Mr. Perelman introduced the author, joking about how, despite their "two dates" failing to blossom into marriage, he remained her strong admirer. It was clear that he meant it—Mr. Perelman just plain likes this brilliant and still-very-gorgeous woman.
"I got this book and I figured there would be a dedication. I'm looking for 'Dedicated to my friend Ronald.' Nothing. So I look in the index in the back and just before 'pesticides' was 'Perelman.'" The hometown crowd roared and Mr. Perelman continued. "I said to myself, 'I don't remember our few dates that way.' Anyway, everything Lorraine does is great. She's a great artist and she's a great loyal friend."
With that, the author stood next to the grand piano and revealed the warm and authentic New Yorker fans came to adore in Goodfellas and The Sopranos. And she delivered one of the great "thank you for coming to my book party" speeches the east side has ever witnessed.
"Ronald, I love you. I loved you the minute I met you, when I came to meet you about a Revlon campaign you never gave me. I fell in love with you that day, 25 years ago.

"I wanted to start this with a story about Anna. I always felt a kindred spirit to her. She spent a decade becoming Dr. Chapman; I spent a decade with Tony Soprano. So I felt we had a lot in common. We speak the same language. One day she asked me before she married Ronald to come in and give a talk to a bunch of psychiatrists. No problem. I show up in this room with lots of faces I don't recognize. I'm used to looking at Jon Bon Jovi and Michael J Fox. People in my business. Penny Marshall.

"Anna stands up and introduces a man named Richard Astor. My mind starts to race. What's going on here? All these fancy people—this can't be the Astor family. I mean, what the fuck am I doing here? In my mind I'm going Astor Place, Astor Court … Astoria… Anyway, I'm there to talk about depression and I can't put two and two together and I'm obsessed, and Richard Astor gets up and gives this lovely, lengthy speech. He talks about his grandfather and says, "I'm so lucky to have my mother here." And I'm like, "This is the New York City Library Astors." My mind is reeling with all the great things they've done for this city I love.

"My heart was racing, I can't believe that I'm here and I hear Anna introduce me.

"I begin my speech by telling Richard Astor, well you have a very impressive family. My father had a fish stall in the Fulton Fish Market for 60 years. And his friends and family were Freddie Flounder and Louis the Hook and Petey the Limp. It was crazy, the clashing of two people who probably never should have met. The truth of the matter is that we had something in common. He suffered depression and I suffered depression. That day was quite powerful in my mind. I wrote a book about it. That was my 40s and 50s.

"People recognize me and say, 'Hey Karen Hill, how are you?' and 'Dr. Melfi, how ya doin'?' and I'm like, 'I'm good, I'm good.' It's funny when people call you by your character's name. I think they might forget that there's a woman behind that person, that role, that character. That woman has sometimes been lost. And has made a lot of mistakes. A lot of bad choices. That's the journey of this life. And my journey.

"Now in my mid-50s, I'm going through menopause. Which I don't understand. Men. O. Pause. They should have called it 'what have you done with my libido?' I'm putting on weight, I'm losing my luster and I lost my parents nine days apart. It was a hard road and we buried them. I swore to myself that I was going to get my health in order. And that's where this book comes in.

"I wanted to call the book 'I'm Not Dead Yet.' Or 'Please God Make Me Fuckable at 70.' But my editor at Rodale thought otherwise. This book is a great tool to get yourself back to being the woman you should be, the woman you want to be. We start with a two-week cleanse, we jumpstart you into eating clean and living life to the fullest. And that's my plan."
It was a moving message, delivered powerfully by a professional persuader. With that trademark scratchy voice, you could just picture her holding her thumb and forefinger apart to indicate to Henry Hill how much cash she required for a day of shopping.
As the crowd broke into smaller klatches, Mr. Perelman huddled under the Modigliani by the fireplace with Ms. Lebowitz and some British guy. And as the guests headed for the exit, free books in hand, it was evident that Ms. Bracco's live-healthy advice didn't completely convert the entire audience. As they waited for taxis and Ubers, both Ms. Lebowitz and Ms. Marshall were spotted firing up some good old-fashioned gluten-free cigarettes.