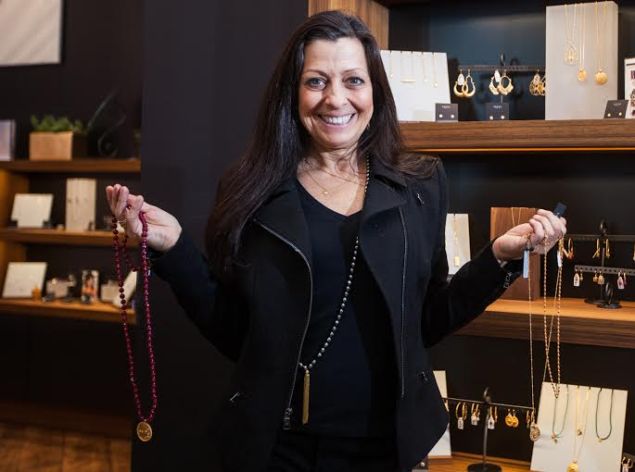 When N.Y. – born jewelry designer Satya Scainetti opened her latest boutique in downtown's shiny new Brookfield Place shopping center a couple of weeks ago, it was a fitting tribute to one of the city's most under-the-radar, homegrown success stories. "The developers only invited a handful of New York brands to be there," she said, speaking at her office in Chelsea. "We're alongside Hermès, DVF, all the big luxury names."
The mall is opening in part to cater to the well-heeled Condé Nast crowd, who moved into their new offices opposite the Freedom Tower in November 2014. "It is a little eerie down there," Ms. Scainetti confessed. "We did a desk-side at Teen Vogue recently and I couldn't help but flash back to my boyfriend digging people out of the rubble. I was right there when the towers went down."
In September 2001, she was also preparing to launch her eponymous line—a collection of spiritually inspired high-fashion jewelry, a portion of the profits from which she intended to give to children's charities around the world. Fast forward 13 years, and this has amounted to more than $1 million in donations—"but that's a drop in the ocean of what I intend to give," she said.
Born in Long Island to an Italian-American family, it took Ms. Scainetti a while to find her groove career-wise. "They were all artists in my family. My four siblings became designers and musicians, but I was never sure what my talent was. I knew I was good at making people happy—such a strange thing to be aware of as a child! But I was like, 'How can I make money from that?' "
Eventually she settled on social work as a way of tapping this unusual "talent," and studied at Adelphi University. "But there was so much red tape and not so much actually helping people, and I got disillusioned very quickly," she said. Considering that perhaps a career as a hands-on healer might bring her more satisfaction, she took a hiatus to attend a month-long yoga teacher training in Barbados, which is where, quite literally, she dreamed Satya Jewelry into existence.
"On graduation night, I was gifted my spiritual name, Satya, which means 'all truth' in Hindi. That same night I had an incredibly powerful dream that I was going to design a line of jewelry named Satya, and use it to donate money to help kids all over the world."  The next day, she called a friend to enlist her help and the brand launched shortly afterwards out of her apartment on Jane and 12th, using the $10K she had in savings at the time.
Drawing heavily on Eastern religious iconography, the line features symbols ranging from the Buddhist lotus flower, to the elephant-nosed Ganesh (the Hindu deity known as "the remover of obstacles"). There is also a wildly sought-after astrology collection, with the different constellations of the zodiac picked out in semi-precious stones. Ms. Scainetti herself wears a tiny gold "Om" pendant at her throat—"It's a talisman, a reminder to breathe in when I need a moment of peace," she said.
Each piece comes with a little card explaining its spiritual significance, while "the dream is that anybody can find a piece in the line that speaks to them," said the designer. "Be it a symbol or a healing stone, I encourage my customers to trust their intuition. If you're drawn to something, it's because it's calling you." Having birthed twin boys in her early 40s; "I wore only black onyx for two years—it's the stone of endurance!"
Manufactured in a small factory in Rishikesh, Ms. Scainetti regularly travels to India to oversee production. On a recent trip, she visited a local school to mentor young girls on how they, too, could earn a living making and selling jewelry. Elsewhere, her charitable contributions go to smaller "mom-and-pop" organizations, mainly in India and Africa, as well as here in her hometown. "A lot of it is around education and healthy living, to give kids the opportunity to make a change for themselves," she said.
As well as the new Brookfield Place boutique and a thriving ecommerce business, there are two further stores in Columbus Circle and on Bleecker Street. And, fittingly, along with a glossy counter at Lord & Taylor, you will also find a large selection on sale at Soho's incense-scented Golden Bridge Yoga center, in which Ms. Scainetti was an early investor.
With all things New Age currently in vogue again, it's little wonder the elegant yet meaningful pieces are so popular. "It's fashion, yes, so you're getting enough compliments," she said, fingering the beads of a gold and quartz crystal mala that also hung around her neck, "but there's also the story beyond that about what it means to you."
Witness the messages that flood her inbox daily—like the story about four sisters who all bought the same piece as a mark of solidarity when one of them was diagnosed with cancer. "I'm humbled every time I hear a story like that. I feel like I'm just the delivery girl, and I get to do something magical every day." For somebody it took a while to find her calling; "It's a cool job, y'know!"