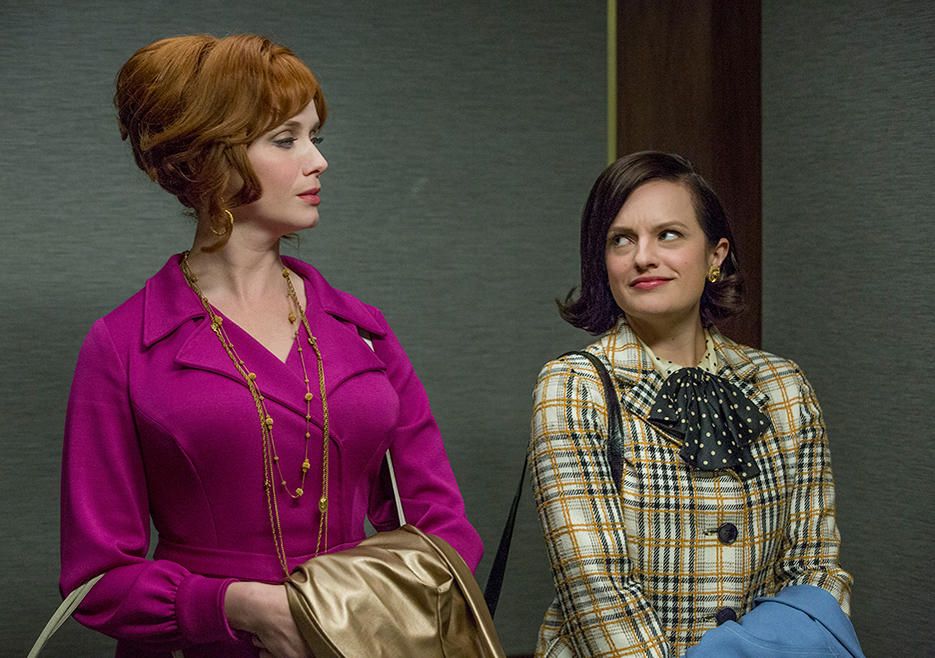 "I always feel that costume design is one of the essential characters to any show," Janie Bryant says over the phone. That's certainly true on Mad Men, the period drama on which Bryant served as costume designer for its eight-year run. Bryant packed in at least one iconic sartorial moment into each episode: Betty's Italy-bound LBD, Megan's winged sleeve "Zou Bisou Bisou" frock, Peggy's plaid pantsuit, Sally's metallic go go dress—the list goes on. Even the smaller characters, from Jane Sterling to Dawn and Shirley, were treated with the same level of stylish detail. Bryant's designs didn't just make for on-screen eye candy, they resonated in the contemporary fashion world with designers like Michael Kors, Prada, and Louis Vuitton mining the '60s for inspiration and, now, as the show moves into the next decade, brands like Chloé, The Row, and Sonia Rykiel are reimagining the '70s. Not to mention, Bryant also helped churn the Mad Men Fashion Effect while helming three lines at Banana Republic.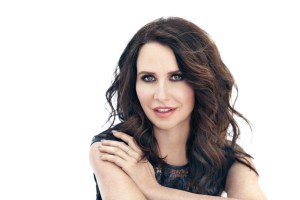 Now, as the final episodes air, Bryant is leaving her mark on fashion in a handful of other ways. Since the show wrapped production in July, she's focusing on capsule collections for Shoes of Prey and Black Halo, designing the uniforms of the DC Watergate Hotel, and serving as a style ambassador for Mack Weldon. Still, Bryant found the time to weigh in on how the characters' evolved with their costumes, the conspiracy theories behind the clothes, and which character gave her the most trouble.
Did you feel there was something special about Mad Men right from the beginning?
I felt like Mad Men was a very special show from the moment I met Matthew Weiner. I loved how he talked about the characters and story and how passionate he was about the period—and I truly love period costume design. Did I know it would have such a huge impact on fashion and pop culture? No [laughs]. It grew organically.
Where did your relationship with Weiner start out in terms of his direction and how did it change over the years?
He sometimes writes in specific things. Like he wrote in for Megan's party scene in California, "Megan in a Pucci dress," because he really visualized it. But there are thousands of costumes in 92 hours of Mad Men, so we talked more about the character arc and the backstory. The costumes have to help tell the story. They tell the personality of the character and evoke the mood of a scene. It helps the actor be able to transform into that character.
Two of the people whose arcs seemed most apparent through their clothing are Peggy Olson and Sally Draper. Do you feel like either Peggy or Sally had more growth through their clothing?
Oh yeah, both of those characters for sure. Just the mere fact that Kiernan [Shipka] went from six to 15, childhood to teenhood, there were so many opportunities story-wise for her to have a change in costume design. In Kiernan's early years, it was always so challenging to find vintage garments. We'd need multiples for kids because they can only work certain hours, so we would always be on a desperate search to find three of one dress. We'd end up finding our vintage children's clothes in Long Beach stores or on eBay, where we'd also find vintage catalogues from JCPenney or Sears.
In terms of Sally's evolution, in the beginning I always loved the idea of Betty dressing Sally to look like her. So their silhouettes and color palette were very similar. As the story progressed and they became combative, I love that Sally would wear her oranges, greens, and reds—a color palette that Betty would never wear.
That's Megan's color palette.
Exactly. As Sally was influenced by Megan, she always had these two worlds of existence: The suburbs, where she was very East Coast, preppy, and traditional, and the city, [where] she'd express herself more. She could be more hip and groovy like Megan.
It seems like Megan is a character that was always ahead of the curve, style-wise. When she sings "Zou Bisou Bisou," she's wearing winged sleeves and, later, at the start of the second half of the final season, one of Roger's dates is wearing winged sleeves. Was their more research involved for Megan's costumes?
For every character, I do a lot of research. Megan's character and costume design really change throughout the season because at first we see her be a secretary in the office. It's almost like you don't even know who she is. Then she comes to Don's attention and when Megan and Don married, Megan would have a bigger "allowance." So Megan would have more expensive clothing and access to being more fashion-forward. That was a big shift in her costume from secretary to wife, and then wife to actress, which was an opportunity for Megan's costume to shift towards the bohemian, relaxed Californian design.
In many ways Megan and Don are on the opposite end of the spectrum but especially in regards to costume. His look barely changes from the first season. Was it intentional to always keep him in this suit?
Yes. They definitely had things in common and when Megan was with Don, it was the first time we had seen him happy in a while. But as their relationship took a turn for the worst, it was important for the audience and the actors to be able to feel that generation gap in their costume design.
This season it seems like people have been responding a lot more positively to Peggy Olson's look. She seems a lot more polished. Do you prefer dressing frumpy Peggy or feminine Peggy?
I love all the transitions of Peggy Olson. I really loved frumpy Peggy [laughs]. I loved that Lizzy [Moss] is such a great actress that she was willing to not look beautiful for the character. I always have such respect for actors who are that vulnerable to go there. I also loved when she had the transition of being more of this powerful, professional woman.
What do you make of all the color theories people have come up with for Peggy's outfits? Did you keep track of what different colors characters were wearing for what moments? Or are some of the theories coincidental?
I do love the psychological analysis of the costume design. One item of clothing that I never, ever thought would make such a huge statement was Megan's Vietnam star t-shirt. Out of all the thousands of costumes, there was a theory made up about that one. I always thought that was so ironic. Like, really? A simple little t-shirt is going to cause such an uproar?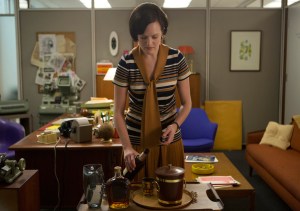 I have a color palette for all of the characters. The color palette, for me, is about evoking a mood and emotion of the character. It tells the story of each individual character and helps the audience have different emotions evoked as well. The perfect example is how Lizzy Moss hated mustard. She h-a-t-e-d it—and I loved mustard for Peggy. Yes, it is an ugly color but it tells the story of this girl who is earthy, not in fashion, and it's not the most flattering color. I see Peggy being very down to earth and earnest. I also used a lot of navies, greens, rusts, and other yellows—it's about having that color palette but incorporating lots of textures and patterns like pleats, plaids, polka dots, and houndstooth because I always felt like Peggy was such a layered character.
I really loved the scene in episode eight of the seventh season where Peggy and Joan are in the elevator and the contrast between them is made all the more apparent by their outfits: Peggy is wearing this conservative plaid suit and polka dot tie and Joan is wearing a V-neck fitted fuschia dress. How did you think that played into the scene before in the conference room?
When Matthew Weiner and I talked about that scene, he said, "I would really love for Joan to be in something more sexy than what she normally wears to the office," so I designed that dress for her. The pink is very feminine and flirtatious in a way. That was a different neckline than she usually wears to the office.
Which character did you have the hardest time getting a feel for?
Ginsberg [laughs]. When Weiner had first written that character, I didn't know where he was going to go—I don't think Weiner had written his full storyline—so it was an interesting journey to figure out Ginsberg has really no clue how to dress professionally.
Now that the show has moved through a decade, what were some of the different challenges of putting together '70s costumes and did you prefer either decade?
I love change and I've always loved that it wasn't just a show about 1960 for 10 years. It's really about helping to tell the story of these characters as they've moved through time.