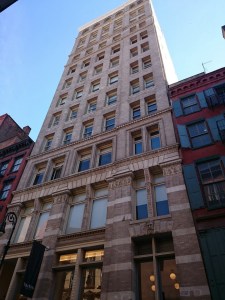 Among Mad Men's dubious contributions to popular culture–even as the show winds towards its close–is the notion that the talented ad man is, at his best, essentially an artist, a philosopher–a storyteller. (This not to say that the show isn't otherwise a lot of fun, or that ad men can't also be artists; see Richard Yates, for example.) But it might very well be true that an effective ad man, like a novelist or short story writer, understands that producing good work often has at least as much to do with what you leave out as with what you put in.
There are some stories, or portions of stories, that you simply don't tell. From the perspective of Sotheby's International Realty brokers Stephen McRae and Debbie Korb, who recently found a buyer for their $8.95 million listing at 158 Mercer Street, according to the firm's website, the story in question concerns the condo's former owner, Mark Madoff, who committed suicide there in 2010, two years after his father, Bernie, was arrested for perpetrating the largest financial fraud in United States history. Then again, we assume the brokers would have mentioned it, even if not in the listing, in the interest of full disclosure, lest buyers be unpleasantly surprised before the deal is officially sealed.
But given that the four-bedroom 4,169 square-foot apartment spent just a few weeks on the market, we'd guess that the would-be new owners are pretty darn hot-to-trot despite the property's history. It's not terribly difficult to see why, even taking the locale's grizzly back story into account. Purchased by Madoff with his wife, Stephanie, in 2005 for just over $6 million, the Soho loft has beautifully sleek interiors and a wall of windows facing west onto Mercer Street, with charming views of local buildings and rooftop water towers. Customized in varied textures using "exotic woods, steel, stone and glass," the apartment is bright and tasteful, with high ceilings and plenty of light.