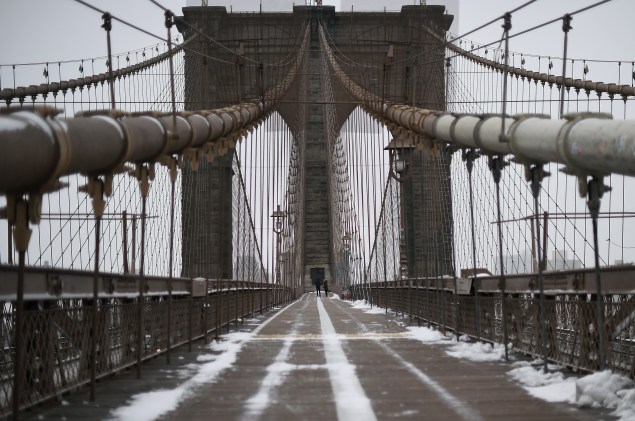 Mayor Bill de Blasio wants to consider building a subway line down Utica Avenue in Brooklyn, a new connection between the L and 3 lines in East New York and expanding the number of Select Bus Service routes. One way he's apparently not looking to fund any of these upgrades is with congestion pricing.
Mr. de Blasio, a Democrat, notably did not mention the "Move NY Fair Plan" in the sustainability agenda he unveiled today in the Bronx. In fact, as he did before, Mr. de Blasio insisted he still hasn't read up on the pricing scheme, which would place tolls on the East River Bridges, charge motorists to enter Manhattan south of 60th Street and lower tolls on other outer borough crossings.
"I think it is a productive contribution to the discussion," Mr. de Blasio told reporters. "We are going to sit with all of our partners in the region and talk about a way forward because it has to be dealt with."
"That will be one of the ideas on the table, but that is a long process, and I can't conclude anything about the way forward until we have those discussions," he added.
Mr. de Blasio's sustainability plan, known as "One New York: The Plan for a Strong and Just City," is a rebranding of his predecessor Michael Bloomberg's PlaNYC. Mr. de Blasio, who is legislatively mandated to update the plan, is focusing more on eradicating poverty and income inequality, but was criticized by some observers, including the New York League of Conservation Voters, for offering relatively little details in the plan.
On the transportation front, Mr. de Blasio's ambitions will meet the harsh realities of an underfunded Metropolitan Transportation Authority and a sprawling system in need of extensive maintenance and possibly expansion. Mr. de Blasio has not said yet if the city will actually increase its annual contribution to the MTA, which has been stuck at about $100 million for three decades.
Mr. de Blasio admitted today that there "is a reckoning that has to happen in terms of where we're going with the MTA."
"In this plan, we do not provide all those answers, because we don't have them all yet, but it's something we're going to be working on," the mayor said. "As I said, you get this plan, you get the capital budget, but then there's going to be a lot happening after the capital budget, including on the question of the MTA."
Some city Democrats agree with Mr. de Blasio, but insist the answer to the MTA's money woes is congestion pricing. Any new tolls must be rubberstamped by the State Legislature and Gov. Andrew Cuomo, who has not been overly receptive to the Move NY plan. 13 city and state Democrats urged top state lawmakers today to support the new pricing scheme.
As a city councilman, Mr. de Blasio opposed another version of congestion pricing that died in the Assembly in 2008. Before this plan goes to the Assembly for the vote, it will first need to pass the City Council, where Mr. de Blasio's support or opposition to Move NY will matter most, observers say.
Jillian Jorgensen contributed reporting.