Sant Ambroeus SoHo and Del Frisco's in midtown draw two very different crowds. While Del Frisco's has a tried and true formula to attract bigwigs from media and finance in the mood for a steak, Sant Ambroeus has an ever-rotating caché of it-folks who cheat on their no-carb diets for the fresh pasta that you might swear came straight from the small Italian village with the dialect that gives the restaurant its name.
Felix Albano and Alireza Niroomand are the two gentlemen behind the two wildly different eateries. Both have put their own personal stamp on the dining experience as the Maitre d'Hotel of their outposts, but if one thing is for certain, it's that both are among the best in the business.
Each gave Observer a look inside their everyday lives, from Mr. Niroomand's organic first anniversary celebration for Sant Ambroeus to Mr. Albano's highly coveted collection of signature bow ties.
ALIREZA NIROOMAND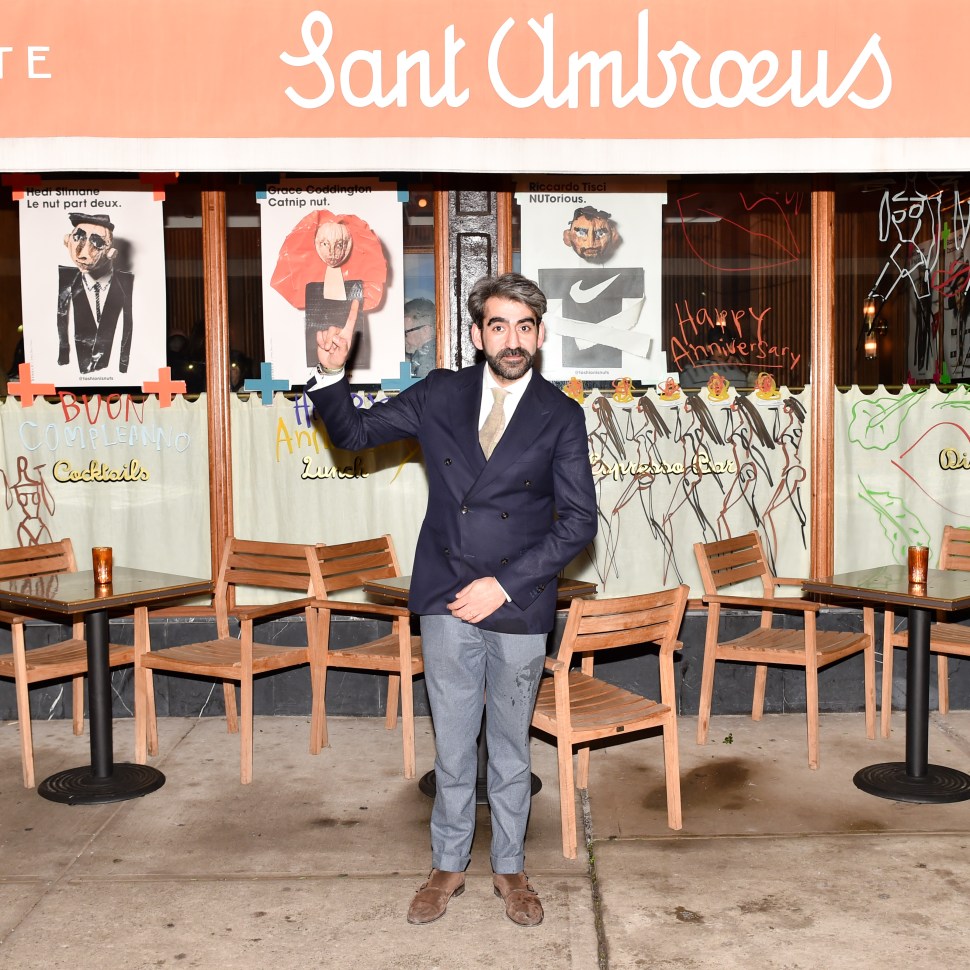 How did you come to work at Sant Ambroeus? 
I believe faith led me to work at Sant Ambroeus. I was out of the restaurant industry for five years but always kept in touch with Gherardo Guarducci, Partner of SA Hospitality Group. I always loved Sant Ambroeus and when I lived in the neighborhood, I frequently dined at the West Village location. It reminded me of Europe. When Gherardo called me about the opening of Lafayette, it all felt very natural!
Have there been any standout moments during your tenure?
The whole journey has been very exciting! I loved being involved in all the steps and seeing how the restaurant has come to life, thanks to an amazing chef and a fantastic team. The most fun I've had was inviting our guests to design one-of-a-kind plate for us. We now have almost 100 contributors that line the walls of the restaurant and hang above the bar for all guests to enjoy.
What are you favorite Sant Ambroeus dishes?
I have a tendency to go for pastas. Being married to an Italian, Sant Ambroeus is one of the only restaurants I can have a pasta made the proper way!
What about your favorite clients? 
With 80% regulars, it is very difficult to have favorite clients. I like to describe Sant Ambroeus as a home away from home, and our guests are like family, all complementing each other.
Any unique requests from them?
I haven't really had too many unique requests, besides a few for guests taking private flights. They were interested in having a Sant Ambroeus meal for their trip, which we loved and of course happy to accommodate.
What's the secret to a winning dinner party? 
 Good energy and the desire to have a good time. It seems easier than what it is!
Are there any other restaurants you love?
Besides Sant Ambroeus, I usually go to friend's restaurants where I am treated well. A few restaurants I always mention are Jack's Wife Freda, where Dean and Maya always greet you like Royalty, and were such great supporters in the neighborhood when Sant Ambroeus first moved in! The second is Uncle Boon's, a real gem that serves you authentic Thai cuisine. The food is phenomenal.
Did you have a hand in planning the epic anniversary party? If so, how was that planning process and building the guest list? Is it an exact science for you?
I don't over plan. I believe things come together organically! What I knew was that we didn't want the anniversary party just to be a toast. We have such a great pool of creative patrons that I thought it would be fun for them to take part in the celebration. Garance Dore offered to sing a song, Chris Norton brought his magical touch at the trumpet along with a brass band, and Leandra Medine and her team took over our Instagram. And of course it would have not been a party if our friend Donald Robertson didn't throw his magic on our Windows! It was amazing to see such a beautiful and fun crowd come and celebrate us!
How would you describe your personal style?
I am often asked this question, but never know what to answer. Again, I don't over think, especially when it comes to clothing. I just know, I hope that it doesn't sound pretentious. I went to boarding school so I had to learn very early on the basics, how to knot a tie and have perfectly ironed shirts!
FELIX ALBANO 
How did you come to work at Del Frisco's?
I went to parochial school in Winthrop, Mass., a suburb bordering East Boston. I, therefore, had more days off then my public school friends. On days that I would be off, they would skip school and we would BBQ. I always worked the backyard grill… and I always received rave reviews. I parlayed that into obtaining a line cook position at a local restaurant. It was not easy, and during the summer, the hours were long, but I loved it. Around this time our family went to the Fountainbleu Hotel in Miami. During dinner, I wouldn't eat, I would just watch the "flow" of the restaurant. The bartenders, servers and managers were all moving creating an energy that I was totally wrapped up in. I knew then that I wanted to be in the business.
At first I wanted to become a chef, but my father suggested I get a business degree in Hospitality Management first. Upon graduating, I contacted the GM of the Fountainbleu where my interest and inspiration were first piqued – by that time he had transitioned to the VP of Hilton Hotel Corporation based out of The New York Hilton.  I interviewed and landed the position of Staff Dining Director, putting me in charge of the staff cafeteria which fed 1000 meals for breakfast, lunch and dinner. Not the most glamorous, but important nonetheless. I stayed with the Hilton from 1991 to 1995 at various roles in the Food and Beverage Department before moving to the Four Seasons Hotel as the manager of the Room Service Department.
I was promoted in 1997 to run the 5757 Bar – it was the hottest hotel bar in NYC. That is where I met the CEO of Lonestar Steakhouse and Saloon, at that time the parent company of Del Frisco's. He was a frequent bar patron, and I will say this: no one has a better story of being recruited than I. I've been with Del Frisco's ever since.
What are some standout moments during your tenure? 
Easily the standout moment of my tenure here at Del Frisco's were the times I was awarded Best Maître d' in NYC from the Concierge Association of NYC Hotels. I have been nominated five times, and have won three times. Being recognized by one's peers is the ultimate honor in my mind. 
What is your favorite Del Frisco's dishes? 
Whenever anyone asks me what I like the most, I steer them towards our award-winning Crab Cake as an appetizer. My personal favorite steak is the Porterhouse: huge plus, the guest receives two steaks in one: the strip and the filet. My favorite side dish is the Spinach Supreme, our rendition of creamed spinach. Cheese, spinach, cheese, egg, cheese, and bacon. Amazing!
Who are some of you favorite clients?
I have many, many favorites clients, none of which I'll call out by name. However, in general, my favorite client is one that comes back because we have exceeded his or her expectations.
What were some of their most unique request? 
The most interesting request was for one of my bow ties. Not only that, but to tie it around the gentleman's neck! Of course I obliged, and he has become a regular guest of ours now. Definitely a great return on a used, but stylish bow tie!
What's the secret to a winning dinner party?
The secret to a great dinner party starts at the very beginning. Ensure everyone has a drink upon entering, and have a non-alcoholic beverage available also.
As the host, you also set the mood and tone of the party. Music plays a major role in ensuring it's off to a great start. The playlist we have at Del Frisco's does just that – sets the tone for a classic, yet upbeat and fun evening.
Before the main course, have easy-to-grab, one-bite items set out. This eases the party into dinner. As for dinner, less is more. Keep it simple but high quality and serve sauces on the side. Del Frisco's may be opulent, but at the end of the day, we are serving quality steak! We only use salt and pepper to flavor, because with a high-quality meat you want the true flavors to shine.
Are there any other restaurants you love? 
I love restaurants that are not pretentious, but instead loud and fun. After 15 years in the steakhouse industry, I typically steer away from steak and opt for alternative proteins. As long I get a feeling the place has a "buzz" to it, and has energy that slaps me across the face upon entering, I know I'll have fun. Luckily, in NYC, we have so many choices to experience this "buzz."
How would you describe your personal style? 
My personal style has been described as "direct" by most. I am one of the funniest people I know, but also respectful. I have always treated my guests by being friendly, but not familiar. This is very important. There is a line in this industry, as a professional, you cannot cross. And, believe me, the guest will let you know! Our guest is our utmost priority. I typically live my life by the Golden Rule: treat others the way you want to be treated. I believe these ideals have allowed me to have such a long tenure and career here in the Capital of The World, New York City.