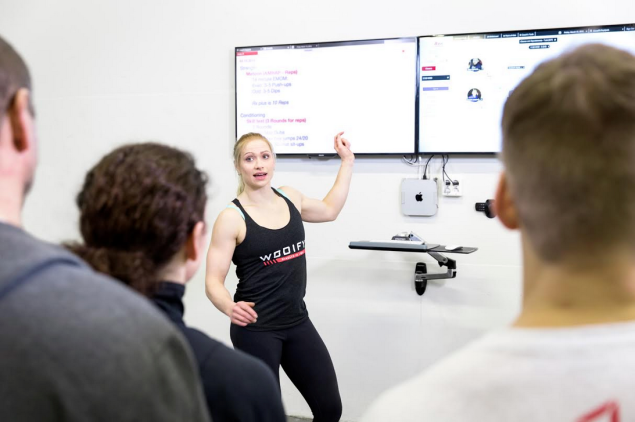 As evidenced by the growing numbers of noise complaints and hordes of toned athletes clearing grocery stores of their kale supply, CrossFit's popularity is on a major rise. And it's not just the workout's toned disciples who are benefitting, but the tech companies who've tapped into this fast-growing market.
One of those companies is Wodify, a startup that provides multi-purpose software specifically designed for CrossFit affiliate owners and their athletes. Launched in 2012, Wodify is now used by 2,500 CrossFit gyms—or boxes, as they're known in CrossFit-speak—in 70 different countries. Sixty-nine of its clients are in New York State. The company says it's easily the largest CrossFit-specific software provider in the world, and that its success isn't slowing down anytime soon.
Wodify automates every aspect of the CrossFit experience, both for box owners and their members.
Owners can use the service for tasks like scheduling classes, tracking attendance, billing members, and monitoring coaches' hours—leaving them free to devote their energy elsewhere, like marketing their gym or interacting with athletes. When it comes to managing the business, a box owner using Wodify might only need to expend "10 to 15 minutes of effort every three or so days," Eric Allen, Wodify's VP of business development, told the Observer.
Athletes, meanwhile, can use it to see the workout of the day, record their results, and track their performance over time. They can also sign up for classes, keep a nutrition and hydration log, and compare their workout results with fellow gym members.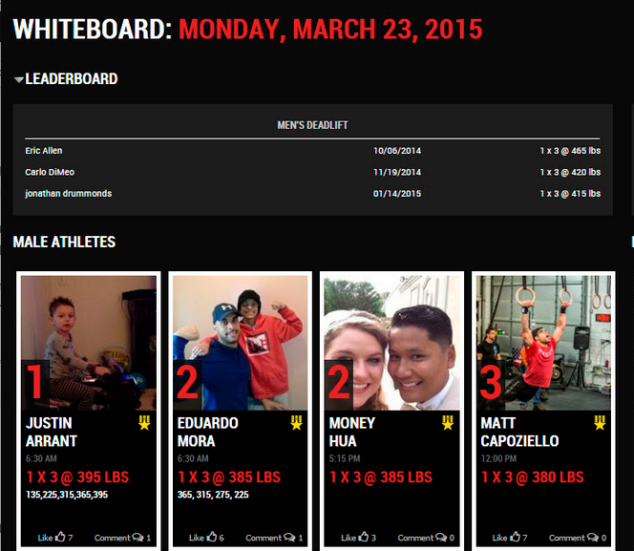 Wodify began as a way for athletes to track and measure their performance, Mr. Allen said. It was founded by then-software consultant Ameet Shah, who also happened to be a CrossFit enthusiast, and who'd observed a major problem at his gym.
"This gym had a filing cabinet in the corner with a ton of files—papers shoved in it, all crinkled up," Mr. Allen explained. "People were all sweaty when they were trying to fill out performance results and stuff."
Because navigating the filing cabinet was so laborious, "people weren't entering results down," he said. "Or, if they did, it was really hard to go back and reference them."
And then there were the whiteboards. Boxes often use whiteboards to record athletes' performance and display the daily leader board, but at the end of each day, those whiteboards get erased—effectively deleting the information forever.
"We basically replace that with two TV screens," Mr. Allen said. "We turn the whiteboards digital."
Now, when athletes log into Wodify, they automatically see their performance history—broken down exercise by exercise—displayed on their gym's TV screen. They can also access Wodify through a mobile app, compatible with iPhone and Android. That level of performance tracking not only illustrates athletes' improvement, but "hopefully drives improvement," Mr. Allen said.
Mr. Allen spoke of other benefits he's noticed since his gym started using the software.
Since he tended to take the same 5:30 or 6:30 p.m. class every day, his impression was that the gym only had 40 or so members. But with Wodify he was able to see other members' profiles, and learned that number was closer to 250. Like on Facebook, the software let him "like" and comment on other members' performance.
"I can see their results every day," he said. "I can interact with them."
We had to ask: Given that CrossFit enthusiasts apparently have a ton of sex, could people be using Wodify to meet and hook up with other athletes?
"I've actually been asked that before," Mr. Allen said, laughing. "I don't know the answer. I don't know if people started flirting through it."
Besides an overhaul of the software's interface, which is coming soon, Mr. Allen said one of Wodify's "grander visions" is "really deepening our social capabilities."
Right now athletes within a single gym can interact and get to know each other. The goal is to expand that globally.
"We'd like to see that full, global social network," Mr. Allen said. "That would be really awesome."