Sen. Bob Menendez's appearance in Newark last night seemed more like an election night victory rally rather then the first public comments from a man who just hours earlier had been hit with a 14-count federal criminal corruption indictment. But in politics reality can be what you make it.
Just ask President Clinton.
"I am outraged that prosecutors at the Department of Justice were tricked into starting this investigations three years ago with false allegations by those who have a political motive to silence me but I will not be silenced," said a defiant Sen. Robert Menendez to the sound of loud cheers "of we support you" from an adoring crowd. (More on the shadowy conspiracy later.)
Mr. Menendez previewed his defense. "I am angry because prosecutors at the Justice Department don't know the difference between friendship and corruption" referring to his close personal relationship with Dr. Salomon Melgen. Prosecutors allege Dr. Melgen showered the senator with luxury gifts and campaign cash in exchange for Mr. Menendez's advocacy for Dr. Melgen on several fronts.
"Remember all the other times prosecutors got it wrong," Mr. Menendez said.
Incumbent Democrats at all levels rallied to Mr. Menendez's side observing that the bedrock principle of American justice is that all defendants are presumed innocent until they are proven guilty. Democratic Senate President Stephen Sweeney, eyeing a race for governor, hailed Mr. Menendez for working "tirelessly" for Sandy victims. N.J. Sen. Cory Booker was equally effusive calling Mr. Menendez an "invaluable" mentor whose commitment to serving the people of New Jersey "has never wavered."
---

According to the indictment, from January 2006 through January of 2011 the 61-year-old Mr. Menendez took in almost $1 million in luxury gifts and campaign donations from Dr. Salmon Melgen.

---
U.S. Representatives Bill Pascrell, Bonnie Watson Coleman and Albio Sires, along with Jersey City Mayor Steve Fulop and Essex County Executive Joseph Di Vincenzo, all expressed support for Mr. Menendez who reportedly has amassed $1 million in a legal defense fund and is clearly ready to go the distance.
According to the indictment from January 2006 through January of 2011, the 61-year-old Mr. Menendez took in almost $1 million in luxury gifts and campaign donations from Dr. Salmon Melgen, a Florida-based eye doctor with deep ties to the Dominican Republic. Prosecutors allege that in exchange for Dr. Melgen's largesse, Mr. Menendez interceded in a multi-million-dollar dispute Dr. Melgen was having with Medicare and on a stalled port cargo screening contract Dr. Melgen had with the Dominican Republic.
The 68-page indictment also lays out previously unreported allegations by prosecutors that Mr. Menendez and his staff lobbied U.S. State Department officials to win visa approvals for several of Dr. Melgen's girlfriends who hailed from the Dominican Republic, Brazil and the Ukraine.
Dr. Melgen, 61, was also indicted for providing Mr. Menendez with flights on private jets, use of his Dominican Republic villa at the exclusive Casa de Campo resort, and a $5,000 three-night stay at Paris' five-star Park Hyatt Paris Vendome that Dr. Melgen used almost 650,000 American Express points to pay for. In addition to $750,000 in campaign donations, Dr. Melgen gave Mr. Menendez $40,000 for his legal defense fund the government charged.
So just what was Sen. Menendez talking about last night when he eluded to the false allegations that he said were planted by his unnamed "political" opponents? From his pivotal spot as chair and ranking member of the U.S. Foreign Relations Committee he's been been a staunch critic of President Obama's efforts at normalizing relations with Cuba as well as a leading sceptic of U.S. nuclear negotiations with Iran.
Last month, Sen. Ted Cruz, the only declared Republican presidential candidate, floated the notion that Mr. Menendez was being singled out by the Obama Administration for criminal prosecution because of the senator's stand on these issues.
For his entire political career, Mr. Menendez, himself a Cuban American, has been one of the harshest critics of the Castro regime. One of his key fundraising constituencies has been the hard core Cuban freedom fighters, who for years dominated the politics in Miami and in Union City where Mr. Menendez got his political start as a school board member.
Back in July of 2014, the Washington Post reported that Mr. Menendez had asked the Department of Justice "to pursue evidence obtained by U.S. investigators that the Cuban government concocted an elaborate plot to smear him with allegations he cavorted with underage prostitutes."
There was a lot to sort out.

Just days before the 2012 election when Mr. Menendez was bringing his campaign down the homestretch, Tucker Carlson's Daily Caller website had a sensational story that alleged that Mr. Menendez had hired two prostitutes for $500 each but then only paid them $100. This supposedly occurred while he was down in the Dominican Republic over the 2012 Easter holiday. With the election just days away, and the provenance of the story sketchy, it did not get much traction in the mainstream media.
In the Daily Caller account, Mr. Menendez's ties to Dr. Melgen were described and there was an almost off-handed observation that Dr. Melgen "appears to have lent Menendez the use of his plane." Other accounts on right wing blogs were more salacious describing a "sex scandal involving underage prostitutes" who were "paid for with taxpayers dollars."
So inquiring minds want to know, just where did this all come from?
Months earlier, the finger pointing had started with an anonymous tipster who went by the name "Pete Williams," no doubt for former New Jersey Sen. Harrison "Pete" Williams, who himself was convicted on federal corruption charges from Operation Abscam in 1981.
The tipster approached the good government group Citizens for Responsibility and Ethics in Washington (CREW) in April of 2012 with allegations going back to 2008 that Mr. Menendez had engaged in "sex tourism" with underage prostitutes while he was a guest of Dr. Melgen in the Dominican Republic.
---

"If you have to be indicted, better to have it be four years away from the next time when you have to face the voters."

---
CREW looped in ABC News while doing their own preliminary investigation of "Pete's" charges. By July 17, 2012, the watchdog group was confident enough that they had something credible, writing Assistant Attorney General Lanny Breuer asking the DOJ and FBI to look into "Pete's" Menendez allegations. "Pete" was never heard from again.
In November 2012, Mr. Menendez coasted to an easy re-election victory and eventually the prostitute allegations fell apart when one of the women admitted to being paid to make the allegations against the senator. But the increased scrutiny of Mr. Menendez's frequent trips to the Dominican Republic did prompt the lodging of a Senate Ethics complaint.
Mr. Menendez wrote a $58,500 check in January of 2013 to the Melgen-linked company that had provided him two private jet trips to the Dominican Republic in 2010. He also revised his Senate gift disclosure forms. His staff chalked it up to "sloppiness."
As the National Journal reported at the time, when the senator wrote that check he was giving up between 32 to 87 percent of his declared assets. When he was elected to the Senate the first time in 2006 he ranked as the 97th poorest out of the Senate's 100 members.
But Mr. Menendez is a survivor. Back during the 2006 election when Mr. Menendez ran against Republican State Senator Tom Kean Jr. for his Senate seat details of a federal criminal corruption probe being conducted by then U.S. Attorney Chris Christie were leaked to the media.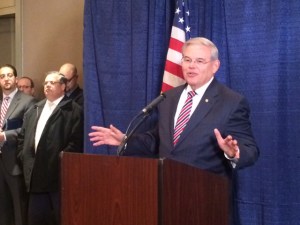 The allegation: Mr. Menendez had benefited illegally from grants he had gotten from a Hudson County nonprofit that made campaign contributions to Mr. Menendez and that also rented office space from him.
Scroll forward five years and Mr. Menendez got the rarest of letters from a sitting U.S. attorney. On October 24, 2011, Mr. Menendez's lawyer got a note from the U.S. Attorney Zane David Memeger from the Eastern District of Pennsylvania telling him that "after review and consideration of the matter" the feds had "decide[d] to close the file." The U.S. Attorney for New Jersey Paul Fishman had to recuse himself because Mr. Menendez had pushed for his nomination.
Bob Mintz is a former assistant U.S. attorney and now leads the white-collar defense practice at McCarter and English. Mr. Mintz says federal prosecutors have put together "an incredibly detailed indictment" with a tremendous amount of specific dates and times along with relevant email excerpts. All of which Mr. Mintz says is done in hopes of convincing a jury that the Melgen-Menendez relationship was "less a friendship and more a business arrangement."
But Mr. Mintz says a 2010 U.S. Supreme Court ruling in the case of Enron's Jeffrey Skilling has raised the bar for prosecutors trying to use the theft of honest services fraud statutes Mr. Menendez has been charged under.
In the 2010 ruling, the high court reversed one of Mr. Skilling's guilty counts finding that the statute was too vague, unless prosecutors could demonstrate it was part of an articulated kickback or bribery scheme. "For a long time they could make these cases," says Mr. Mintz, "because they did not have to link the giving of gifts directly with any official conduct—a definite quid pro quo. Now they do."
Mr. Menendez rose to prominence early in his career by testifying against his mentor Union City Mayor Bill Musto in a high-profile federal corruption trial.
"He's a fighter and he has the latitude to not back off," says Peter Woolley, political science professor at Fairleigh Dickinson University of Mr. Menendez. "If you have to be indicted, better to have it be four years away from the next time when you have to face the voters."
Bob Hennelly is an award-winning investigative journalist with 30+ years on fed/state/local politics/policy, environment, law enforcement, and national security. Follow him on twitter: @stucknation