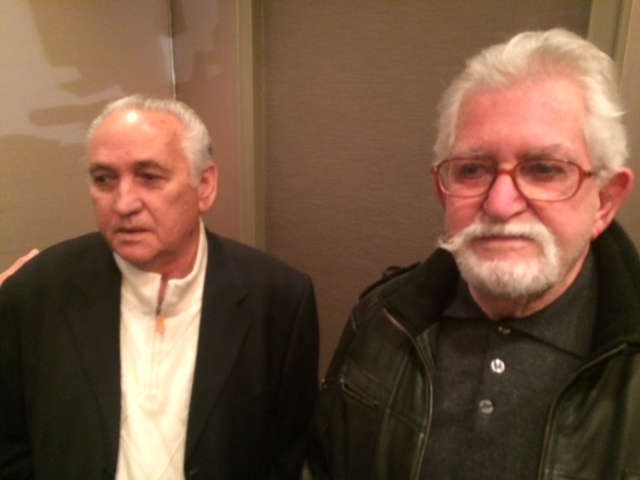 NEWARK – U.S. Senator Bob Menendez (D-N.J.) was immediately backed up bilingually as he stepped to the podium at the Newark Hilton to lash out at the 14-count federal corruption indictment filed against him on Wednesday.
"Viva Cuba Libre!" yelled a crew of Cuban anti-Communist exiles from West New York and Union City, Menendez's Havana on the Hudson hometown, jammed in next to TV news crews in the packed room.
"We support you! Just like you support New Jersey!" called out a group of Jersey Shore homeowners, distressed and displaced since Hurricane Sandy, who felt that Menendez had strongly advocated for them in their hour of need.
Menendez, who fired off fiery words such as "outraged," "tricked," and "not be silenced" as he made a brief statement in response to the indictment, actually smiled at one point as many of those present seemed to rally to the New Jersey senior senator's side at his time of need.
"This is a press conference, I'd appreciate if you'd just -" Menendez said to quiet the crowd before he was briefly interrupted with more loud cheers.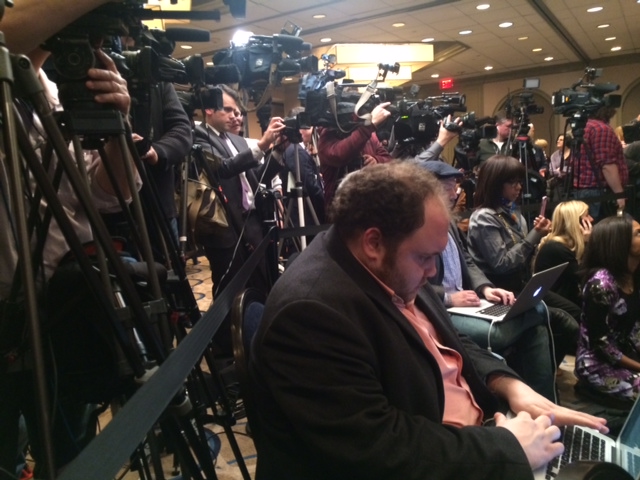 Milling about the room were supporters of Menendez who explained why they were there, and who questioned why events made it so that they felt compelled to show up at all.
"Senator Menendez has been the number one advocate for Sandy victims, helping us fight against [the Federal Emergency Management Agency] and the insurance companies. We're here to get his back," said Douglas Quinn, 50, of Toms River, whose house was destroyed by Hurricane Sandy and had problems dealing with his insurance company. "Senator Menendez's office has been doing back flips to help us out, for myself personally and for Sandy victims as a class of people.
"This seems to a vendetta from the White House. [Menendez] has made powerful enemies because of his positions on Cuba and Iran," added Quinn when asked why he thought Menendez was indicted in the first place. "And he has brought FEMA to their knees. They're going to pay out a lot of money that this government does not have."
When George Kasimos, also of Toms River, had to fight to with insurance companies after Hurricane Sandy, he didn't call Menendez.
"The senator's office contacted us. That is the difference between him and virtually every other elected official," said Kasimos, 48, who mentioned thousands of people still displaced down the Shore after the October 2012 storm. "He's just one guy, but least he's trying. He pushed through the Homeowner Flood Insurance Affordability Act [of 2014] during arguably the most unproductive Congress in American history. He gives us hope."
Kasimos said he believes that Menendez's legal troubles stem from when Menendez provided President Barack Obama with something else.
"President Obama said he didn't want any Democrats to be in the Senate when [Israeli Prime Minister Benjamin] Netanyahu comes and speaks," Kasimos said, referring to Netanyahu's speech before Congress last month. "Not only did Senator Menendez attend, he proverbially gave President Obama the middle finger. And he sponsored the bill to sanction Iran more if need be. He's trying to do what's right."
For a group of former political prisoners from Cuba who emigrated to America after doing time in Communist jails, Menendez's predicament was even more personal.
"When I got out of prison, I came to Union City, where Bob Menendez was the new mayor. I've been backing him ever since," said Ricardo Montero, 90, of West New York, who commanded anti-Fidel Castro troops during the failed 1961 Bay of Pigs Invasion, then served 25 years in prison in Cuba. "I think he's a fighter for democracy all over the world."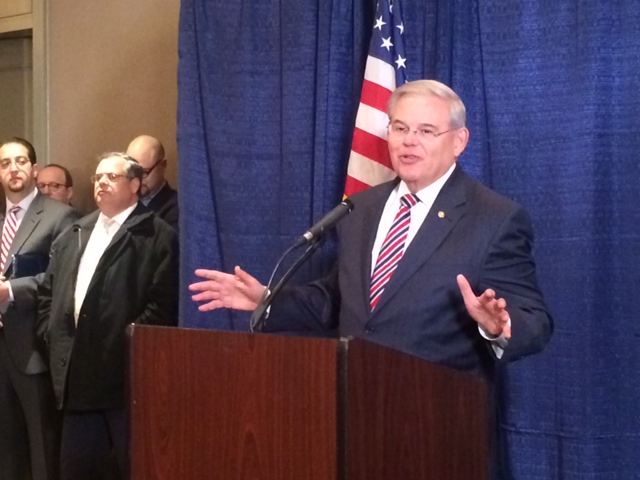 "Senator Menendez opened his arms and embraced us after we served years and years in jail," added Angel Alfonso, 75, of West New York, a former political prisoner in Cuba who served 22 years in prison. "This is retaliation for different positions from Obama on Cuba and Iran. That's the only reason Senator Menendez is in this situation."
The 68-page, 14-count federal indictment lists Menendez's alleged crimes, including claims that he advocated for a friend's personal and business interests in exchange for travel and political and legal-defense contributions, as well as failing to disclose gifts for the friend, Dr. Salomon Melgen, a Florida eye doctor.
Looking at the crowd of journalists scurrying in and out of the Newark Hilton, Reginald Lewis, of Newark, cast his own judgment on the whole New Jersey political scene.
"In politics, they screw you at the end of the day," Lewis, 45, an executive chef, said. "They're playing Menendez out. I hope the senator goes out with a fight. They sit there and talk about 'we the people,' but they don't care about the people. They care about their money, and the love of money is the root of all evil. In my job, I make sure all the fish is clean. And this is real fishy."