NJTV Senior Political Correspondent Michael Aron can be seen this weekend on the following programs: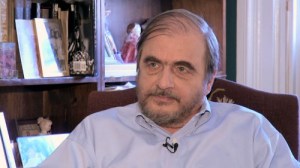 Reporters Roundtable: Nick Acocella (pictured, right), Bob Jordan, Dustin Racioppi (Bergen Record), and Claude Brodesser-Akner on the Kyrillos defection from Christie, the pensions stalemate, and the 9%NJ Transit fare hike.
On The Record: two Assembly Budget Committee members are the guests, John Burzichelli and Tony Bucco, Jr. Plus, former governors Jim Florio and Christie Whitman talk to Kent Manahan about their pension records and Governor Christie's criticism of them.
Reporters Roundtable will run at 6 p.m. Saturday and 10 a.m. Sunday, followed directly by On the Record at 6:30 p.m. Saturday and 10:30 a.m. Sunday.