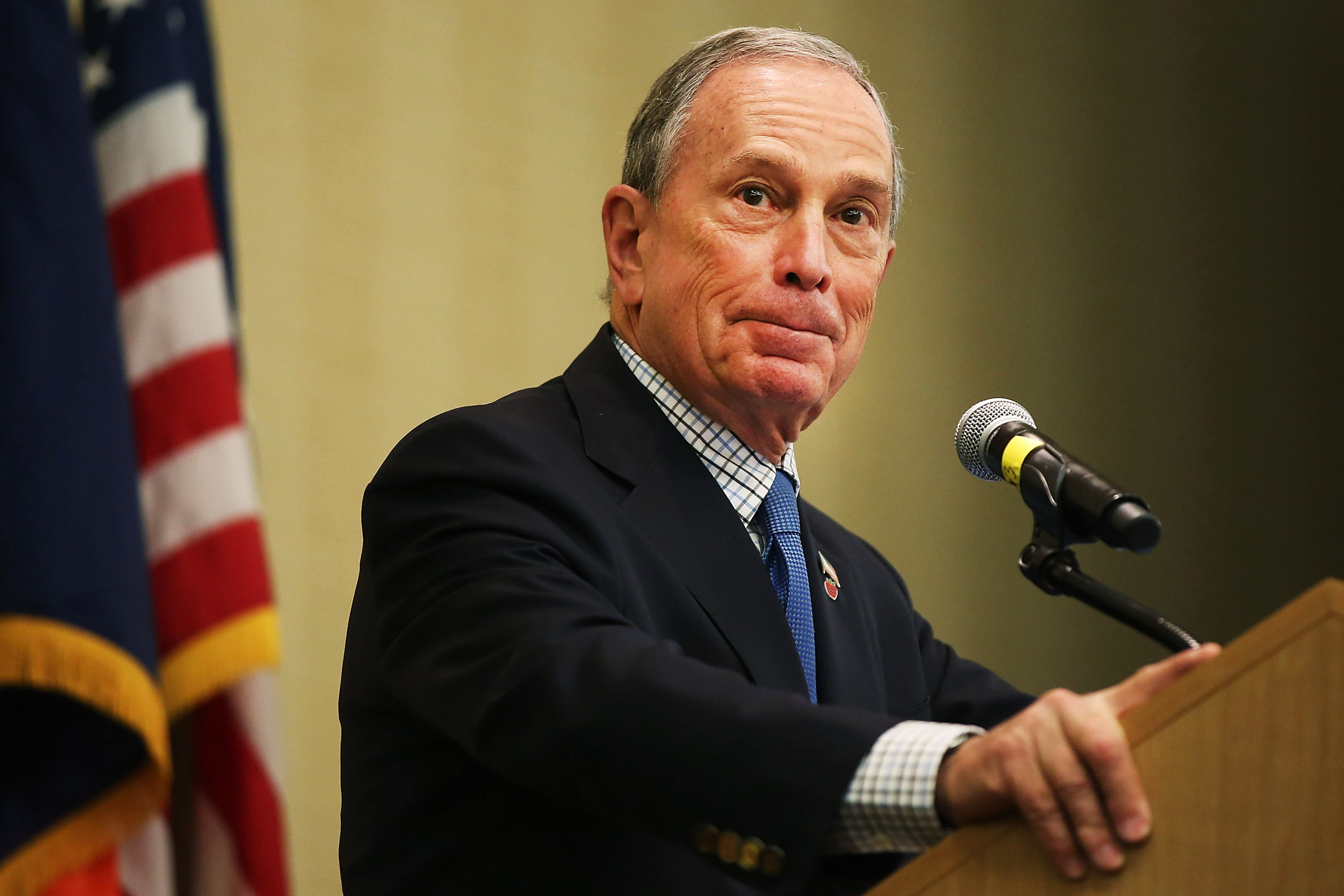 Former Mayor Michael Bloomberg has vowed to stay out of politics for a while—and he kept his word today after a Bloomberg Philanthropies event. For the most part, anyway.
Mr. Bloomberg, the winner of last year's inaugural Genesis Prize—awarded to those who have achieved "international renown" in their fields and inspire through their "engagement and dedication to the Jewish community and/or the State of Israel"—announced today the nine recipients of his own contest, which he launched as a way to spend the $1 million prize. He was joined by the winner of this year's Genesis Prize, actor Michael Douglas.
After the event at the Bloomberg Philanthropies townhouse offices on the Upper East Side, Mr. Bloomberg spoke briefly with reporters, but declined to answer a question from the Daily News about proposals to decriminalize some offenses.
"I've said this before—I'm staying out of all issues local, New York and New York State politics, the two are so intertwined. Rudy Giuliani did that for me and I will do that for my successor," Mr. Bloomberg said.
What about the special election for Congress in Staten Island, the Observer nudged, where Mr. Bloomberg has offered financial support to Republican candidate and District Attorney Daniel Donovan?
"It's New York politics," Mr. Bloomberg cautioned before adding, "but I'm supporting Dan Donovan. He was a good district attorney and a classy guy."
With local politics otherwise off the table, the Daily News asked Mr. Bloomberg to weigh in on the 2016 presidential race.
"I'm not going to run. At least if I am, I'm not going to announce it right now in the Daily News," Mr. Bloomberg joked.
How about announcing it in the Observer?
"Well, Jared has a better chance than Mort, but…" Mr. Bloomberg cracked, referring to the publishers of the Observer and the Daily News, Jared Kushner and Mort Zuckerman. 
While he took his own name out of the running, Mr. Bloomberg was also reluctant to weigh in on those who have declared they'd run.
"I think Hillary is a very nice woman. I've known her a long time. But I'm going to stay out of politics," he said.
As for how long he'd keep out of the fray, Mr. Bloomberg noted he tends to do what he promises, and do it for a "long period of time."
"If you believe in reincarnation, I suppose there's always a possibility," he said.
Mr. Bloomberg's chat came after a brief ceremony to announce the nine projects he had chosen to receive $100,000 each from his $1 million Genesis Prize, awarded in May of last year. Among the winners was a nonprofit called Prize4Life, which is developing an app to help monitor ALS disease markers in people with the disease.
Mr. Douglas, this year's winner of the Genesis Prize, said he'd reveal his plans for the next $1 million later this year when he accepts the award in Israel. He said he'd look to focus on the issue of "inter-faith families, which has become a major, major issue in the Jewish tribe."
The four-time Golden Globe winner also had words of praise for the former mayor.
"I think I am Michael Bloomberg's biggest fan. As our mayor, as a businessman, as a father, he's the best," Mr. Douglas said during the program, adding he'd attempt to do "a part" of what Mr. Bloomberg had been able to do with the prize.
Elie Wiesel, the Nobel Peace Prize winning writer, professor and Holocaust survivor, was also on hand for the event. He spoke of Jewish culture—saying it meant more than just being born Jewish.
"We believe that to be Jewish is not simply a matter of birth. We must do something with it, with ourselves," Mr. Wiesel told the crowd. "It doesn't mean that the Jew is better than anyone else. It simply means, because I am a Jew, I have to do something with my Jewishness. It is the Jew in me who works for human rights … the Jew in me who believes that racism is stupid. Not only evil, but stupid."