Famed Momofuku chef David Chang seems to be big on food-related technology. Not only is he developing a remote ordering app for his new fried chicken restaurant, but he is also on the team behind an exciting new meal delivery startup.
Mr. Chang is Chief Culinary Officer at Maple, a meal delivery startup launching today in Lower Manhattan. Like Munchery—a similar service that launched in New York earlier this year—Maple delivers restaurant-quality meals prepared by professional chefs in a commercial kitchen facility.
Users order the food via a beautifully-designed mobile app; lunches cost $12 and dinners $15—tip included—and are delivered hot in 30 minutes or less. Currently, Maple is delivering to addresses below Chambers Street, but plans to expand, in the future, to other parts of New York.
As you might expect from a service under Mr. Chang's advisement, Maple's meals are more impressive than most of the stuff you could order on Seamless right now. At Maple's Financial District headquarters, cofounders Caleb Merkl and Akshay Navle treated the Observer to a lunch of baked arctic char, vegetarian enchiladas, green salad, and roasted fennel, leeks and broccoli rabe. All happen to be gluten-free.
"Ordering online, it's hard to find a lean protein plus two healthy sides," Mr. Merkl said.
But there are also options on the menu—which rotates on a daily basis—for those with richer tastes. Think bacon and brie grilled cheese.
"[Mr. Chang] is there to remind us the people like to indulge," Mr. Merkl said.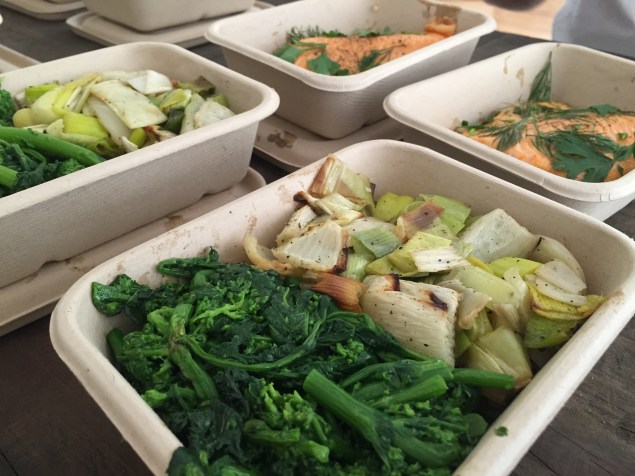 Remarkably for a new startup, Maple has attracted chefs with backgrounds in reputable New York eateries. The company's executive chef is Soa Davies, an alumna of Le Berarnardin and a recommendation by Mr. Chang. Other chefs—there are three in the kitchen per shift—have worked at Eska, Balthazar, the Standard, ABC Kitchen and Blue Hill.
"We're really focused on making sure food is our guiding light," Mr. Merkl said.
That may be the case, but they have the delivery process down to a science, too. Maple avoids menu items that do not deliver well, like fried foods and soups. Its delivery people—all full-time staffers with benefits—use their own app to ensure your food is delivered as quickly and efficiently as possible. And unlike competitor Munchery's, Maple's food does not require re-heating upon delivery.
Mr. Merkl understands that Maple cannot replace going out to eat.
"You can't replace dining at a restaurant with a nice glass of wine and catching up with an old friend," Mr. Merkl said.
"But there are 21 meals in a week," he continued. "We don't need to own all of them, but if we can own a couple, that's great."