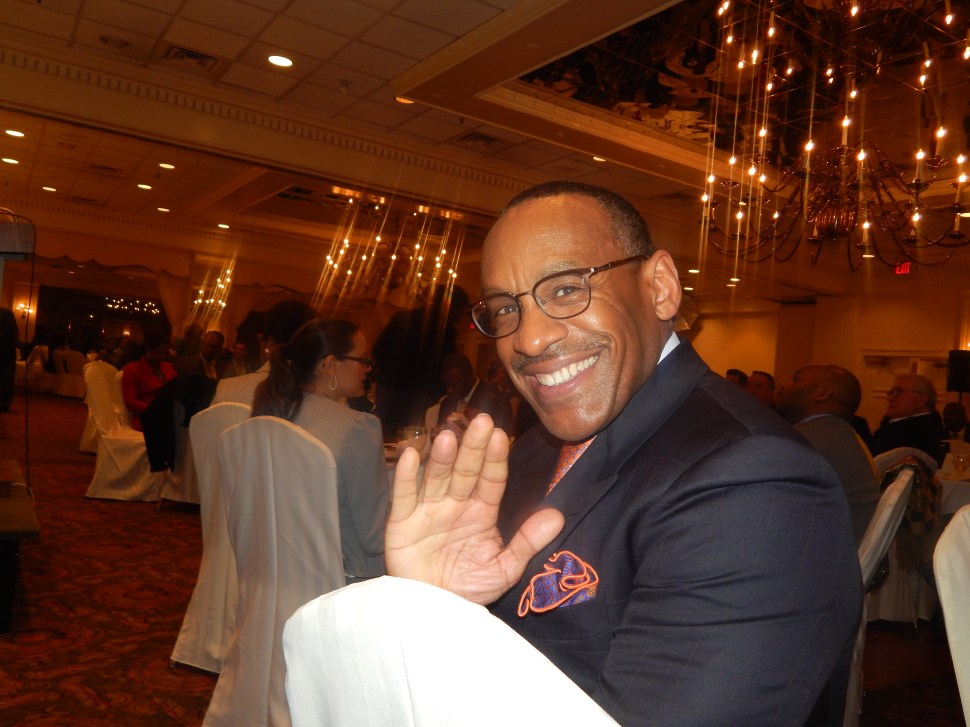 Rutgers-Eagleton: 58% say Menendez should stay in office unless proved guilty
Despite last week's multi-count federal indictment of U.S. Sen. Robert Menendez (D-NJ) on alleged corrupt dealings with a wealthy ophthalmologist friend and campaign donor, New Jerseyans are not yet ready to throw the Senator out of office. Fifty-eight percent of Garden State residents say Menendez should stay unless he is proved guilty, while 34 percent want him to leave immediately, according to the latest Rutgers-Eagleton Poll.  (PolitickerNJ)
Rutgers-Eagleton: 58% say Menendez should stay in office unless proved guilty | New Jersey News, Politics, Opinion, and Analysis
Torres and other NJ mayors want immediate implementation of Obama's immigration order
As part of Cities United for Immigration Action, Mayor Jose 'Joey' Torres announced today that Paterson will join 73 cities and counties to file a new friend-of-the-court brief in the Fifth Circuit Court of Appeals in the Texas vs. United States lawsuit, urging immediate implementation of President Barack Obama's executive actions on immigration.
As one of six New Jersey mayors signing on, Torres joined mayors Steven Fulop of Jersey City, Ras Baraka of Newark, Dawn Zimmer of Hoboken, Domenick Stampone of Haledon, Adrian Mapp of Plainfield.  (Pizarro/PolitickerNJ)
Torres and other NJ mayors want immediate implementation of Obama's immigration order | New Jersey News, Politics, Opinion, and Analysis
CWA director welcomes Supreme Court hearing on pen/ben payment
The state Supreme Court announced today that it would hear a case from Gov. Chris Christie's administration over the state's decision to cut $1.6 billion from this year's slated payment for the public pension and benefit system, drawing a somewhat muted reaction from one union leader who has vocally opposed the move.
"It's time this issue is joined," said Hetty Rosenstein, state director of the Communications Workers of America, in a statement. "For the past 20 years, the State has failed to make the required payments. The Plan has been cut 4 times. And the benefits for civilian employees have been reduced by 30%. New Jersey now has the 95th worst plan in the entire country."  (Brush/PolitickerNJ)
CWA director welcomes Supreme Court hearing on pen/ben payment | New Jersey News, Politics, Opinion, and Analysis
Monmouth GOP Prez Poll: Christie loses in head-to-heads with Bush, Walker and Cruz
The 2016 Republican field continues to be crowded, with no single contender breaking from the pack according to the latest Monmouth University Poll of Republican voters nationwide.  In hypothetical head-to-head contests for the GOP presidential nomination, the surging Scott Walker draws about even with both Jeb Bush to his left and Ted Cruz to his right, while Bush bests Cruz in a two-man match-up.  Chris Christie, on the other hand, would end up on the losing end of a one-on-one with Walker, Bush, or Cruz.  (PolitickerNJ)
Monmouth GOP Prez Poll: Christie loses in head-to-heads with Bush, Walker and Cruz | New Jersey News, Politics, Opinion, and Analysis
Surprisingly Competitive Race for Secretary of Bar Association Takes Shape
Senators being indicted. Governors running for President. There's never really an "off season" in New Jersey politics, but if there were, it would be years like 2015—odd-number years in which there's no governor's race.
Luckily for political junkies, there's at least one campaign that's shaping up to be a barnburner and it's an unlikely one: the three-way battle for Secretary of the New Jersey Bar Association. The reason this obscure race is suddenly interesting is that usually the nominating committee puts forth a candidate who faces no opposition or only token opposition. According to Tom Prol, the current First Vice President of NJSBA who himself won a hotly contested race in 2013, "there were like four contested races in the first 115 years but now they're getting more common."  (Kurson/PolitickerNJ)
Surprisingly Competitive Race for Secretary of Bar Takes Shape | New Jersey News, Politics, Opinion, and Analysis
Chris Christie's deal with ExxonMobil: first look
TRENTON – The first unfettered public look at Gov. Chris Christie's pending pollution settlement with ExxonMobil has done nothing to quiet critics who say New Jersey is being ripped off by the oil giant.
The Christie administration Monday opened a 60-day comment period on the agreement, publishing documents on the controversial deal requiring ExxonMobil to pay New Jersey $225 million to resolve liability for damage caused by contamination from refinery operations in Bayonne and Linden. (Jordan/Asbury Park Press)
http://www.app.com/story/news/local/new-jersey/2015/04/06/christie-exxon-deal-public-available/25352315/
Chris Christie plans to mix it up with NH voters in town hall events
NEWARK, N.J. — New Jersey Gov. Chris Christie is taking his signature town hall events on the road.
The potential Republican presidential contender will hold a "Tell it like it is" town hall meeting in Londonderry, N.H., April 15, and is expected to do another two days later, in Nashua, as part of a series of events in the early voting state.
He'll have "an honest and direct conversation about why America needs real leadership," said Samantha Smith, speaking for his political action committee.   (Colvin/Associated Press)
http://www.startribune.com/politics/national/298766241.html
Chris Christie Shows He Knows His 'Way Around a Kitchen'
He's traded the Hurricane Sandy-era blue fleece for a pea-green kitchen apron, and his town hall microphone for a chef's knife.
Chris Christie, New Jersey governor and potential 2016 Republican presidential candidate, is grooving at a kitchen island like a boss. His contribution to a dinner of rigatoni Bolognese for a new public television series, the, on NJTV, appears to be about 1 cup each of chopped celery and carrots.  (Young/Bloomberg)
http://www.bloomberg.com/politics/articles/2015-04-06/chris-christie-shows-he-knows-his-way-around-a-kitchen-
Revel deal set to be finalized today
The sale of Revel Casino-Hotel to developer Glenn Straub's company appeared imminent Monday after a federal judge formally approved an $82 million deal.  (Kramer/Press of Atlantic City)
http://www.pressofatlanticcity.com/news/breaking/revel-deal-set-to-be-finalized-today/article_c6474028-dccb-11e4-b67d-0f29c1a5879c.html
Exxon Settlement in New Jersey Sparks Controversy
The controversy surrounding a settlement with Exxon Mobil Corp. over years of contamination in New Jersey is likely to continue as environmental groups and state Democrats consider intervening in the case.
Gov. Chris Christie's administration unveiled details Monday of the $225 million settlement with the Texas company over environmental damage to New Jersey waterways and other sites across the state. New Jersey officials called the potential payout "historic," and said it preserves claims at former Exxon facilities for further investigation.  (Haddon/Wall Street Journal)
http://www.wsj.com/articles/exxon-settlement-in-new-jersey-sparks-controversy-1428368280
Christie taking town halls to New Hampshire
New Hampshire voters are set to get a taste of Gov. Chris Christie in his most famous habitat — the town hall.
During a scheduled swing through the Granite State later this month, Christie — an unannounced 2016 candidate for the Republican nomination — is expected to hold two town hall-style public forums, similar to the kind his administration has popularized here at home. The first of those will take place in Londonberry, New Hampshire, on April 15, with a second scheduled for two days later, according to the Associated Press.  (Brush/PolitickerNJ)
http://politickernj.com/2015/04/christie-taking-town-halls-to-new-hampshire/