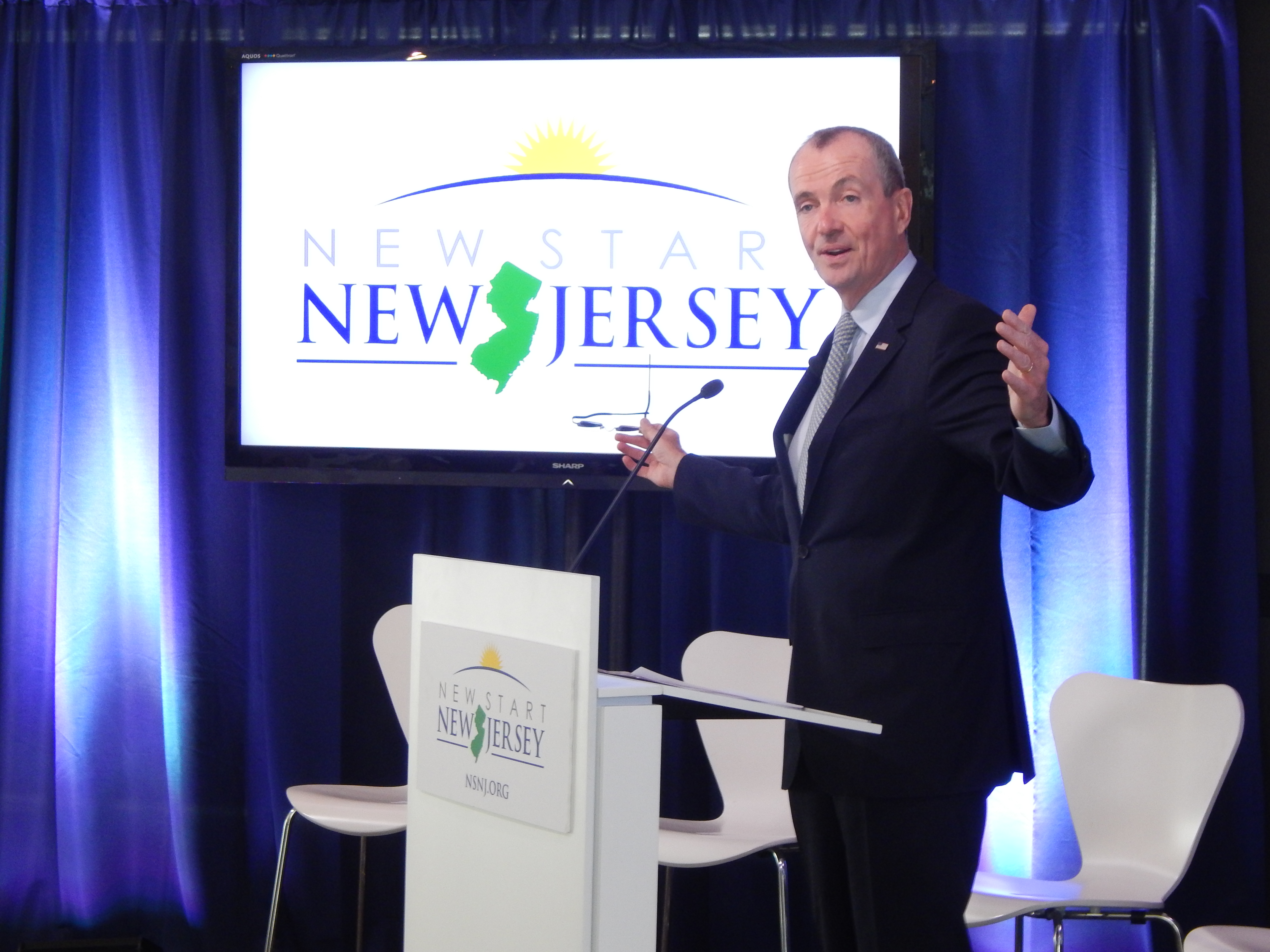 NEWARK – In a room with views of the downtown Newark skyline, former U.S. Ambassador to Germany and potential 2017 Democratic gubernatorial candidate Phil Murphy offered the room a view of a better economic future for New Jersey based on economic innovation and urban renewal.
"Not only does state policy really matter in what we're talking about today, but mayors really matter in terms of execution," said Murphy before a crowd of about 50 people at a Monday morning event co-sponsored by New Start New Jersey, Murphy's non-profit organization designed to promote the interests of the middle class, and The Brookings Institution, a non-partisan research organization, at Audible Inc.'s headquarters. "Trends show us that prosperity as a state hinges heavily on the ability to unlock and amplify the dynamism of our urban areas, and of course on the ability to expand and protect our middle class."
Murphy went on to emphasize the economic importance of boosting the state's advanced-industries sector – specifically research and development and science, technology engineering and mathematics (STEM) – for "a state that is drifting too far from its core identity – as a place in which innovation, collaboration and hard work make it possible for the middle class to thrive."
"Here's the only data point that I would argue that you need to know – advanced industries jobs pay an average salary of over $105,000 thousand dollars per year, per job, compared to an average pay of about $59,000 [per year] in industries in this state," Murphy added. "We lag behind the national trend [compared to the other states]. New Jersey cannot afford to miss another opportunity. While we can no longer afford the failure of vision, of leadership, and of a comprehensive commitment to expanding and protecting our middle class, we are optimists. But we need a plan, and if we execute that plan, we'll get back up to where we belong."
According to Bruce Katz of The Brookings Institution's Metropolitan Policy Program, New Jersey needs to intensify the state's economic post-industrial transformation that has escalated since 1980.
"The mayors are going to be key to this, but the state has to rethink where does growth go. In many respects, it won't be the greenfields, it will be the brownfields," said Katz, referencing economic trends reflecting a reorientation away from the suburbs and back to the cities nationwide. "A whole bunch of state policy, frankly, is still thinking about greenfield development. That's 20th century. It's over."
What is far from over in New Jersey politics is speculation about New Jersey Governor Chris Christie's potential 2016 presidential run and who will ultimately replace him in 2017.
Governor Christie begins a series of appearances in New Hampshire this week on Tuesday, further fueling speculation that the nationally prominent Republican will soon make a decision about his presidential ambitions.
Mark Muro, also of The Brookings Institution's Metropolitan Policy Program, noted during a panel discussion that gubernatorial vision can make a serious impact in reshaping New Jersey's economy. As Christie prepares to head north, Murphy looked around and explained what he sees for the state's future.
"We haven't had a comprehensive plan in this state for our middle class for a long time, either in this administration or many before," Murphy told PolitickerNJ. "If our policies were directed first and foremost at the middle class, and it was working, then you could do a lot of things."
Murphy emphasized that despite speculation stemming from U.S. Bob Menendez's (D-N.J.) recent indictment on federal corruption charges, there is one job that he doesn't want in any potential near future: a U.S. Senate seat.
"Beyond my enormous regard for our to senators, who I think will both be around for a long time, the answer is no," Murphy said. "I'm looking very, very seriously on the partisan side at looking at running for governor, period. I didn't hear much today that was beyond the reach of policy and leadership possibilities. We have some complicated problems, but this is not all advanced doctoral calculus. [Vision] starts at the top."