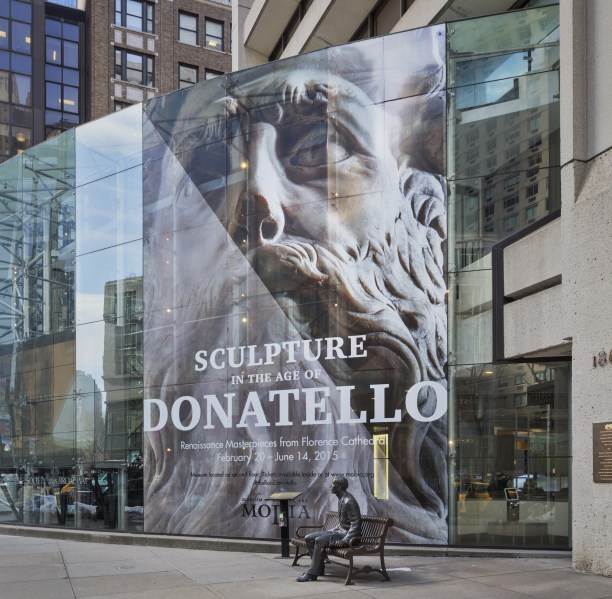 Today, the Museum of Biblical Art (MOBIA) announced that after its current exhibition, "Sculpture in the Age of Donatello," comes to a close on June 14 it will close to the public for good, and cease all operations June 30. The museum specializes in focused exhibitions of art inspired by the Bible, and its legacy in Christian and Jewish traditions.
Currently located at 1865 Broadway, between Columbus Circle and Lincoln Center, the museum was founded in 1997 by the American Bible Society (ABS) and became an independent museum in 2004. In February, ABS sold its headquarters and announced plans to relocate to Philadelphia, leaving MOBIA in search of a new home and other New York-based partners. The museum does not have a permanent collection. Instead it operates as a non-profit arts institution and hosts three temporary exhibitions annually. Unable to raise enough funds for the move to a new location, the museum has decided to end its programming.
"I am deeply proud of what we have accomplished at MOBIA, and deeply sorry that we will not be able to present the many exciting exhibitions and projects we had planned for the coming years," MOBIA director Richard P. Townsend in a statement.
"Under Richard's leadership, MOBIA has presented extraordinary exhibitions and programs and has elevated its standing to become a true peer of the great art museums of this city," echoed co-chair of the MOBIA Board of Trustees Elaine Hirschl Ellis. "With Richard as director, I have no doubt that MOBIA would have continued to flourish had there been more time to raise funds to sustain the institution. It is painfully ironic that we must cease existence at the moment the Museum has achieved such prominence."
MOBIA's current show is a major loan exhibition of 23 masterworks borrowed from Florence's Museo dell' Opera del Duomo (Cathedral Works Museum). The show is the highlight of the museum's 10th anniversary season, and was met with positive acclaim from critics. The New York Times' Ken Johnson called it "a beautiful, soul-stirring exhibition" and the Barrymore Laurence Scherer wrote at length for the Wall Street Journal about the exhibition's unique and "striking" design. Many of the works by Donatello, Brunelleschi, Nanni di Banco, and Luca della Robbia, have never been shown outside of Italy, and the show will not travel to any other institution.