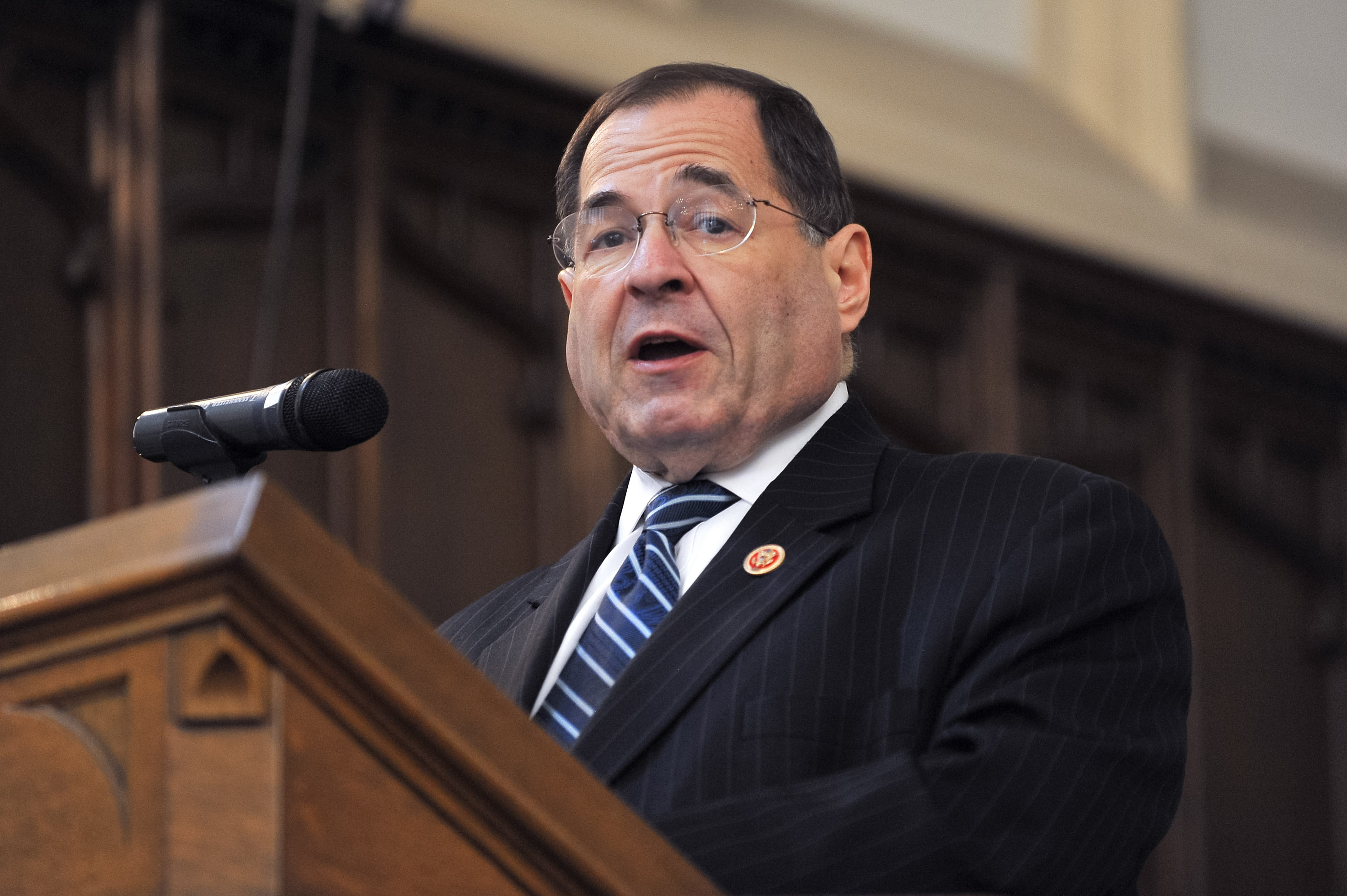 Congressman Jerrold Nadler—a longtime supporter of former Secretary of State Hillary Clinton's bid for the White House—today stood up for Mayor Bill de Blasio's decision that he will not immediately endorse the former first lady for president, even as he predicted the mayor would come around.
Speaking to reporters after an unrelated press event, Mr. Nadler—seen as one of the most liberal lawmakers in Congress—argued Mr. de Blasio was entitled to withhold his support until the moderate Ms. Clinton laid out what the mayor called "a clear bold vision for progressive economic change." Mr. de Blasio served in the Department of Housing and Urban Development under former President Bill Clinton, managed Ms. Clinton's campaign for the U.S. Senate in 2000 and the couple attended his inauguration last year.
"I'm not going to comment on what Bill de Blasio owes anybody in terms of his political things. I think what he was saying, it's perfectly legitimate to ask candidates for anything to explain their positions on things and to take positions you want them to take," Mr. Nadler said, adding that he himself wanted to hear her positions on a number of issues, though he would not specify which.
The legislator, whose sprawling district spans Manhattan and Brooklyn, predicted Mr. de Blasio would eventually come out behind Ms. Clinton and waved off the suggestion that his initial hesitance would make him unwelcome at the Democratic Party convention in Philadelphia next year.
"That's up to him and I assume at some point he will. Everybody has to make their own decisions, and I assume at some point he'll be supporting," he said, noting that many years had passed since Mr. de Blasio served under Ms. Clinton. "He worked on her campaign 15 years ago, that's a long time."
The congressman defended the Democratic front-runner's liberal credentials, which many left-wing critics have questioned, and argued she would make an "excellent" president. He eventually concluded, however, that progressives have little choice but to back Ms. Clinton if they want to see another Democratic administration.
"She is clearly the most progressive candidate, major candidate of anybody in the field. Nobody's progressive enough for what I'd like to see," he said, though he acknowledged his own views converge often with those of Vermont Senator Bernard Sanders, a self-identified socialist who has hinted he might launch a long-shot attempt at the White House. "I agree with Bernie on a lot of things, I would say. Bernie Sanders is a great senator. But he's not a candidate for president, and if were to be, he would not be, he wouldn't be the strongest Democratic candidate, and we have to elect a Democrat."
Mr. de Blasio praised Mr. Sanders' views on wealth inequality after they both attended Rev. Al Sharpton's National Action Network convention last week.
The mayor and the congressman have some history of standing up for each other. Mr. de Blasio, then public advocate, took Mr. Nadler's side when the lawmaker had a dispute with former Mayor Michael Bloomberg over the Occupy Wall Street protests in 2011.