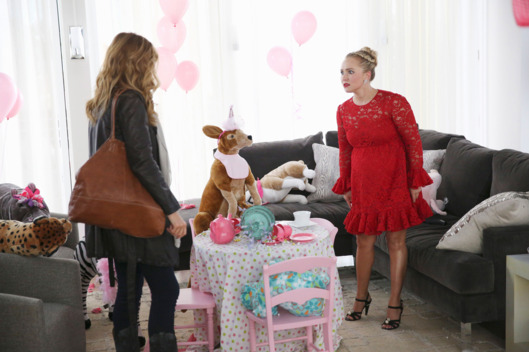 And just like that we're back to Mr.Hyde Juliette.
Last week, Avery was calling Juliette too much and she wanted him to relax and enjoy being on tour. This week she's losing her shit because he doesn't want to talk about the damaging effects of naming their baby Sprinkle– a name she surely found in the Hunger Games or, Strippers baby names book. I find it hard to believe that Juliette would wait until three weeks before her due date to discuss baby names with A, but whatevs, it's not my show. Anyway we know this story plot does not matter in the least as we all voted online to make sure the baby wouldn't be named Cadence. (Which, unlike Sprinkle, is exactly the kind of stupid name Juliette would pick.)
This episode treated us to many CUs of Teddy's darkening eyes in the mirror. He's blackmailing peeps around town like it ain't no thing. Just in case any of us missed the million signs Nashville is cramming down on throats that Teddy is turning into Lamar– we have his  investigator come right out and say, "you're looking an awful lot like your father-in-law in this light." I imagine the writers fighting over this line. Most of the room thought it was pretty obvious already but then one dissenter was like "I dunno guys, seems like we might wanna come right out and say it." Callie Khouri was like, "What the hell? Throw it in. We change our minds about who a character is so many times a season, peeps are bound to get confused." Also, I feel this hooker's anxiety at getting got is like, fake stakes. I mean, why are the feds tracking this woman?? Who cares about a high-class call girl??? Unless she has a terrorist pimp, I rully don't see why this is such a BFD.
Maddie loves playing her parents against one another. Deacon loses the top-spot as Golden parent for the crime of having cancer so Maddie rings up Teddy, calls him Daddy and makes him promise not to die on her. Daphne, at like, nine, is possibly the most mature character on the whole show. Case in point, Deacon and Maddie needed a private moment so Daphne slid away from the chili on the stove with a perfectly timed, "I think we should let this simmer". I worry that as a result of growing up amidst everyone else's shit, Daphne is developing some dangerous and hard to shake caretaker habits. That means she probably has a slew of alcoholics waiting for her down the road. Poor Daphne.
Okay, so I get that Sadie just like, killed a man and everything. But, I seriously f'in doubt that she is going to give up her career over it. That is BS, Nashville. And that is not how to be a feminist. Because guess what? If Sadie leaves it all behind to go hide from the world in Virginia, Pete wins. It doesn't matter if he's dead or not, he got Sadie squashed like he wanted. Aren't lots of successful Country albums about abusive husbands anyway?? Maybe Laura Benanti had to go prep for her Radio City Spring Spectacular or whatever, but I do not like this storyline. Fix it, Nashville.
Alrighty on to my favorite part of the episode: not having to see Layla and Jeff at all! JK – it was Scunnar!
Gunnar, as per usual, was acting like a real puss and it was sups annoying. However, because of said pussiness (and also because Avery was called away to the birth of his daughter) we got an amazing Scunnar love fight! And we also got some season one Scunnar music magic. That song! It was incredible. I was feeling some real Fleetwood M. vibes which is like, the highest compliment I can give.
Also best final word from Scarlett to shoot Gunnar down. "As someone once told me, I only felt the music."  Tell him, gurl….Although, you know, keep singing with him too!