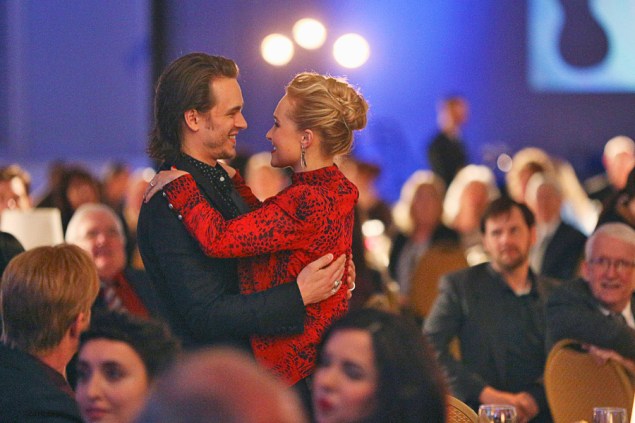 WOWIE ZOWIE that was one hell of a Nashville. This episode reminds us that when Nashville is good, it is very, very good (but when it is bad it is terrible.) We've had to suffer through a coupla weeks of sub-par eps, but it was all worth it for the epic YAY-a-thon that was last night.
First off – Juliette is BACK, BABY!
So, until halfway through the episode, I thought that was last week's nanny – but no, apparently it's Avery's mom (who just happens to look identical to the nanny, but whatevs, Nashville has never cared about facial overlap among its stars.)
Mama Avery was spouting some realness at Mr. Barkley: it's BS that he's pouting about J's desire to go back to work, when he left her prego at home while he was on tour. Truth. It also seems to be a very real possibility that J is suffering from undiagnosed post-partum depression, evidenced by the fact that she didn't even want to hold baby C when she returned home from LA.
In a classic season two move, Juliette went full diva on Layla in the bathroom at the Note for Note benefit. (Also, why are we supposed to be on Layla's side here? Juliette tried to be nice to Layla on tour and L sabatoged her more than once.) Nevertheless, Juliette digs her own grave (as she does) by putting X-tina Jade St. John firmly in alliance with Layla, thus losing her own chance to perform at the benefit. When J flies into a rage re: losing to the pathetic Layla, Avery spouts some truth of his own. He's concerned that Juliette lacks any sense of self awareness before she shoots herself in the foot in public. So, Avery and Juliette both got a dose a realness this episode and the result was a beautiful, moving conversation about what's actually going on their lives / marriage. Juliette is worried that after taking time off to have a baby she will become irrelevant at 25. This is a powerful fear for all women and it was nice to see the relatable side of Juliette come out after so much seemingly unwarranted huffing and puffing. Also, holy shit, she's only supposed to be 25?!? No wonder she's so freaked out. Other women Juliette's age on television are portrayed as full babies, incapable of even paying rent and this girl has been hustling, running her empire and creating hundreds of jobs since she was a teenager.
Okay, so my favorite part of the episode was obviously that magically magical magic duet between Daphne and Luke. I have been predicting/wanting a Daphne arc for awhile now and I knew based on those close-ups of her worried little face in the teaser, that tonight was her night.
Daphne has been force fed shit sandwiches for awhile now. Her emotions and ability to process the major changes going on in her family are looked over completely while everyone tries to oil Maddie's squeaky wheel.  As Teddy's daughter, Daphne is bound to feel left out of the Rayna/Deacon as soulmates parade and yet no one has ever thought to ask her how she feels about it. Her duet with Luke was a welcome moment for her star to shine. Luke calling her his little buddy was adorable and a reminder that Daphne was always, for better or worse, Team Luke.
The rest of my notes for this episode simply say yay. For example:
Gunnar comparing Deacon to Charlie Brown and Deacon running with the metaphor: YAY!
Juliette vs. X-tina Jade St. John smackdown: YAY!!
Luke and Teddy's heart-to-heart: YAY!!!
Will getting jealous that his songwriter showed up with a date, and getting all emotion-y instead of ragey about it. YAY!!!!
Everything involving Daphne: YAYYAYYAY!!!!!!!
I was even charmed by that weird nonversation between Will and Layla. What the hell was that? I don't care. YAY!
Let's also give props to Chris Carmack's superb acting when he asks his gay songwriting partner to be exclusive. He was so adorable and vulnerable. And then, his elation when he finds out the muscley date was not invited back to gay songwriter's apt. He was so adorable and happy. Will is on a nice track here and Chris Carmack is tearing it up. YAY.
The one misstep for me was Jade St. John at the Bluebird performance. There's no denying X-tina is a monster songstress but the smoke and mirrors from last week's performance looked way better on her than this striped down acoustic set. Give her back her platforms and purple highlights. All this performance did for me was make me wish that it was Sadie singing Luke's old hits up there. If I was a betting woman, I'd wager he was too.
Predictions:
Think Gunnar will give his own liver to get Scarlett back? I want to know. Please ABC, you can't cancel Nashville.  You just can't, okay?!? There are so many more sad songs to sing.