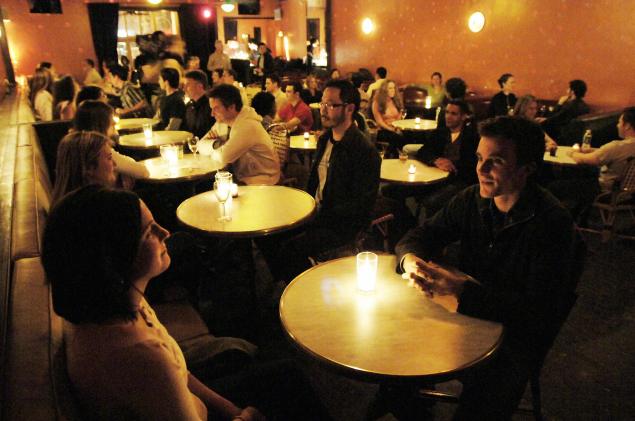 Tinder may make it easy to decide if a person is hot or not. But according to Brian Schechter, CEO and cofounder of dating app HowAboutWe, the swipe-centric service is less helpful when it comes to meeting up with someone in the physical world.
Mr. Schechter calls the problem "Tinder Fatigue."
"People have so many matches, so many conversations, they can't even keep track of all of them," he told the Observer.
With the completely redesigned app HowAboutWe launched this morning, the service aims to replace the endless swiping and message-swapping with easy access to immediate, real-life dates.
The key is a new feature called "Tonight." Tell the app you would like to go on a date tonight, and it will produce a list of compatible singles also in the mood to meet up with someone. Choose the one you like, and the app will send the two of you an introductory text message urging you to pick a time and place to meet.
"Tonight" epitomizes HowAboutWe's long-held mission to take romantic interactions offline as soon as possible. The feature is certainly a change from how most popular dating sites operate, but Mr. Schechter pointed out that in our present mobile-addicted culture, we expect our cabs, laundry and pad thai to arrive at the click of a button.
"We believe it should be the same thing with dating," he said.
The prospect of meeting someone without much messaging beforehand is no doubt daunting. Oftentimes, singles use their dating apps' messaging features to rule out potential creeps before they waste their time on a crappy real-life date. But Mr. Schechter suggested an alternative way to look at things.
"Oftentimes, the chatting back and forth can be quite misleading," he said. "So much gets conveyed in person that doesn't get conveyed through chatting."
HowAboutWe started in 2010 as a way for singles to share date ideas and make plans to meet up in the real world. Last July, it was acquired by IAC, the media giant that also owns Match.com, OkCupid and Tinder. Today's relaunch marks the company's fifth birthday, as well as its new, post-acquisition identity.
"We've learned a tremendous amount about online dating and watched the industry change," Mr. Schechter said. "After the acquisition, we really had opportunity to reinvent the experience."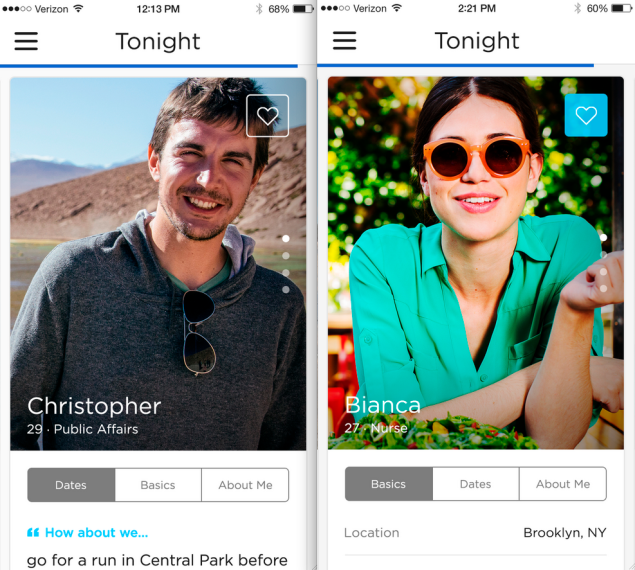 "Tonight" isn't HowAboutWe's only new feature. There's "Connections," where the app sends you five recommended matches per day; "Search," which lets you filter matches by specific categories like height, job or religion; "Pool," which is, well, basically the same thing as Tinder.
But wait—does "Pool" not go against HowAboutWe's whole mission statement? Mr. Schechter said they wanted the app to have "various features to support you at different moments."
"It's Monday afternoon, you have plans all week, but you're still interested in meeting someone," he hypothesized. "'Pool' is great for that."
The app also has an entirely new user interface, plus a new pricing scheme. Now, messaging is free between users who mutually approve one another. (If you want to be able to message anyone you please, you'll still have to subscribe for $9 to $30 per month, depending on how many months to which you commit.)
"Our growth has been steady," Mr. Schechter said. "We're hoping that this really brings a new level of excitement for the brand."