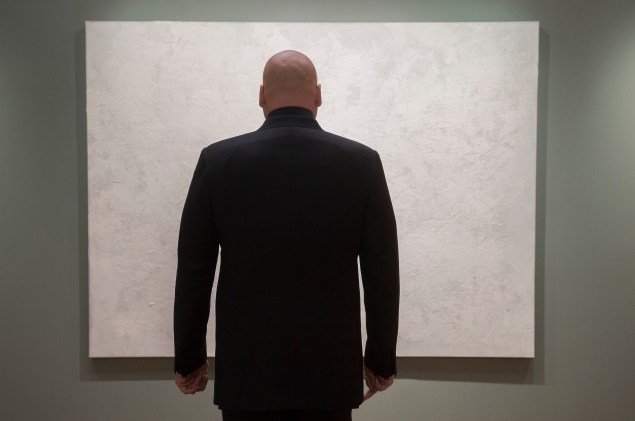 Even after 10 years playing a cop, maybe Vincent D'Onofrio was always meant to be the villain.
Up close, the actor is a presence for sure, even an imposing one. Sitting across from me at the Lowe's Regency, he was impeccably dressed in a blue three-piece suit, all six-foot-something of him, messily bearded and looking, after several interviews at a Netflix event, fatigued and rightfully so.
But he's also much more soft-spoken than one would expect, almost closed off in a way. It's an easy thing to do, to project his past roles on to him. I don't see him, I see Leonard "Pyle" Lawrence from Full Metal Jacket. I see an alien in an Edgar suit from Men in Black. Hell, I see a random New York pedestrian, stuck in between a subway car and the platform on Homicide: Life on the Street. 
The next role for Mr. D'Onofrio is Wilson Fisk in Marvel's Daredevil on Netflix. For the uninitiated, Fisk is the real name of the Kingpin, the Hell's Kitchen comic book crime overlord as massive in influence as he is in physical girth, and the main adversary to the vigilante Daredevil. Daredevil is the ninja-attired alter ego of Matt Murdock, a blind lawyer who makes up for his lack of sight with four other heightened senses.
---

Mr. D'Onofrio is no stranger to playing broken men, less-than-savory characters, the occasional monster or two.

---
This is the first of four Marvel-centric series the on-demand streaming service will roll out before a fifth one that unites all the characters. Daredevil, the man without fear, and arch-nemesis Kingpin are the veterans, first brought to life in the 1960s by a team led by Stan Lee. But various reboots since, by writers Frank Miller and Brian Michael Bendis along with artist Alex Maleev, have transformed the unlikely hero into one of Marvel's best-selling and most relatable titles.
Ever the researcher, Mr. D'Onofrio said he read the comic books before stepping into the size XL shoes of Wilson Fisk.
"I wanted [Fisk] to have certain quirks, in a way," Mr. D'Onofrio said. "Because in those books, there was always something broken about him. At least that's what I saw. So I wanted to explore that. It gave me the idea—if I feel there is something broken about him, what is it?"
Mr. D'Onofrio is no stranger to playing broken men, less-than-savory characters, the occasional monster or two. He's a character actor in every sense of the word, and this isn't coincidental. From the very start, Mr. D'Onofrio preferred the monsters in the dark to the men in the brightest spotlight.
"I think that the kind of leading men that I grew up seeing were so pretty, and so amazing at what they did. And I wasn't that. To me, Paul Newman was a leading man. I wasn't that. Gary Cooper was a leading man. I wasn't that," Mr. D'Onofrio said. "Even guys like Peter O'Toole who used to do extreme character roles, he was a huge influence on me. I think that sort of acting was always just more interesting to me. When I looked at what was going on in film, I always thought that looks like a lot of fun. That is what I want to be."
It's that apparent knack for choosing roles, that fearlessness, that has driven Mr. D'Onofrio to a career that, at this point, spans decades. Fear, as it turned out, ended up becoming a large part of our conversation—because what could possibly give an actor like Mr. D'Onofrio trepidation?
"It's different, every time. With this Marvel stuff it's because I'm playing something that's become iconic," Mr. D'Oniofrio answered. "It's not so much fear; it's the idea of accomplishing something, to put all your energy into something and accomplishing it. That's an amazing thing. It's so much more than fear. It's the idea of getting it done, and getting it done right."
Mr. D'Onofrio is a native New Yorker and, of course, this meant a stint on Law & Order. Mr. D'Onofrio's just lasted longer than most—a decade playing eccentric Detective Robert Goren on Criminal Intent, to be exact. But long before Det. Goren's signature head tilt, or the all too familiar DUN DUN sound effect, Mr. D'Onofrio was just a kid growing up in Brooklyn. I ask if his time in the city served as a source of inspiration.
At this point, Mr. D'Onofrio squinted his eyes and put a hand to his forehead. If I had to guess, this was because it was something he had not thought about in a long, long time.
"That's such a huge question. Just walking around the city used to inspire me. Me and my friends used to take these long walks from Fulton Street up to the hundreds, and then back down again and that was just one evening," Mr. D'Onofrio said. There was an energy to his answer that hadn't been there before.
"When I could afford to go see plays, I saw all the theater I could see. But sometimes we couldn't afford it, and we would sneak in. If the play was three acts, or two acts, when they would come out for break and have cigarettes we'd mix into that crowd. So we saw the second and third act of a lot of plays."
And now Mr. D'Onofrio was gesticulating, talking with his hands.
"Oh, and the revival houses. I know this sounds nerdy and everything, but we used to go to triple features," he continued. "There used to be a Bleecker Street cinema that was very popular, and we used to watch triple features. We'd sit in there and spend the whole day in the cinema. Those were the most inspiring times."
By now, I was regretting my conclusion that Mr. D'Onofrio is closed off. He is not closed off. He's simply a man who enjoys acting, and life, a hell of a lot more than talking about it.
So, as our interview was coming to an end, slowly, Mr. D'Onofrio came back down to earth. Not unpleasantly so, mind you. Just different.
"These days in my life other things are inspiring. I have young kids, I have a family," he said. "As you get older and have been acting as long as I have, there's a freedom that comes with that. In this part of my life I'm much more free than I've ever been."
I talked to Mr. D'Onofrio again a few weeks later. I was curious to see if any cracks would show in that steely resolve much closer to the Friday, April 10 premiere of Daredevil, or if any special pressure had emerged.
There were no cracks and even less surprisingly, no pressure. He was mostly baffled—baffled at the idea that anyone could not love this job.
"When you're working with people that are super talented—producers, writers, actors—it's like any other project you'd be working on with someone that is super talented. It's always a pleasure, it's always a joy, and it's always so much fun. Even when it's hard and the days are long, and it's emotional stuff and you just don't want to do it anymore, even those intense days are a blast."
He paused. "It just has to be the right story to tell."