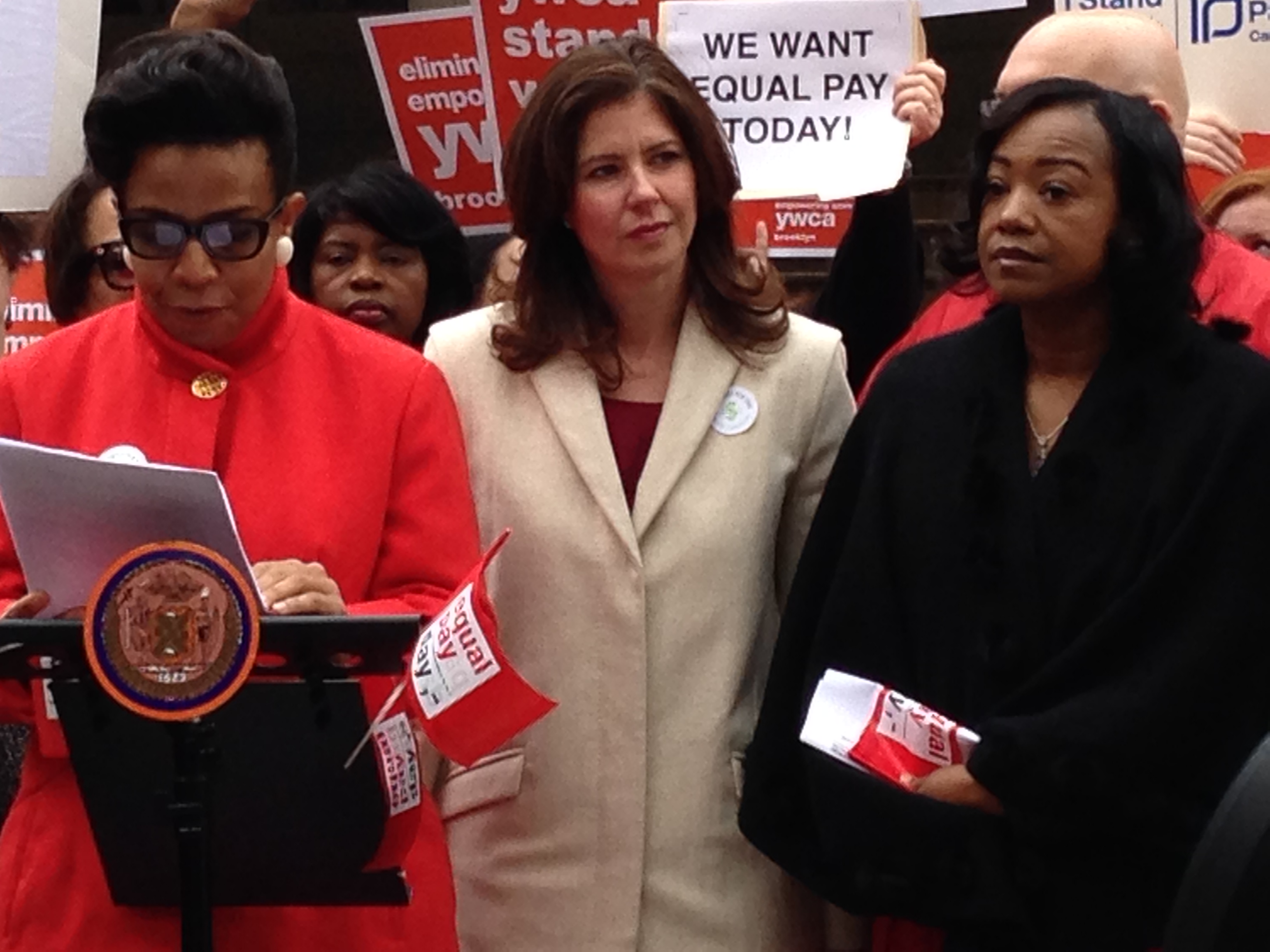 Council members Elizabeth Crowley and Darlene Mealy rallied this morning with women's advocacy groups in favor of a pair of bills that would obligate companies doing business with the city to reveal the race and gender of their executives and directors.
The co-chairs of the Council's Women's Caucus made their push for the bills' passage on "Equal Pay Day." Joined on the steps by Councilwoman Laurie Cumbo, chairwoman of the Committee on Women's Issues, Public Advocate Letitia James and a host of feminists decked in symbolic red, Ms. Crowley and Ms. Cumbo asserted that increased transparency would help smash glass ceilings.
"When women lead, families and entire communities are empowered," Ms. Crowley, a Queens Democrat, said. "I believe that only when we increase diversity in corporate boardrooms and corporate suites across our city and our nation can we truly address pay inequality that still exists today.
The bills would obligate companies receiving contracts from the city to report to the mayor and the Council on the racial and gender breakdown of their top-level corporate officers, as well to create goals for diversity and detail their hiring policies to the city. Ms. Mealy, a Brooklyn Democrat, echoed her colleagues' argument that disclosure would result in more upward mobility for women and upward pressure on female wages.
"I believe these bills are a good first step in increasing transparency and closing the pay gap that has existed for far too long in our city and country," she said.
Ms. Crowley said they had not yet discussed the bills with Council Speaker Melissa Mark-Viverito, but noted that the speaker has generally endorsed measures aimed at achieving sexual and ethnic equality.
"I'm sure that she supports diversity, and she's always been a strong advocate for equal pay for women," Ms. Crowley said.