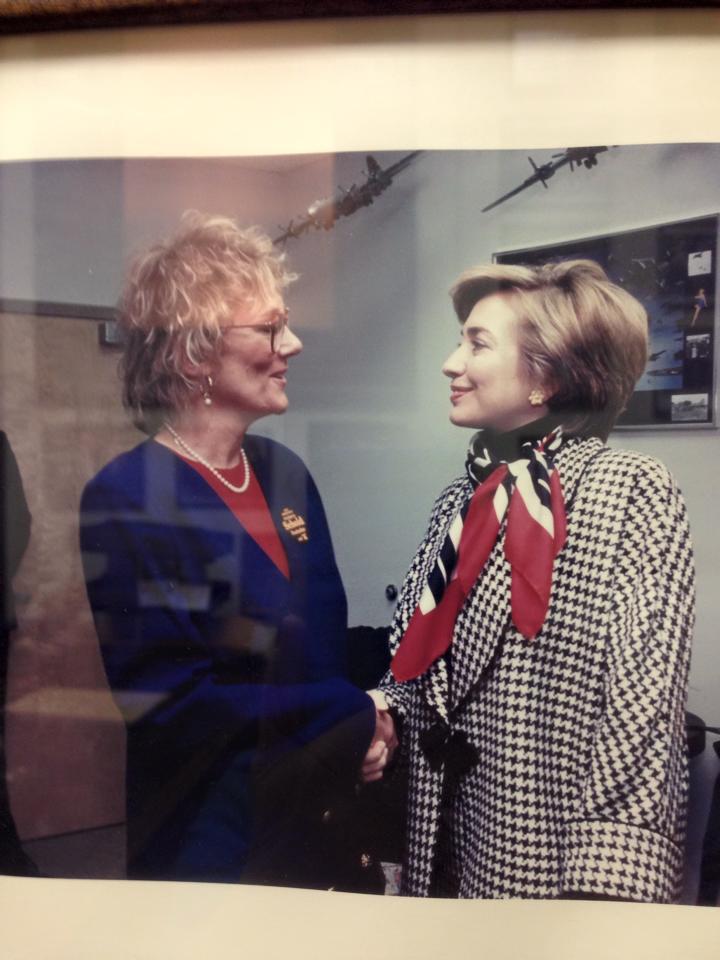 The Clinton phenomenon has a particular history in New Jersey, but longtime party members and allies recognize that the candidacy of Hillary Clinton will have to expand on the past and show immediate relevance in order to avoid looking like a formerly rained-out Baby Boomer cheering section struggling to shock paddle past glories.
"I'm running for president," said Clinton this afternoon in her video launch. "Americans have fought their way back from tough economic times but the deck is still stacked in favor of those at the top. Everyday Americans need a champion, and I want to be that champion; so you can do more than get by, you can get ahead, and stay ahead, because when families are strong, America is strong. So I'm hitting the road to earn your vote because it's your time, and I hope you'll join me on this journey."
The history here in ATM machine New Jersey's unmistakable, and part of Garden State Democrats' argument for the future is the history-making nature of Clinton's candidacy. Ask them why people should care about Hillary Clinton and party leaders often note that the forward-looking dynamic of a first woman president in office counteracts the threat of Republicans exploiting an old or tired brand.
First to the history and the longstanding attachment veteran New Jersey Democrats have with Hillary and Bill Clinton – history that created the conditions for Hillary Clinton's consistently butt-kicking showings in head-to-head polls with Republicans.
Prior to Bill Clinton becoming the Democratic nominee for president in 1992 and a haplessly tank-treaded Mike Dukakis, one of the last prominent national Democrats to land a big headline in New Jersey was a Coloradoan named Gary Hart, who on the eve of Super Tuesday joked that his wife had the cushy campaign assignment in California while he got stuck with toxic waste dumps of New Jersey.
Hart nosedived dismally in NJ after that comment. Apparently the political lesson is that we know the place has its cesspools and we'll damn well say so, just don't come in from out of town to remind us of that while asking for political favors.
Bill Clinton never acted as though he was just enduring New Jersey. He approached it with great care. The place was a general election battleground state then, the same state carried twice by Ronald Reagan and by George Herbert Walker Bush in 1988. In high octane political operator mode, Clinton uncorked his sweetest Southern boy charms here and it worked. He beat Bush, who spent his last hours campaigning for the presidency alongside former Governor Tom Kean outside the train station in Madison.
"Clinton turned New Jersey into a blue state," veteran Democratic operative Tom Barrett told PolitickerNJ in the lead up to Hillary Clinton's losing 2008 campaign, reflecting on the depth of Baby Boomer loyalty for the former first lady.
For Barrett, the pivot from Bill to Hillary is easy.
"Hillary Clinton is, in my opinion, the strongest American presidential candidate and modern leader who is ideally suited for the world stage…respected  internationally with vital domestic experience to ensure that our critical, national security interests are well protected," said the member of the NJ Democratic State Committee who helped Clinton defeat Barack Obama by ten points in the Garden State.
On Facebook this weekend, Essex County Freeholder Patricia Sebold posted a photograph of herself with Hillary Clinton and the comment, "With Hillary Clinton years ago and I am still with the next first female President of the United States!"
Speaking on condition of anonymity, a second source close to Hillary Clinton gushed about her readiness and dismissed the warbling around the prospect of a Martin O'Malley candidacy. "Contrary to the media blitz that Hillary needs a challenger, don't believe it," said the source. "Hillary will be ready to shatter the glass ceiling in being elected as the most qualified candidate for President from either party. The American worker and those who are aspiring for higher paying jobs are ready for Hillary. HILLARY CLINTON WILL BE THE NEXT PRESIDENT OF THE UNITED STATES AND BRING MEANINGFUL CHANG TO THE WORLD."
Other Democrats voice some degree of restraint when assessing the favorite to win their party's nomination, but also admitted the history-making potential of their champion.
Powerful Essex County Democratic chairman Leroy Jones noted the fact that New York Mayor Bill de Blasio this morning on Meet the Press stopped short of endorsing Clinton. De Blasio served as campaign manager for Clinton's senate campaign, but seemed to feel obligated to first hear Clinton present her vision for the country.
"She's amazingly credentialed and her resume speaks to the presidency," Jones said of Clinton. But "a number of people –including those progressive members of the party – would like to hear that vision. That's a fair request from everyone. Hillary Clinton has an obligation to talk to the country, and talk to Democrats to tell us what's going to be different going forward; to tell us about the future, not the past."
The Democratic Party chairman acknowledged what he said is excitement among party members in his county, home to New Jersey largest number of registered Democrats.
"Yeah, you do feel it," said Jones. "What it is is it's historic. Democrats are coming off history with the first African-American president and we're about to make history again with the first woman president.
"Women have a large stake in the party and are obviously a tremendous voting bloc," the chairman added. "This candidacy gives women an opportunity to know that feminism will be part and parcel of the agenda. There is tremendous enthusiasm around her candidacy. Of course, it's always about the economy, and she is well rounded. She understands what makes this country tick and understands the need for a strong domestic policy and also foreign policy."
But Jones – the ultimate inside Democratic Party player – still wants more.
He recalled Ted Kennedy's disastrous 1979 interview with Roger Mudd, when Mudd asked Kennedy why he wanted to be president and Kennedy stumbled into a non-response. "Every person that puts himself or herself forward must inform the public about where he or she wants to take the country," Jones said.
Peg Schaffer, chair of the Somerset County Democratic Committee, applauded the web-based roll-out as a way to connect with the next generation.
"There's a whole side of Hillary, the person Hillary is, that will come out – she is a really smart person with a great sense of humor," Schaffer said. "The millennials will be easier to bring to her camp because of that. I found her delightful – smarter than the president [Bill Clinton], certainly not as charismatic. For the millennial generation I think there's a real healthy respect for mothers and grandmothers. Shes doing the right thing doing it this way."
Schaffer said when she attended Obama's inaugural celebration in Washington, D.C., Clinton greeted her personally at an event with stunning recall. "She remembered not only my name and face but asked me, 'Are you still chair of Somerset County?'" Schaffer said.
For his part, Zenon Christodoulou, vice chair of the Somerset County Democratic Committee, voiced the same expectation as Jones for more details from the candidate.
"Hillary has been a known quantity in many different capacities for years," said Christodoulou, a member of The Group, the fundraising titans who stood with Clinton against Obama through the 2008 Democratic Primary.
"But the world has changed so much since [Bill] Clinton was president and she needs to define herself now, not as the person from 30 or 40 years ago," Christodoulou added. "She's qualified but she has to make the case that she is the best person for today not yesterday."
Apparently unconvinced early of the overriding historic argument and of Clinton's capacity to elbow others out of contention, Draft Biden 2016, a SuperPAC organized to draft Vice President Joe Biden into the 2016 presidential race, wants a vigorous debate within the Party about the future of the country.
"We applaud Secretary Clinton's years of services and accomplishments, as we know she applauds the Vice President's," said Executive Director William Pierce. Pierce. "It's a great and historic candidacy, but we simply believe the best person for the job is Vice President Biden."
According to a recent Bloomberg poll, 72% of Democrats and Independents believe it would be a "good thing" if Secretary Clinton faced a serious contender. "We agree with this poll," said Pierce.
"We're seeing a fantastic response across the country to the idea of the Vice President running. People are amped for the Vice President to get in because 1) they love him and 2) they want there to be choice," said Marcus Ferrell, Political Director of Draft Joe Biden 2016. "He's been a great Vice President and will be an even better President."
But no such quotes poured forth from the state formerly derided by Gary Hart as unsavory swampland.
No one in the New Jersey Democratic Party – at least among those in positions of power – did anything other than radiate Hillary Clinton love and expectation for friendly details as she launched.