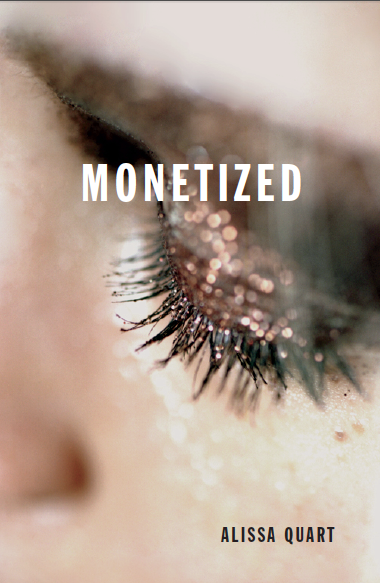 Subjects like gentrification, the financial strain of an increasingly expensive city on the creative class, the death of legacy media and buying Twitter followers may not seem like an obvious fit for a poetry collection. But writer Alissa Quart has taken the topics usually relegated to the business sections of increasingly slimmer newspapers, wedged between native advertising on websites and spoken of over drinks and wringing hands at magazine parties sponsored by liquor brands, and turned them into verse.
In Monetized, Ms. Quart's collection of poetry that was published last month by Miami University Press, she has used another form to discuss the topics she has written and thought about throughout her career. It's familiar terrain for Ms. Quart, who is currently the co-editor of The Economic Hardship Reporting Project, a nonprofit founded by Barbara Ehrenreich to report on economic inequality.
"A lot of the poems were written while writing articles. I would be on assignment or writing media criticism, and I'd have these thoughts and feelings that didn't fit into traditional formats," Ms. Quart said during a recent phone call, while simultaneously making split pea soup in her Upper West Side apartment.
Those affected by these industry-wide shifts in the business model have coped in various ways. Some left altogether, some tried to evolve, some just hung in there while lamenting the loss. Ms. Quart turned to poetry. She has been working on many of the poems that are collected in Monetized, "off and on," since 1998.
"The way I dealt with it emotionally and intellectually was by keeping this sideline thing that I did on my own time," she said.
The collection opens by conveying how the bright optimism of a golden age can fade overnight:
One day you are ordering extra

olives and the next day, one

of The Damned.
"The early poems in the book have a sort of exuberance but also a creeping sense of doom," Ms. Quart said. "As the years went on and our business started to really struggle, the book starts to reflect this kind of end-of-legacy media doomsday element. But I hope with some wit and levity."
Ms. Quart's clever, self-aware imagery and playful language, evoke a palpable sense of nostalgia that conveys the heady romanticism of the media industry.
In one poem, "Instrumental," she writes:
Then those days—when you were starting out,

as they say—you were sulfur

 

frozen at The Odeon

when strapped to the masthead,

every remark, aside,

sharpened.
A native New Yorker, Ms. Quart, who is in her early 40s, has seen the city change over the past decades as pricey juice bars replace neighborhood dive bars and rents have doubled and tripled while starting salaries in creative fields have barely changed.
Ms. Quart started out writing poetry but went to journalism school in order to make a living as a writer. "In that time it was such a sensible thing to do, which seems funny now," she said.
In 2010, Ms. Quart spent a year at Harvard as a Nieman fellow, where she took a workshop with poet Jorie Graham and began to work more formally on the poems that would eventually become Monetized.
"I was surrounded by all these 22-year-old febrile poets writing in verse, and I had these older person's embittered poetry," remembered Ms. Quart.
As Ms. Quart asks in one poem: "Is it so wrong to have diabolical/nostalgia? When that author is all/over speaker videos, handless mics,/gel lights, 17,000 Likes?"
Of course, some of the evocative nostalgia that comes through in the collection can be attributed to age, remembering a time before real-world financial considerations diminish the creative idealism of the liberal arts school graduate.
"Some of this is getting to be an adult. You realize you have to think about money much more, especially when you have kids," Ms. Quart, who, with her husband, journalist Peter Maass, has a pre-school-aged daughter. "But people in their 20s talk about money much more than I remember talking about or thinking about money. And it's because of the reality of what it takes to live in one of these classic cities of ambition where you go to make yourself. It's just really expensive."
Making it in New York in a creative field, while never easy, is in most ways harder than ever. But that hasn't stopped people from trying. And no matter how depressing many of the topics in Monetized, it's comforting to know that the decline of print can still result in a book of a poetry.