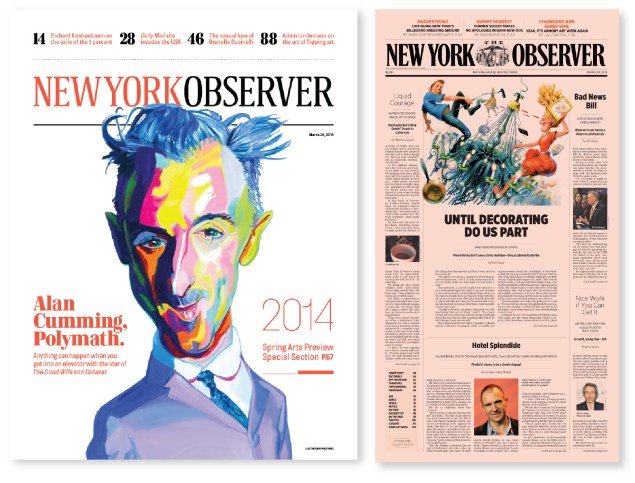 Redesigns are hard. Especially when you adore the publication you've been tasked with reinventing. It feels like a rejection.
And in the Observer's case, we weren't simply undergoing a head-to-toe redesign, involving the wrenching shift from broadsheet to stapled tabloid. We were also ditching the pink paper that had been our trademark for much of the publication's 27-year history.
In the Art Department, we worried that without the salmon-pink paper readers would not recognize us. We even made a "plaque" in tribute to the pink lady a week before our relaunch. But we were wrong. The paper now looks and feels as if it were always this format, this white paper, this true newsmagazine newspaper.
The redesign firm, Triboro, who are David Heasty and Stefanie Weigler, carried us through a months- long prepress process of a different, graphically arresting design, new and custom created fonts, many test printings and lots of tweaks along the way to our first issue. And we retained an homage to our heritage on the editorial and masthead pages by keeping a salmon-pink tint on the background.
David and Stefanie are an inspired team and working with them was the kind of experience, as a designer, that I've dreamed of having for a long time.
The illustrators we've worked with for years who have influenced the look of the Observer, like Philip Burke, Drew Friedman, Victor Juhasz, Steve Brodner, Fred Harper and Dale Stephanos, contributed much to our year of beautiful covers as did many new illustrators.
The photographers who have contributed to our stunning inside pages are incredible: Chris Crisman, Jason Blake, Celeste Sloman, Arman Dzidzovic and our own Photo Director, Emily Assiran, who recently won The Newswomen's Club photography feature award for "Woody Allen: American Master."
The look and read of the paper has jumped to a much higher level and we try every week to make it better. Emily Assiran, Lisa Medchill, Miguel Romero, and I have worked very hard to keep our great new design style intact.