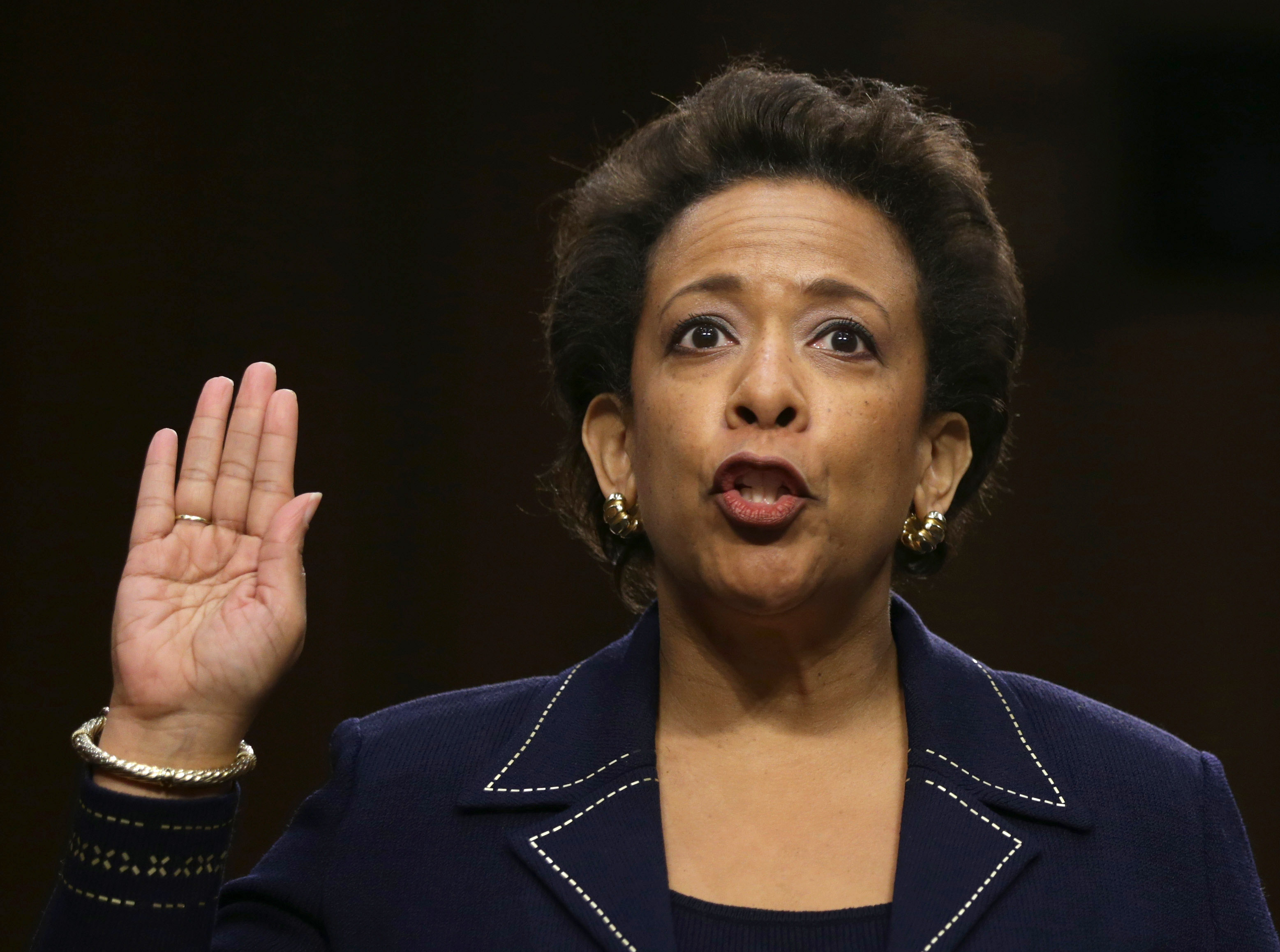 New York's elected officials are hailing the Senate's confirmation—after a lengthy delay—of Brooklyn U.S. Attorney Loretta Lynch as the country's next attorney general.
Ms. Lynch was confirmed this afternoon, after a long hold-up due not to concerns over her qualifications, first due to her defense of President Barack Obama's executive order on immigration and more recently due to a stalemate over an unrelated bill on human trafficking. She was first nominated by Mr. Obama in early November. Ms. Lynch will replace Attorney General Eric Holder, who is stepping down from the position, and will be the first black woman to lead the Justice Department.
The state's two U.S. senators, both Democrats, heaped praise on Ms. Lynch.
"Today is an historic day as Loretta Lynch will take her rightful place at the helm of DOJ," U.S. Sen. Charles Schumer said. "I am confident she will be an exemplary attorney general, and will bring disparate parts of communities across the country together, just as she did in Brooklyn. She will pour every ounce of her energy into keeping America safe, upholding the rule of law, and protecting and restoring voting rights that have been under assault for far too long."
Sen. Kirsten Gillibrand made reference to Ms. Lynch's long wait in congratulating her this afternoon.
"I am pleased to finally be able to congratulate Loretta Lynch on her confirmation as Attorney General of the United States," Ms. Gillibrand said in a statement. "Loretta is strong and fearless, and she is an ideal choice to lead the Justice Department. Not only is she making history as the first African American woman to serve in this role, she is one of our country's most accomplished and distinguished minds serving in law enforcement."
Congressman Hakeem Jeffries, who represents Brooklyn, called the months-long delay "shameful."
"After a shameful, partisan delay forced on the American people by Senate Republicans, Loretta Lynch has finally been confirmed as Attorney General. She is a consummate law enforcement professional with an unparalleled track record of keeping communities safe and protecting the civil rights of the vulnerable. Ms. Lynch will make a tremendous Attorney General. Brooklyn's loss is America's gain," Mr. Jeffries said in a statement.
Gov. Andrew Cuomo called Ms. Lynch a "steadfast defender of justice."
"In addition to being uniquely qualified for this position, Ms. Lynch is also a trailblazer whose long overdue confirmation represents another step forward for our country. I look forward to seeing the leadership she has shown in New York benefit the American people at the helm of the Justice Department in the days to come," he said.
New York State Attorney General Eric Schneiderman said he had "supreme confidence" in Ms. Lynch.
"She has a tireless work ethic, a wide breadth of experience and a strong commitment to public service and ensuring that all Americans will be afforded equal justice under the law. I am pleased that the Senate has finally, after a record delay, recognized her strong qualifications for the office. And because she will be the first African-American woman to lead the Department of Justice, this is a historic day for the United States, and I am proud to call Ms. Lynch our next Attorney General," he said.
Ms. Lynch keeps a decidedly lower profile than her counterpart in Manhattan, U.S. Attorney Preet Bharara—who was recently rebuked by a judge for his out-of-court comments railing against corruption in Albany while he tries former Assembly Speaker Sheldon Silver on fraud and extortion charges.
She has twice before been confirmed by the Senate as a U.S. attorney. She was first nominated for the job by President Bill Clinton in 1999, and then after a stint in the private sector was nominated again by Mr. Obama in 2010. Ms. Lynch has seen her share of high-profile cases, including when she oversaw the prosecution of the police officers charged in the Abner Louima police brutality case. More recently, she was part of a $7 billion settlement reached with Citibank, and her office tried former Congressman Michael Grimm for tax fraud.