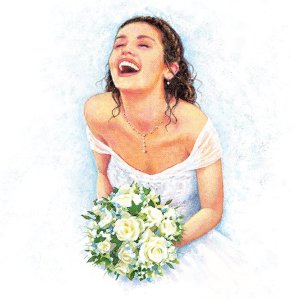 See that girl, watch that scene—for a few more months at least
Producers announced that Mamma Mia, the smash hit Broadway musical with a score of ABBA tunes, will close on September 5. Upon closing, the show will have played 5,765 performances in New York, making it the eighth longest running show in Broadway history. (Phantom of the Opera, Chicago and Cats take the top three spots.)
The bouncy musical, about a young woman trying to find out her father's identity on the eve of her wedding, opened right after 9/11 and packed in audiences aching for solace.  At the time, the goofy pop fantasy set on a Greek island was more ground-breaking than it looked: No wholesome Oklahoma, it starred a middle-aged mom as the lead, and one who had done a great deal of sleeping around during her years as a rock n' roll singer.
The show also birthed a slew of aging pop and rock stars (like Bono, U2 and Sting) seeking their fortunes on Broadway, with generally less-than-stellar commercial success.
Million-dollar weekly grosses were routine for the show in the first years of its run. Recently, however, grosses fell due to a crowded Broadway market. The show has routinely pulled in about $500,000 a week in the past few months (though that shot up to $800,000 during Easter week).
One reason for the drop in grosses was the show's move from the large Winter Garden Theatre to the smaller Broadhurst Theatre when Rocky opened at the Winter Garden last year (Wolf Hall is currently playing there).
The show is still performed around the world however; and Royal Caribbean's Quantum of the Seas recently began a traveling production.
In any event, producer Judy Craymer decided it was the right time for the show to thank Broadway for the music and make its exit.
"It's amazing we've sailed through a decade and a half, and I think it's the right time to go," Ms. Craymer told the New York Post. "We want to have a fun and buoyant summer and go out with grace."