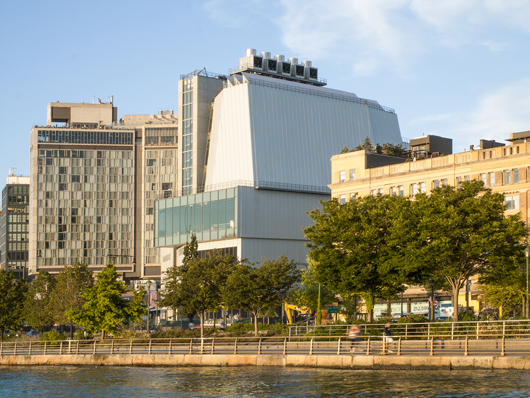 The countdown is on for the opening of the Whitney Museum of American Art's new Renzo Piano-designed 200,000 square-foot-space in the Meatpacking district. While the fancy invite-only parties begin this week, it opens to the public officially May 1.
To celebrate that opening weekend, the Whitney will be hosting a block party on Saturday May 2 from 10.30 a.m. to 10 p.m. on Gansevoort Street.  Visitors will be offered free admission for the day, as well as the chance to enjoy the art, performances and other activities at the block party.
But the Whitney's website already warns that advance reservations for that free day are full for May 2. (Though some free in-person tickets may be available to those showing up. and Friday May 1 still has tickets.)
At the museum, general admission tickets will cost $22, admission for students and seniors is $18, while children and teens under 18 will be free. (Visitors will also be able to take advantage of pay-what-you-wish hours every Friday night from 7 p.m. to 10 p.m.) The free-to-teens is a big move; the Museum of Modern Art is free to those 16-and-below; the Metropolitan Museum of Art waives its suggested $25 ticket price for children under 12 when accompanied by an adult, a similar policy to the Guggenheim.
The new location at 99 Gansevoort Street will also see an increase in the Museum's previous opening times from five days a week to six: Sundays, Mondays, and Wednesdays from 10:30 a.m. to 6 pm and Thursdays, Fridays, and Saturdays from 10:30 a.m. until 10 p.m., according to a statement from the Museum. The museum is closed Tuesdays.
The Museum's inaugural exhibition, "America Is Hard To See," will also open on May 1. The exhibition will have works from the 1900s to the present that are part of the museum's permanent collection.