Remember when you waited on line at the Museum of Modern Art for The Rain Room (an exhibition that was the cronuts of art), or The Clock, or ran out to see the Olafur Eliasson's Waterfalls? And you wished someone had told you about them early on, before seeing them became "the thing to do" in New York?
Well, now we are telling you.
In May, a series of immersive experiences will be staged by Creative Time in the Northern end of Central Park.  In partnership with the Central Park Conservancy, and sponsored by Calvin Klein (which will also host the May 14 opening dinner), eight "site-specific pieces" will premiere May 15 and run through June 20. . "Drifting in Daylight," as the "dreamy pathway" of art installations is called, will run, or be performed, every Saturday and Sunday afternoon.
The pieces are variously celebratory, kooky, delightful, involving or confusing, depending upon your tolerance for events that include the words "artists practice" and "journey of contemplative moments."
The S.S. Hangover will sail the duck pond at the Harlem Meer a few hours a day, a brass sextet on board playing a sonorous tune; the artist is Scandanavian superstar Ragnar Kjartansson, who's already floated the boat around Venice, Italy. It was a huge hit.
On 102nd Street, Alicia Farmis installs "a participatory sculpture that serves as a vessel of communication with those who have no earthbound address," a sort of interstellar post box, certainly something New York needs.
Artist David Levine, at various sites throughout the park, will be employing actors to perform scenes from famous films — you'll have to get up close to figure out what's a part of the show and what's a personal conversation you've just busted in on.
Artist Marc Bamuthi Joseph has arranged for performers to congregate regularly under "a parachute-turned-revival-tent for moments of intimate performance and celebration". There's also various artsy bird houses and sculptures.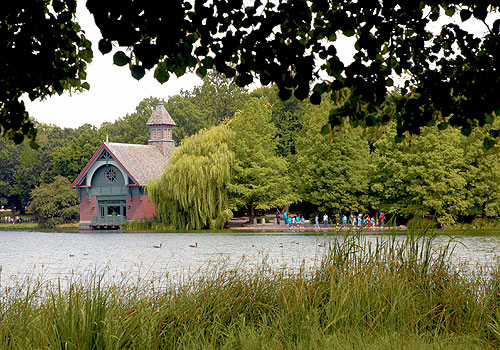 Then there's the somewhat riddle-like invitation: "Lauri Stallings beckons the public to collaborate with her on AND ALL DIRECTIONS I COME TO YOU, a migratory journey of contemplative movement through the North woods," which seems like some sort of unpredictable, possible infuriating, walking/dancing tour, but why not find out?
For six weeks, this slice of the park will offer "a playful trail of sensory experiences." All events are free, but may get crowded as word spreads.
One thing is for sure: the real masterpiece in this show is Central Park itself.