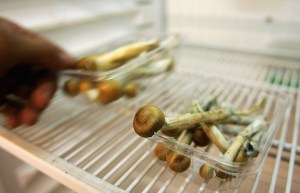 The NYPD is in possession of a little over $13,000 worth of hallucinogenic mushrooms, but the stash isn't the result of a major drug siege.
According to DNAinfo, the NYPD splurged on psilocybin (the chemical compound found in magic mushrooms) and ecstasy in 2011 from chemical and laboratory supply companies for the department's drug testing lab, where the samples were then compared with drugs seized on the streets.
DNAinfo's review of the NYPD's spending records also revealed a wealth of strange purchases in addition to the 'shrooms. Over the past five years the department spent approximately $4,600 on steak dinners at a variety of steak houses across the city, including Peter Luger Steak House in Williamsburg and Rao's Italian restaurant where Harlem mobsters are known to wine and dine. Meanwhile in May 2013, the NYPD purchased eight life-size costumes of McGruff the Crime Dog, a 1980s cartoon trench-coat-wearing canine who taught children about crime prevention, for $13,584. The costumes are used by the Community Affairs unit educational events on crime prevention, according to a department spokesperson. It also paid $11,000 for two male German Shepards to join their K-9 Unit, according to the records.
Other expenditures, according to the analysis, include $69,000 worth of shoe shinning machines for each precinct station to allow police officers "to buff their boots before and during their tour," $93,000 spent on jet skis in 2013 for the NYPD's elite Emergency Service Unit and a $500,000 "army of robots" to be used in dangerous areas to provide video footage.