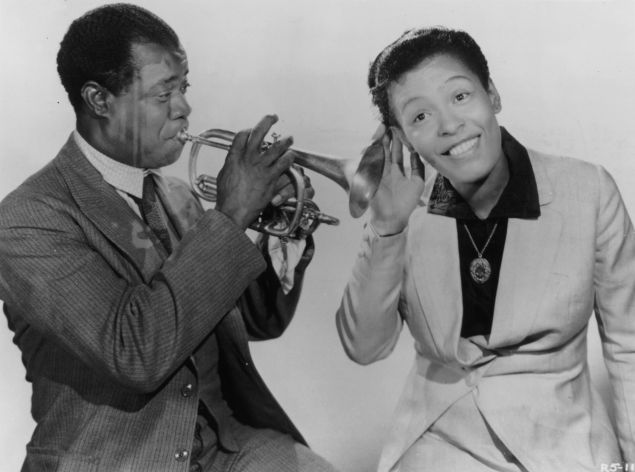 On Monday evening in Harlem, Billie Holiday was inducted into the Apollo's walk of fame, which includes Ella Fitzgerald, Smokey Robinson and Aretha Franklin. The violinist Kersten Stevens, wearing a white gardenia—Holiday's trademark—played a sad, slow "All of Me" before the singer Cassandra Wilson made a few remarks. "Today marks a new chapter in the life and lore of Billie Holiday," she said. Lester Young, Jr., the son of Holiday's saxophonist—he gave her the nickname Lady Day—was also in attendance. The half-hour ceremony finished with a gospel-inflected performance of "God Bless the Child," which Holiday wrote.
The whole affair was an exercise in nostalgia, which is not an uncommon thing when dealing with Holiday, whose haunting voice evokes a different era. It was also, it seemed, overdue. "It's about time!" a woman behind me yelled as the plaque was unveiled on the sidewalk in front of the theater. Holiday, who died in 1959, would have turned 100 this week, and despite the fact that she was a fixture in the city's music scene, there are few public reminders she even lived in New York.
---

'The music became her,' said Nat Hentoff, who knew Holiday well. 'She made the lyrics into autobiography, and she did it in a way that almost no one else quite did.'

---
Perhaps there don't need to be. The myth of Billie Holiday, as a doomed artistic figure destroyed by drugs and alcohol at the age of 44, is as strong today as it ever was. "We all have narratives attached to us, and sometimes you can't get rid of them even if you know they're wrong, but then once in a while you find something that threatens to pull it loose," the biographer John Szwed, who just published Billie Holiday: The Musician and the Myth, told me in a phone interview. "So I found her to be much smarter, much funnier, much tougher than other people had said."
There is no getting around the fact that Holiday led a rough existence; it's hard not to hear that in her voice, which could sound slurred and narcotized. Because of her arrest in 1947 for drug possession, Holiday lost her cabaret card, and she was forbidden from performing in alcohol-serving establishments for the rest of her career. She was also targeted by the Federal Bureau of Narcotics for about two decades, which played no small part in ruining her life.
But a slew of concerts and new releases may draw fresh attention to her music. Ms. Wilson is this week releasing a Holiday tribute album, Coming Forth by Day, and she will perform selections from that record at the Apollo on Friday. Last month, the singer José James put out Yesterday I Had the Blues: The Music of Billie Holiday; on May 7, he performs at the Harlem Stage Gatehouse. This weekend, Cécile Mclorin Salvant performs Holiday at Jazz at Lincoln Center.
"What Billie sang was really … it's hard to put this into words, but the music became her," said the jazz critic Nat Hentoff, who knew her well. "She made the lyrics into autobiography, and she did it in a way that almost no one else quite did. It was the kind of singing, at the time anyway, that stayed in your head long after."
Mr. Hentoff recounted the time he booked Holiday on the CBS TV series The Sound of Jazz in 1957. She was angry because she'd bought an expensive dress for the performance, which was more casual than she'd expected. "She called me a motherfucker," he said. After the show was over, though, all was forgiven. "She rushed down and gave me a big kiss and hug," Mr. Hentoff recalled, "and I think that was the best reward I ever got."
[protected-iframe id="dec76ce153210e7ef6f612663881bd4b-35584880-46107883″ info="https://www.youtube.com/embed/SThGnrorGW8″ width="635″ height="360″ frameborder="0″ allowfullscreen=""]
The singer Eve Cornelious first heard Holiday in her 20s, when she came across her version of "Wherever You Are." "It was sort of like a happy song," she said. "When I went on to continue and discover her, I found a lot of her songs weren't so happy, of course, like 'Strange Fruit,'" Holiday's searing classic about lynchings in the South.
There is much to enjoy in Holiday's distinct phrasing—impossible to imitate; just try. And she had the ability to re-harmonize songs and make them completely her own. "I always wanted to sing like Louis Armstrong played," she said in one of the few interviews she did in her life. But one gets the sense these days that few know much about her work, which is often associated with disaster, featured as it is in the Enron documentary The Smartest Guys in the Room and the post-apocalyptic video game Fallout 3. It can seem like David Sedaris' impression of her, singing the Oscar Mayer theme song on This American Life, is more popular than her own songs.
In an interview before the induction ceremony at the Apollo, Ms. Wilson brought up a scene in the 1995 comedy Clueless—whose soundtrack, as it happens, was just issued on vinyl—in which Alicia Silverstone is getting into a car to go on a date. "Do you like Billie Holiday?" the guy asks as he turns on the radio. "I love him," she says, obliviously.
That scene might just sum up the public perception of Billie Holiday, but Ms. Wilson said she thought a new generation of listeners would have the chance to discover her material thanks to the renewed focus on her work. "I think the valley girls will, too," Ms. Wilson said with a laugh. "And they'll know that she's a she and not a he."