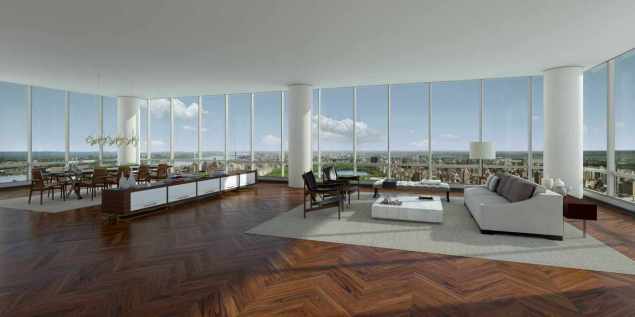 We hope no one really expected to find a bargain-priced Brooklyn home, at least not in the ever-growing list of neighborhoods somewhat close to better Manhattan-bound trains. But in the event that anyone did, Crain's has some bad news: the median sales price in the borough rose 17.5 percent to $610,894. Prices in Manhattan, however, have plateaued.
We are also surprised that married couples living with roommates in a city as expensive as New York would be news. Nonetheless, The New York Times is on it: "there are plenty of ways to cut housing costs other than taking on a roommate. But couples like Mr. Jupiter and Ms. Piñeiro say they would rather relinquish a spare room than contend with an extra-long commute, a smaller place or a less desirable area." And why not? Mr. Jupiter and Ms. Pineiro are getting a heck of a deal, charging their one roommate half the rent.
The Upper West Side will be getting $50 million of affordable housing built with funds with the collegiate school and locals get to decide where to put it, reports DNAInfo. Only it won't be in Riverside South, where the school had originally proposed putting the 55 units, but was unable to reach a deal.
Not so affordable housing: Prospect-Lefferts Gardens residents are rallying against $1,850-a-month studios in the once-affordable neighborhood, according to Gothamist, though the developer, Hudson Companies, says prices have not yet been set for 626 Flatbush Avenue.
Meanwhile, sleepy Dumbo is getting seven new residential developments that are expected to raise the population by more than 1,500 people, according to The Wall Street Journal. Retailers and restaurants, the paper notes, may actually now open before late afternoon.
Well this is embarrassing: Crain's reports that part of Gail Brewer's new landmarks law is already on the books, specifically the part pertaining to landlords needing to inform commercial tenants of a building's landmark status. "A spokesman for Ms. Brewer said the 1996 law failed to come up during consultations with landmark experts."
This is also a little embarrassing: after two years, the Baccarat Tower's first full-floor condo sold for $19.75 million, according toThe Wall Street Journal.
And this: Lauren Bacall's Dakota apartment is now $2.5 million cheaper, Curbed reports, bringing the price down to $23.5 million, so only a little more than twice the $9 million the apartment was most recently assessed for.
In other sales news, Bill Ackman's One57 penthouse contract finally closed for $91.54 million, according to 6sqft., making it the second most expensive residential property ever sold in the city (the $100.5 million One57 penthouse is no. 1).
On a subway ride to promote increased public transportation funding from Congress, Bill de Blasio was driven from his home at Gracie Mansion so he could board the subway in Park Slope "near his preferred gym and the home the de Blasios left last year for the mayoral residence," according to The New York Times.
An 7-11 will be going into an East Harlem building where the landlord pushed out eight small businesses, according to DNAInfo. The rest of the retail space remains tenant-less, as it has been since 2013.
Also, Chipotle will be joining the Starbucks on Clinton Hill's Mrytle Avenue, DNAInfo reports.