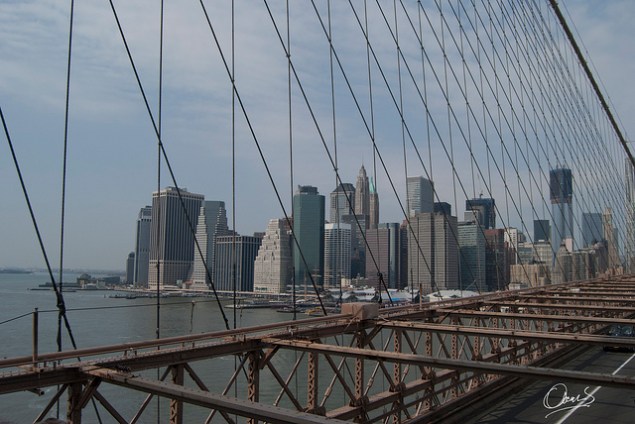 Protestors gathered outside Colony 1209 on Tuesday to protest 421-a tax breaks that gave the Bushwick luxury rental $8 million in tax breaks despite having no below market-rate apartments (the program's affordable housing requirements vary by neighborhood, with most in the outer-boroughs exempted), according to Gothamist. A Bed-Stuy resident attending in solidarity told them: "I'm here now because I suffer from gentrification. We lost Bedford-Stuyvesant, we lost Williamsburg, and now I am fighting for the people in Bushwick. We are low-income people, and we have rights. But they do the law for rich people."
On the topic of income inequality, Mayor Bill de Blasio has renamed Bloomberg's environmental program PlaNYC and rejiggered it to focus on income inequality, according to The New York Times. The plan will now be known as OneNYC and is "pledging to lift 800,000 residents out of poverty or near-poverty in the next decade — the largest urban poverty reduction effort ever in the country, officials said — and significantly reduce the "racial/ethnic disparities" in premature mortality." Also, the average New Yorker should be able to get to work in 45 minutes by 2040. The shift has drawn criticism from some who argue that the focus on equality will dilute the focus on sustainability.
The new plan will also create a unit to study long-range regional planning issues, according to CapitalNY. And he'd also like to see the city study a subway route along Utica Avenue in Brooklyn, the second-busiest bus corridor in New York.
More immediate environmental dangers: getting injured by something at a construction site. The Wall Street Journal reports that at least once a month on average, "a passerby is injured near a New York City construction site by anything from falling bricks, hammers and glass to windblown fences and collapsing sidewalk sheds."
A Bay Ridge building has more 311 complaints about noisy sex than any other in the city, according to DNAInfo. "I'm not a prude but there are kids in the building, and it was just a ridiculously loud amount of noise being made that the first time another woman yelled out her window, 'Shut your f–ing windows you whore!'" one neighbor told the newssite. As for boroughs, surprisingly, Brooklyn tops the list, followed by Queens, and only then Manhattan. Maybe Manhattanites are used to the multiple indignities of living on top of one another?
Speaking of indignities, Uber tried to charge a woman $12,000 for a ride from East Williamsburg to Midtown East, which took just over 35 minutes, according to Gothamist.
Add this Wall Street Journal slideshow to the list—billed as spring cleaning inspiration via beautiful closets, it just makes us realize that there's no beautiful closet hope for those living in cramped New York apartments.
Real estate experts are once again predicting that the South Bronx is going to boom, DNAInfo reports, citing, among its primary pieces of evidence, a pop-up coffee shop that's trying to find a permanent home there but not having much luck.
Manhattan, still where dreams go to die: An Oklahoma father-and-son team brought his two miniature horses to the streets of Midtown, seeking fame and fortune, ok, well, a TV deal, DNAInfo reports. The father declares the little horses "a billion-dollar idea," but so far, they've had only people wanting to take their photo.