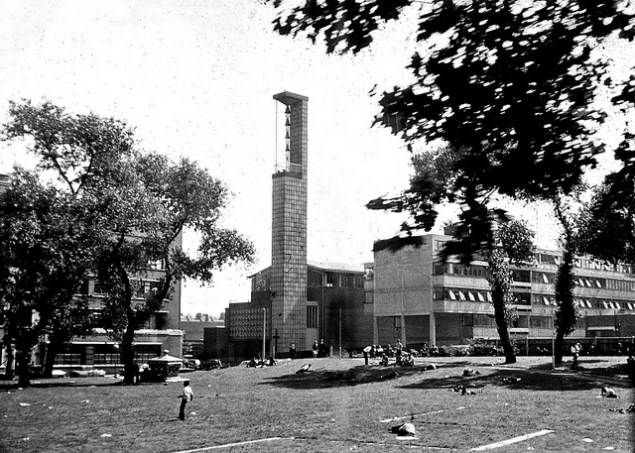 The New York Times offers "an unusual glimpse into the rough-and-tumble real estate world in Manhattan" via the story of two recent college grad brothers with banking backgrounds who have managed to buy a portfolio of more than 500 apartment units in the region by buying them cheap, fixing them up and raising rents. Mensches! "In the midst of chaos is when you really have the ability to create something," one told the paper. But tenants in their buildings, whom the Times describes as "aggressive" for protesting low-ball buyout offers and hiring a lawyer have not been so pleased.
Also, apparently we've moved beyond converting townhouses into single-family mansions and are now moving onto apartment buildings. The Wall Street Journal reports that the owners of a 52-foot-wide building in Tribeca are planning to market it as a single-family home of about 20,000 square feet for $65 million, renovation included. It can also be purchased as raw space for $50 million.The building has one residential and one retail tenant, who will both be vacating soon.
Somehow this seems just right: Hilary Clinton's campaign office is coming to hip Brooklyn, according to Politico, but it's stuffy Brooklyn Heights. The campaign has signed a lease for 1 Pierrepont Plaza, which also houses Morgan Stanley and the U.S. District Attorney, but plays up the cool rather than the stuffy factor on its website: "Modern Offices. Brooklyn Cool."
Not so far away, at 319 Schermerhorn Street, a 21-story condo will rise on a site just purchased by Adam America, according to Crains, which likely paid more than $30 million. At least they got the building permits with it!
Meanwhile, Jack the Ripper's old neighborhood, Whitechapel, is super hot right now, according to The Wall Street Journal, which writes about how rising real estate prices have made formerly tough London neighborhoods very popular with young professionals looking to buy.
The difference between what trophy apartments ask for and sell for (if they sell at all) has been a source of great schadenfreude for real estate reporters; now The Real Deal looks at the big gap between the top asking prices and the top selling prices. Even many of the most impressive sales have been a disappointment: "despite its record-breaking $100.5 million price, One57's penthouse was originally asking $115 million, while a full-floor condo at the Sherry-Netherland fetched $70 million in 2014 — after asking $95 million."
Why are we not surprised that nobody has tried "gyros in a shot glass" before? Well, an eatery in Astoria profiled by DNAInfo is leading the way! Fortunately, the shot glass is mostly for show—the mini-sandwiches will be similar to sliders, not pulverized into drinkability.
In other food news, DNAInfo also reports that Oaxaco Taco will be opening its ninth location on the edge of Brooklyn Navy Yard in Fort Greene; two other locations are also planned—one for Crown Heights and a second in Bed-Stuy on Lewis Avenue.
Seamless so dominates the food delivery industry that many restaurants feel they're forced to do delivery by Seamless's rules, WNYC reports, paying a commission as high as 20 percent when they get orders through the site. However, several competitors have emerged in recent years, which may spur better deals for restaurants.
The Real Deal hates the new Brooklyn Health Center poised to rise at 620 Fulton Street, which they judge to be "a nerd in the land of hipsters" and "designed to bore the good people of New York."