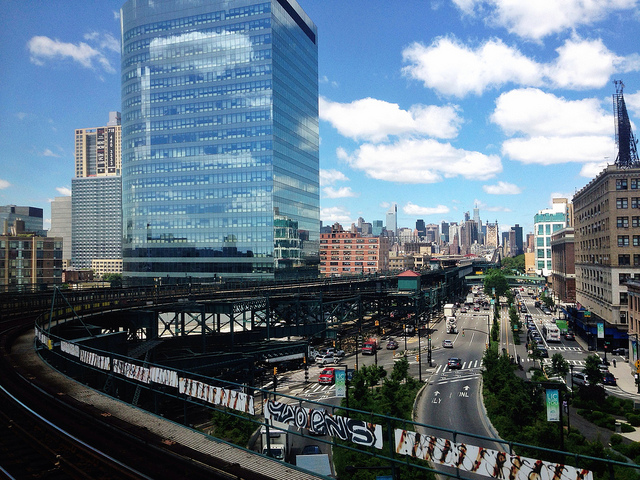 The artist whose "fat boy" sculpture graces a lawn in Prospect Park is irked that kids are climbing all over it; he even saw one beating it with a tree limb, according to DNAInfo. "I don't want to sound like a complainer — children should interact with the piece," said artist Leonard Ursachi, who added that he'd be fine with them hugging or touching the piece.
Kids! There aren't enough elementary schools in LIC to accommodate them, thanks to the development boom, DNAInfo reports. This year dozens of children were wait listed for P.S. 78, the only school in the area, and parents have started a petition begging the city to open another. A situation which does not, in many ways, foster confidence in infrastructure meeting the needs in future upzonings.
Google may have paid Nike to leave 111 Eighth Avenue so they could expand, Crain's reports. In any event, the athletic giant is relocating to the Durst's 855 Sixth Avenue by Penn Station, where it has leased 147,000 square feet.
The penthouse at 165 Perry Street is back on the market, this time trying for $40 million. It has a 7-car garage, almost 9,000 feet of interior space and some really nice Warhol paintings, which Curbed notes are not included in the listing. Or maybe at $40 million they are?
We guess in that context condos asking $1.5 million to $9 million, as they are at HFZ Capital's The Astor do look "approachably priced," which Curbed writes, "everything being relative and the definition of the word "approachable" being fairly malleable, is more or less true."
On the other end of the economic spectrum, a man describes his experiences with the shelter system on Hopes and Fears, and the ways in which it's increasingly being used as a catch-all for under-employed people who can't make the rent.
And a crowd gathered in Chinatown yesterday to protest Extell's luxury tower at 227 Cherry Street on the Lower East Side, according to Gothamist. The development, which has 646 market rate units, will also include 205 affordable units housed in a second, smaller building, but protestors claimed that the city's development and zoning policies encourage building in poor, minority neighborhoods leading to displacement.
But rent-stabilized tenants take heart: falling petroleum prices mean that landlords' costs may have decreased for the first time ever, setting the stage for a zero percent increase—or even a decrease—for the first time since the Rent Guidelines Board started setting rates in 1969, according to The Wall Street Journal. "A 21% decline in heating-oil and gas prices during the year ending in March offset increases in other expenses, such as such as taxes, insurance and labor costs, according to a board staff study. Overall operating costs rose 0.5%."
Meanwhile, the 85-year-old woman who is being evicted by the Italian American Museum so it can expand has been given until June 30 to leave her $820-a-month studio, according to The New York Times. "It's all right," she told the paper. "I knew this was coming. That's enough just so that I have enough time to move out the furniture. It's too much."