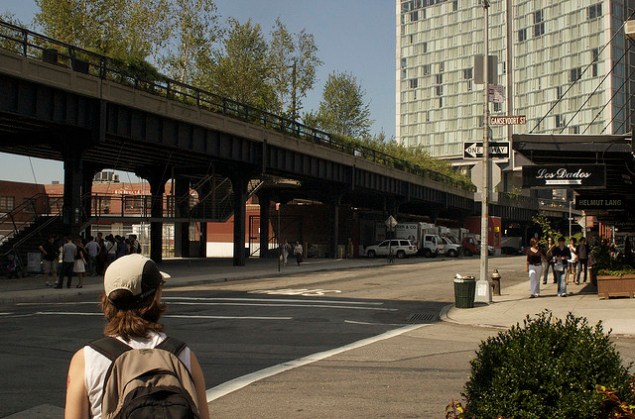 The Meatpacking District, always up for another act, has gone from, well, slaughterhouse central to clubbing district to high-end shopping destination and is now experiencing an influx of office space, with even more high-end retail pushing out the remaining bars and restaurants, The New York Times reports. Lauren Danziger, executive director of the Meatpacking District Improvement Association describes the shift from nightlife destination to office district thusly: "We're absolutely on the cusp of something really special."
Change is in the works for a Bronx dump as well. The New York Times headline says it all: "Luxury Public Golf Course, Run by Trump, Opens on Former Bronx Dump." But don't think you can go golfing on an old dump in the Bronx on the cheap: Greens fees at the course "are about three times what they are at the city's other courses; a city resident will pay $169 to play on weekends, while a nonresident will pay $215."
This "old school" flea market opening this spring near Citi Field seems a quiet rebuke to the highly curated hipster markets of Brooklyn. The organizer tells DNAInfo that at his flea market anything goes, including electronics, Amish wares, new stuff, old stuff. He got the idea to start one after several local fleas shut down, leaving a number of vendors without a place to sell. "There are many people who have flea market jobs and make a living doing that."
New York's population is growing faster than expected—this year, the city was just shy of its 2020 projection of 8,550,971, according to Yimby, creating serious planning and housing issues for the city. "Market-rate housing at affordable costs is a clear and viable solution to New York City's crisis," Yimby argues. And while we'd agree that affordable market rate housing would be solution, there's hardly any of it being built, and we don't think that "obstacles to construction" is the only, or even the main, reason why.
Still, it's undeniable that rents have risen to levels that make New York increasingly unviable for artists and other assorted strivers. Bloomberg reports that Sotheby's auctioned Andy Warhol's 1963 lease for an "obsolete fire house" on East 83rd that ran him $150 a month, or $1,160 adjusted for inflation. Last month, meanwhile, the average Manhattan rent soared to $3,438. "The auction serves as a poignant reminder of how inflated real estate is driving out the people, businesses, and diversity that made New York a cultural hotbed."
Speaking of soaring real estate prices: Allergan founder Gavin Herbert has listed Nixon's San Clemente estate for $75 million, according to The Wall Street Journal. The former president bought the former property for $1.4 million in 1969, shortly after being elected. Mr. Herbert came to own the property after, as a gardening enthusiast, he volunteered to be head gardener despite his busy career running Allergan.
At least Manhattan condo and co-op prices are expected to level off somewhat, according to Crain's, with the median sales of $970,000 virtually unchanged from a year ago. The number of sales has also slowed, suggesting that the market is going through a natural reset after several years of rather frenzied activity.
Using building floorplans, an informed resident and the knowledge of a municipal engineer, Gawker has substantiated the rumor that Katie Holmes used a secret intra-building passageway to enter Whole Foods during her divorce with Tom Cruise.
Let's close with a lawsuit: Larry Silverstein is suing Brooklyn investor Chaim Miller over what legal documents claim was his failure to close on a $137 million contract to buy the Beekman Tower in Midtown East, the New York Daily News reports. Now Silverstein is seeking to null the contract and keep Mr. Miller's $8 million deposit.