Think you need an entire morning at the salon just to get primped and polished? Wrong, so wrong. Now you can pop into a few individual storefronts and get a customized, head-to-toe beauty makeover with time to spare. What started seven years ago with a single, 45-minute blow-dry concept has evolved into a new standard in the beauty business that is gaining momentum with each innovative retail opening. The result is specialized, niche facilities that cater to specific beauty needs in less than 60 minutes.
Maybe you can't take two hours for the full facial experience, or dread returning to work looking picked-at and prodded. Even clinical skincare and "cosmetology," the treatment practice halfway between the beauty salon and the clinic, is getting the pop-in treatment with Skin Laundry. The company based out of Los Angeles is bringing signature 10-minute facials to its first New York location on West 16th Street. Aimed at tightening and brightening skin and targeting bacteria and acne-causing agents, the treatment features two rounds of a mild laser followed by a phototherapy light session.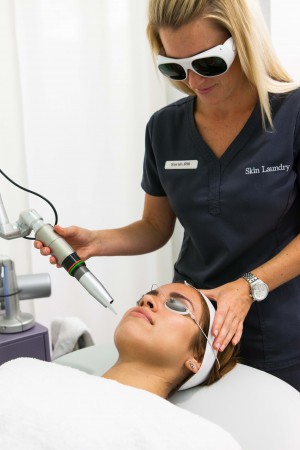 Founder Yen Reis conceived of the idea while suffering from hormonal acne following the birth of her third child. "This combination was the only thing that worked," said Ms. Reis of the laser and light. "The best thing about this is that it's non-invasive, so you can do it more regularly as opposed to something more invasive that you do once every six months."
Much like a manicure, Skin Laundry shows optimal results when frequented on a regular basis. The price per session ranges from $33 to $65, depending on the package. "After a while, you'll understand your skin well enough to know how often you should be coming in, but we say at least once a week," said Ms. Reis. "People do get addicted."
A few blocks over on West 20th Street is New York's first-ever extensions and blowout salon, RPZL, which opened in February. Here, women or men can choose from a variety of extension choices, ranging from clip-ins to seamless tape to the most long-term option, a full head of hair bonded to the scalp using ultrasound technology that works off sound rather than heat, which makes for a safer process overall. In two hours, you can have a wash, style, hair blending and blow-dry for prices ranging from $40 for a blowout, to $60 for a single clip-in, to $850 for a full head of keratin bonds.
Co-founder Monica Thornton opened the salon after experiencing extreme hair loss with the birth of her daughter. In researching the extensions process, she realized the business was highly unregulated. "Every stylist I spoke to was pitching me the company where they were getting the hair and price-profiling me with exorbitant rates to do my hair," Ms. Thornton told the Observer. "This is a safe environment that offers immediate turnaround with a big impact." 
Through the salon's social media photo booth and confidence-boosting slogans that line the wall, Ms. Thornton is seeking to rid the stigma associated with hair extensions. She prefers to view the service as regular maintenance, much like color and cut. "When it comes to extensions, there are either the Beyonce's and J.Lo's of the world, which everyone knows about, or there are strippers," she said. "Here we are trying to make it more of a lifestyle movement."
Ms. Thornton, along with other entrepreneurs in the space, was inspired by the Drybar business model. The blowout salon doesn't offer cuts or color, only a few styles of blowouts at $40 a head. Los Angeles native Alli Webb founded Drybar after providing at-home blowouts under a company she formed in 2008 called Straight-at-Home. She provided the service on a referral basis throughout Los Angeles. Its popularity quickly outgrew her one-woman show, so she opened her first Drybar in in 2010 in the Brentwood area of Los Angeles. Now there are 42 Drybars spanning major cities throughout the country, such as New York (there are nine here), San Francisco, Chicago, Dallas and Washington, D.C.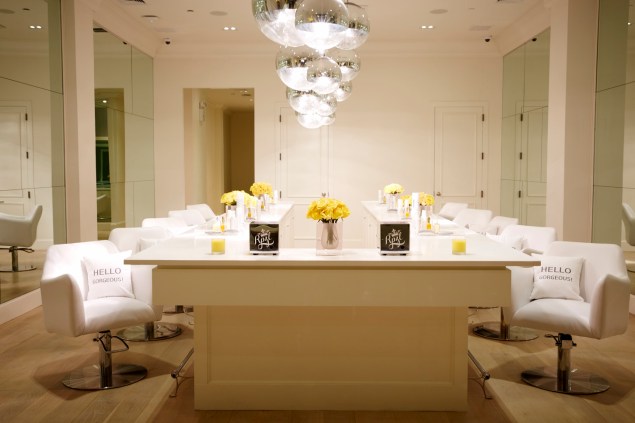 "For Drybar, the catalyst was to get a great blowout in a quick, fun space and not have to deal with the other stuff in a salon, like a stylist convincing you to get a haircut or get a new color when you don't want one," said Ms. Webb. "It's all about getting that one thing done and making it really easy and special. It was never my agenda to change women's behavior or shift the industry, but I do think we contributed to it in an organic way."
Evan waxing, which was always relegated to the private room of a manicure salon, has its own digs now with the opening of European Wax Centers throughout New York. The business was founded a decade ago but has recently become the new niche waxing spot. And while there are the hundreds of manicure and pedicure salons lining every corner of New York, the business has recently seen a surge at the luxury level with salons like Tenoverten, Valley Nails and Paintbox. Ms. Webb has debated adding a manicure option at her salon, but prefers to keep her business as niche as possible.
"It would be great to get a manicure while sitting in Drybar but I don't think it beats the idea that you will get a great blowout and be in good hands," said Ms. Webb. "It's often hard to do several things really well."